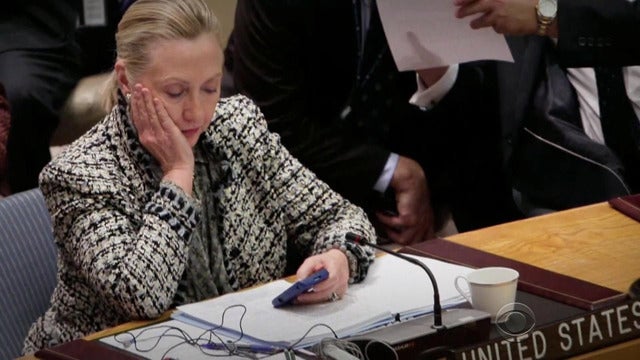 Clinton camp says Benghazi hearing date set
Hillary Clinton has accepted an invitation to publicly testify in October before the House select committee investigating the 2012 attack on the U.S. diplomatic office in Benghazi, Libya, CBS News confirms.
"Earlier this week we were pleased for Secretary Clinton to receive an offer from Congressman Gowdy to appear before the committee in a public hearing in October, and yesterday accepted his invitation," Clinton campaign spokesperson Nick Merrill said in a statement.
The Democratic presidential candidate is scheduled to speak to the committee October 22, according to a Washington Post report.
But a Democratic Committee representative on the Benghazi panel cautioned that the date may change.
"Given how Republicans have denied scheduling hearings and other events the past, however, all we can confirm at this point is that the date was offered and accepted, not that the Republicans will stick to it," a spokesperson said in a statement.
The Select Committee Communications Director, Jamal Ware, added that Clinton's lawyer is still negotiating the terms of the hearing.
"The Committee will not, now or ever, accept artificial limitations on its congressionally-directed jurisdiction or efforts to meet the responsibilities assigned to the Committee by the House of Representatives," Ware said in a statement. "Accordingly, once there is an agreement on the date and a better understanding of how, if at all, Secretary Clinton's lawyer's latest writing differs from previous ones, the Committee will announce said hearing date."
Though Clinton has previously offered to testify publicly, Committee Chair Rep. Trey Gowdy, R-South Carolina, had been unwilling to call her before the House panel until the State Department released all relevant email documents. Several thousand pages of emails were released by the department earlier this month.
The news of Clinton's appearance before the committee comes just as the Justice Department received a request from an Intelligence Community (IC) official to investigate the former secretary of state's use of a private email address while conducting government business. In a June 29 memo, the inspectors general for the State Department and the IC concluded that "hundreds of potentially classified emails" were sent from Clinton's private account.
Benghazi Select Committee ranking member Rep. Elijah Cummings, D-Maryland, came to Clinton's defense Friday after reports of the DOJ investigation request.
"The Benghazi Select Committee has obtained zero evidence that any emails to or from Secretary Clinton were marked as classified at the time they were transmitted, although some have been retroactively classified since then," Cummings said.
Clinton's campaign added their hope that the "bureaucratic infighting among the Intelligence Community" would not slow down the State Department release of email documents.
"There have been recent examples, such as the Senate Intelligence Committee's report on torture, where release of information was delayed because of disagreements among agencies, and we hope that will not happen here," Merrill said.
Thanks for reading CBS NEWS.
Create your free account or log in
for more features.