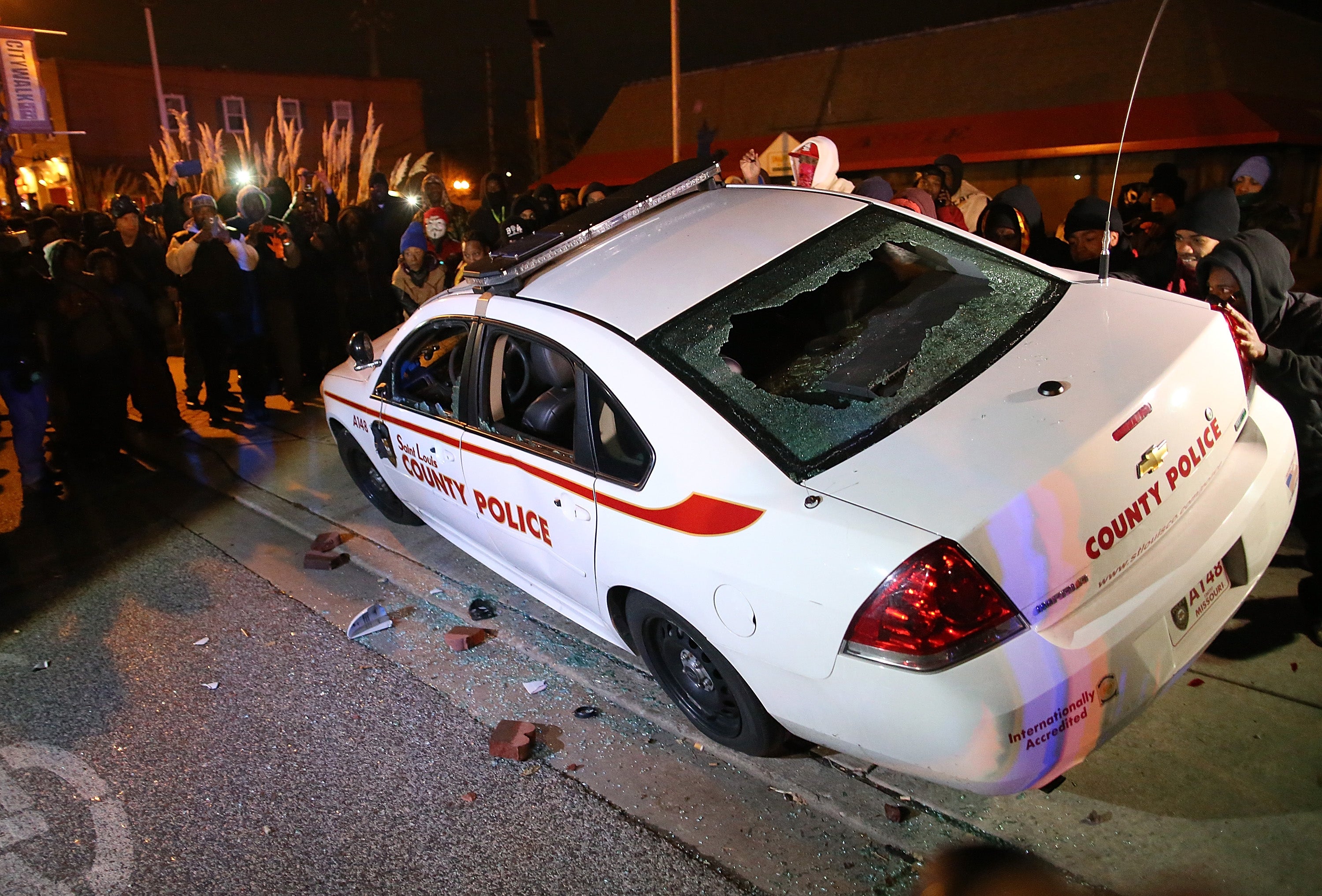 Fires, vandalism, gunfire follow grand jury decision in Ferguson
CLAYTON, Mo. -- Protests quickly turned violent in the Ferguson, Missouri area Monday night after it was announced that a St. Louis County grand jury had decided not to indict Ferguson police officer Darren Wilson in the August 9 shooting death of 18-year-old Michael Brown.
The decision not to charge Wilson, who is white, in the death of Brown, who was black and unarmed, sparked the fresh demonstrations in and around Ferguson, and in cities around the nation.
Flames engulfed at least a dozen businesses in Ferguson late Monday and early Tuesday and gunfire kept firefighters at bay once demonstrations turned ugly, despite pleas for peace from Brown's family and others.
There were 61 arrests in Ferguson overnight, many for burglary and trespassing, St. Louis County Police spokesman Brian Schellman said. St. Louis Mayor Francis Slay said there were 21 arrests in the city, where some protesters broke business windows along South Grand Avenue.
On Tuesday morning Slay condemned the violence that broke out in the area, calling it "terrible and it's wrong."
"The unfortunate part is that it sets back the cause of social justice," he said.
Protesters smashed windows out of police cars and buildings, several of which were later looted and set ablaze, and officers lobbed tear gas from inside armored vehicles to disperse crowds in scenes reminiscent of the early days of unrest that followed the Aug. 9 shooting.
The new violence quickly took a more destructive turn - a storage facility, two auto parts stores, a beauty supply store and pizza shop were just some of the businesses that burned.
St. Louis County Police Chief Jon Belmar said during a news conference early Tuesday that he "personally heard about 150 shots fired" during the course of the night, but said police did not fire a shot. He said most of at least a dozen burned businesses were "total losses" and noted two police cars were "basically melted."
"I don't think we were under-prepared," Belmar said. "But I'll be honest with you: Unless we bring 10,000 policemen in here, I don't think we can prevent folks who really are intent on destroying a community."
"What I've seen tonight is probably much worse than the worst nightmare we ever had in August," he said.
"I said several months ago during an interview what would be the worst thing that could possibly happen and the fact of the matter is, I said, to tear the fabric of this community apart. And frankly, that has happened here tonight."
Smashed window glass littered the sidewalks around many other businesses, from mom-and-pop shops to a McDonalds along the main drag. Ferguson Market and Liquor- where surveillance video had recorded Brown stealing cigars minutes before he was killed - was ransacked.
At least one building and several vehicles in a used car lot also burned in the neighboring city of Dellwood.
The vast majority of protesters had left the streets by late Monday, but looting and gunfire still were reported well after midnight.
A CBS News producer on-scene says the demonstrators were not the ones doing the looting in Ferguson Monday night and early Tuesday.
In a late-night statement from the White House, President Obama said it was understandable that some Americans would be "deeply disappointed -- even angered" that police officer Darren Wilson wasn't indicted. Yet he echoed Brown's parents in calling for any protests to be peaceful, saying that the wishes should be honored as they grieve their son.
Yet the scene playing out in Ferguson, just minutes after the grand jury's announcement, stood in stark contrast to Mr. Obama's calls for calm. As Mr. Obama spoke live from the White House briefing room, television networks showed Mr. Obama on one side of the screen, and violent demonstrations in Ferguson on the other.
St. Louis County Police, who are leading the law enforcement efforts in Ferguson, reported that a University City police officer was shot in the arm, but is expected to be OK. It turned out the shooting occurred during a burglary call and wasn't related to the protests, they said.
County police also said they deployed smoke canisters and pepper spray to break up crowds, and later used tear gas.
The FAA imposed a temporary flight restriction (TFRs) for the Ferguson area, which caused five arriving flights at Lambert-St. Louis International Airport to be canceled, the airport tweeted. Departing flights were not impacted.
St. Louis County Prosecuting Attorney Bob McCulloch announced the grand jury's decision Monday evening. A grand jury of nine whites and three blacks had been meeting weekly since Aug. 20 to consider evidence. The panel met for 70 hours and heard from 60 witnesses.
McCulloch stressed that the grand jurors were "the only people who heard every witness ... and every piece of evidence." He said many witness presented conflicting statements that ultimately were inconsistent with the physical evidence.
"These grand jurors poured their hearts and soul into this process," McCulloch said.
Brown's parents, Lesley McSpadden and Michael Brown, Sr., said in a statement released by their attorney: "We are profoundly disappointed that the killer of our child will not face the consequence of his actions. While we understand that many others share our pain, we ask that you channel your frustration in ways that will make a positive change. We need to work together to fix the system that allowed this to happen."
The parents went on to say, "We respectfully ask that you please keep your protests peaceful. Answering violence with violence is not the appropriate reaction.Let's not just make noise, let's make a difference."
As the decision was announced, McFadden was seen breaking down outside the Ferguson Police Department.
A week ago, Gov. Jay Nixon declared a state of emergency, saying the National Guard would be deployed to assist police if necessary. Early Tuesday, Nixon ordered more troops to the area, though it was unclear how many more, according to KMOV.
The disputed circumstances surrounding the death brought global notoriety to the St. Louis suburb, where the majority of the population is black but the police force is predominantly white.
The grand jury could have indicted Wilson on one of five charges:
First-degree murder: Knowingly causing a death after deliberation; punishable by either life in prison or lethal injection.
Second-degree murder: Knowingly causing a death, or acting with the purpose of causing serious physical injury that ends up resulting in death; punishable by life in prison or a range of 10 to 30 years.
Voluntary manslaughter: Causing a death "under the influence of sudden passion arising from adequate cause"; punishable by five to 15 years in prison.
First-degree involuntary manslaughter: Recklessly causing a death; punishable by up to seven years in prison.
Second-degree involuntary manslaughter: Acting with criminal negligence to cause a death; punishable by up to four years in prison.
Wilson, who is on paid administrative leave, has remained in seclusion throughout the investigation. His lawyers released a statement shortly after the decision was released.
"Law enforcement personnel must frequently make split-second and difficult decisions. Officer Wilson followed his training and followed the law," part of the attorneys' statement read. "We recognize that many people will want to second-guess the grand jury's decision. We would encourage anyone who wants to express an opinion do so in a respectful and peaceful manner."
Documents released Monday by the St. Louis county prosecutor's office shed light on the version of events that Ferguson police officer Darren Wilson gave of the fatal shooting of unarmed teen Michael Brown, to both police detectives and, later, the grand jury.
At one point, describing the struggle between himself and Brown, Wilson said, "When I grabbed him, the only way I can describe it is I felt like a five-year-old holding onto Hulk Hogan. ... That's just how big he felt and how small I felt just from grasping his arm."
The Justice Department is investigating the Ferguson Police Department for possible civil rights violations, including whether officers there use excessive force and engage in discriminatory practices. The DOJ is also separately investigating Brown's shooting as a possible civil rights case. Last month, a source told CBS News that Attorney General Eric Holder was "exasperated" by what he called "selective leaks" - which appeared to support Wilson - in the case.
Thanks for reading CBS NEWS.
Create your free account or log in
for more features.