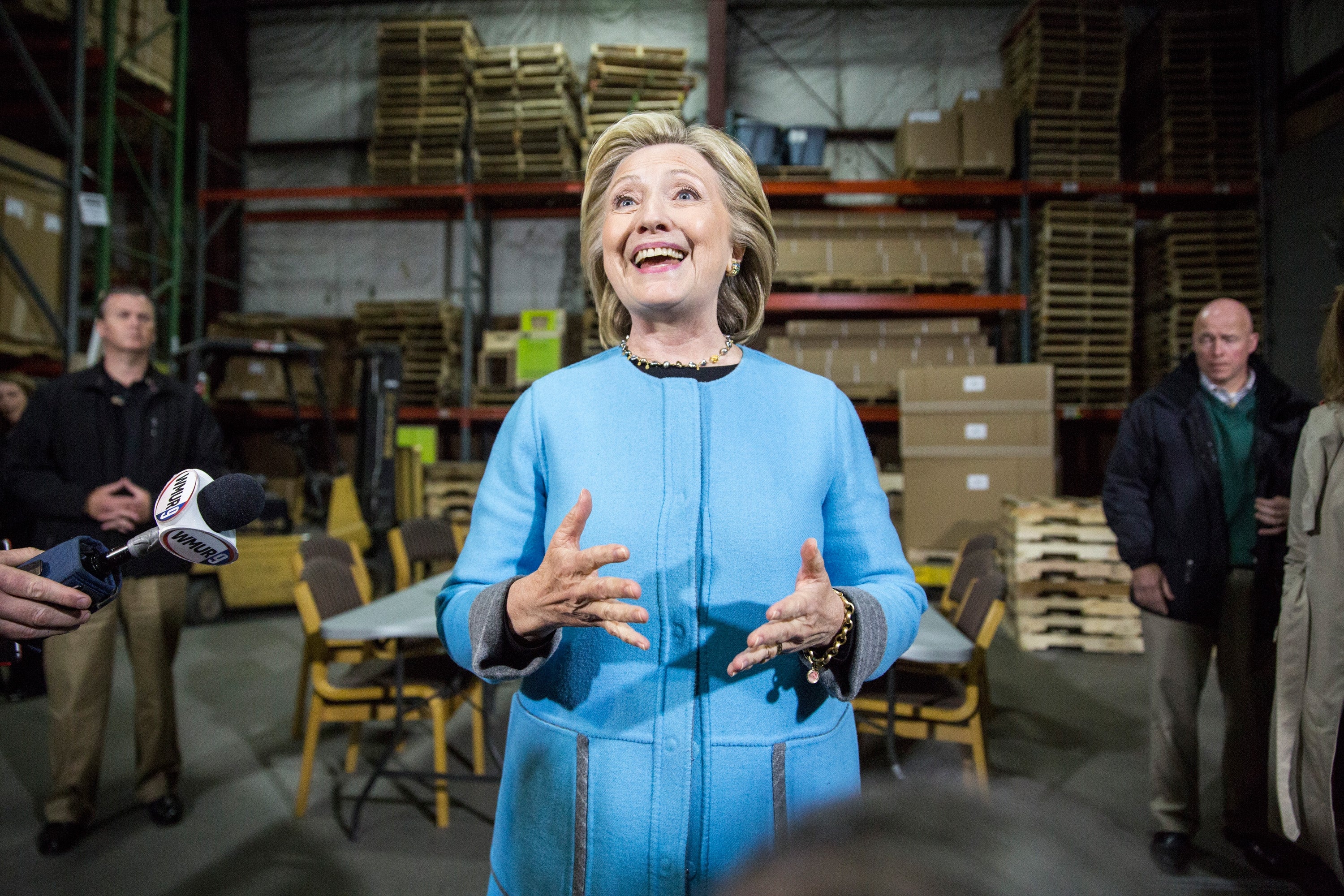 Hillary Clinton revisits New Hampshire success
KEENE, N.H. -- Hillary Clinton's trip New Hampshire this week is looking a lot like her trip to Iowa last week: tours of local businesses, tables assembled in small "U" shapes inside warehouses, stops for coffee and tea and a gaggle of reporters on the lookout for the now-famous "Scooby" van.
There are no big crowds and, aside from her folded place card, not a single sign could be found bearing the presidential candidate's name inside the warehouse where Clinton met with employees of a local manufacturing company Monday.
It's strikingly different from the way her Republican counterparts, even some who have not yet said they are running, have introduced themselves to New Hampshire voters in the past few weeks. And it's different from the roll out of her presidential bid in 2008.
Clinton's 2008 bid, also announced via online video, showed only Clinton, sitting alone on a couch. The video that launched her second campaign instead shows many of the "everyday Americans" that Clinton hopes to represent. Clinton doesn't appear until more than a minute into the video and, when she does, she says "I'm hitting the road to earn your vote."
After her announcement in 2008, Clinton engaged with voters via online video chat. At the time, it seemed like a modern approach, but those interactions lacked the intimacy of the face-to-face interactions that early state voters have grown to expect.
New Hampshire was vital to Clinton's first presidential bid, when her win in the state's primary election breathed new life into her campaign after an embarrassing defeat in Iowa.
"The Iowa experience shocked her," said Neil Levesque, executive director of the New Hampshire Institute of Politics and Political Library at Saint Anselm College. "But when you're challenged like she was, coming from behind, you're always a stronger candidate."
Clinton returned to New Hampshire and turned out the vote. Kathy Sullivan, who was then Clinton's state co-chair, remembered Clinton taking part in events big and small in the days leading up to the primary.
"I am still awestruck by how hard she worked," she said. "She even, on the day of the primary, was on Granite Street in Manchester, shaking hands with people through car windows, saying, 'Don't forget, the polls are still open.'"
One event in the final hours stood out: a small meeting at a coffee shop in Portsmouth, N.H. with a few more than a dozen undecided voters, mostly women. When asked to say how she was dealing with the relentless grind of campaigning, Clinton fought back tears.
"This is very personal for me," she said that day. "It's not just political; it's not just public."
What contribution that made to her primary win is debatable, but Sullivan said it did show a different, softer side of Clinton that had been missing from her campaign until that point.
"We all go through points where things are just hard," she said, adding that the question may have never been asked had it not been for the small size of the group. "We can all relate to that. It really just showed that this is a person like us."
Clinton won in New Hampshire with 39 percent of the vote.
"Now, together," Clinton said, thanking voters on the night of the primary, "let's give America the kind of comeback that New Hampshire has just given me."
Clinton made a point to say Monday how fondly she remembers her past trips to New Hampshire. She celebrated a birthday in Keene one year while campaigning, she said.
It's possible that Clinton is trying to recreate the success of small events like the one in Portsmouth, while also avoiding the mistakes of that failed campaign. Intimate gatherings -- as intimate as it gets with dozens of reporters also in attendance -- give the impression that Clinton is listening. She often mentions her new granddaughter when speaking about issues like early childhood education, adding a personal perspective to her policy views. And the fact that she asks more questions than she answers reflects the philosophy laid out in a memo distributed to her staff, just before her official launch.
"We are humble," it read. "We take nothing for granted."
Clinton is still a favorite in the minds of Granite State Democrats. In a February poll conducted by the NHIOP and Bloomberg Politics, 56 percent of Democratic respondents identified Clinton as their first choice for the nomination.
According to a poll released Monday by CNN and ORC International, 69 percent of Democratic respondents nationwide favor Clinton. That number is up 7 percent since the second week of March, when the news that Clinton used a private email server during her tenure as Secretary of State was a top story.
Levesque said he expects Clinton to spend a lot of time in New Hampshire and eventually open herself up to larger events in the state, where many are eager to meet her in person. He said her choice to first engage with voters in small, shielded settings, instead of in a town hall or a rally with a big, unpredictable audience, is the safe choice.
"It's like opening day in baseball," he said, pointing out that the political climate is very different than when she last campaigned. "You're starting to throw your pitch. You're remembering what it's like."
There are new and different priorities for presidential candidates this cycle, like the threat of Islamic extremism, the debate over Common Core, and a call for a higher minimum wage, that didn't exist in the lead up to the 2008 election. The issue of substance abuse was one of the first raised by a roundtable participant Monday and, though the focus of the conversation was meant to be the economy, Clinton said she would make mental health and substance abuse a "big part" of her upcoming campaign.
"Before I went to Iowa last week, I wasn't aware of the depth of feeling people head about substance abuse issues so, here again, I heard it in New Hampshire," Clinton told reporters after the event's conclusion. "I want people to know that I'm listening and I'm accessible and I'm running a campaign that's about them."
There are also new voters, some who have moved to the state since 2008 and others who were not yet old enough to vote. Clinton's next stop in New Hampshire is New Hampshire Technical Institute in Concord, N.H., Tuesday, a community college where the average age of students is 25.
But despite her popularity in New Hampshire, Sullivan said Clinton will have to earn every vote, as she did in 2008.
"It's not going to be a walk in the park, for whoever our nominee is," Sullivan said. "We've voted for the Democrat in the last two elections and despite that, it can still go either way."
Thanks for reading CBS NEWS.
Create your free account or log in
for more features.