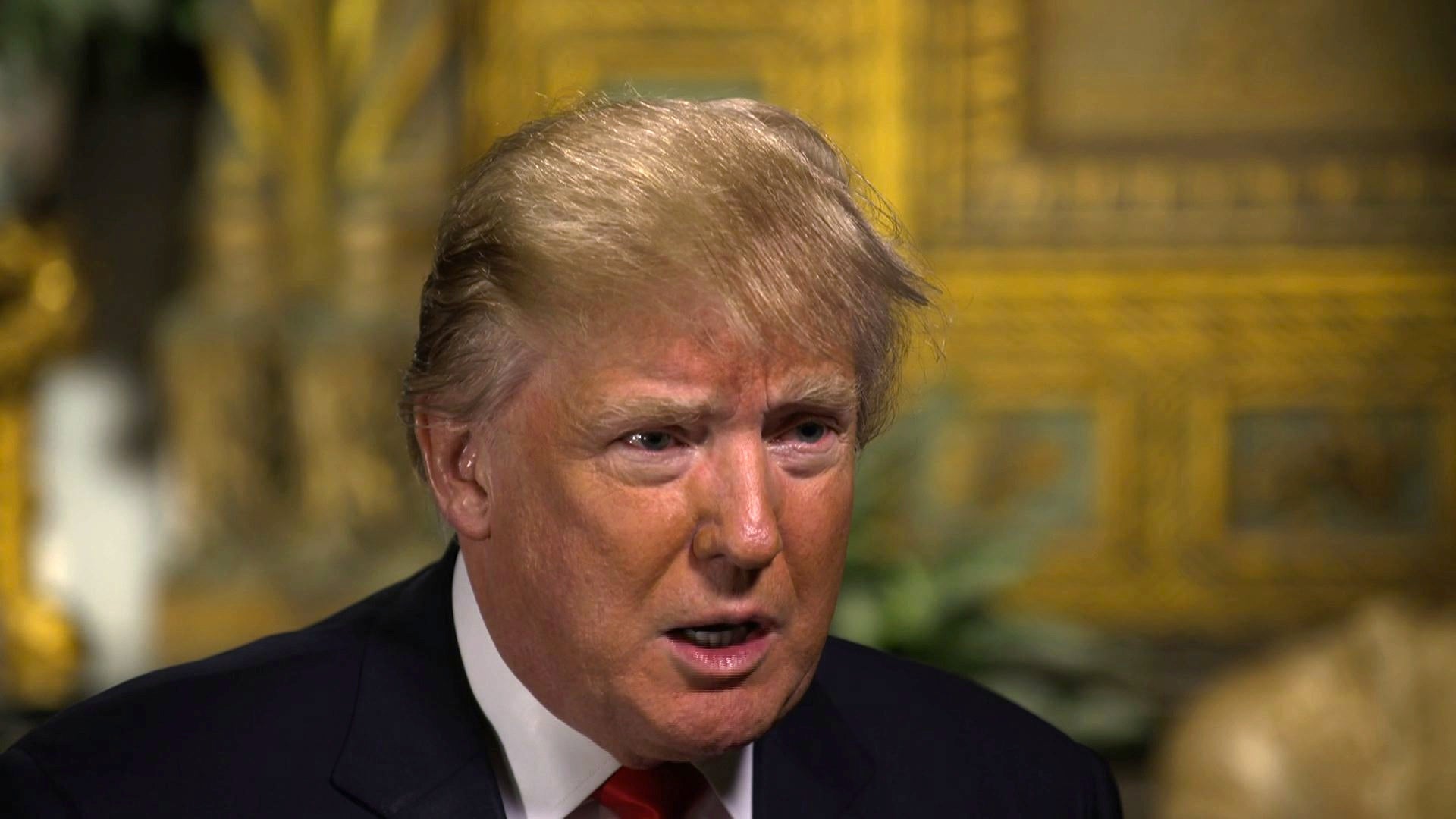 Trump: I'd be a "much different person" as president
Donald Trump said he would be "a much different person" as president of the United States compared to his persona as a Republican presidential candidate.
"I would be very enthusiastic, like I am right now, toward the country. We need spirit. We need a cheerleader," he said in an interview that aired on CBS' "Face the Nation" Sunday.
"President Obama's a bad cheerleader. I thought he would be a good cheerleader. I thought he'd be a great cheerleader actually," Trump added.
He said that he thought he would still give rallies if he is elected president in 2016, but otherwise would "probably not talk as much." He explained that he had to defend himself while "getting hit from 15 different sides" by the other candidates.
One thing that wouldn't change: His blunt style.
"Here's the problem with political correctness. It takes too long. We don't have time," he said. As an example, he pointed to his use of the term "anchor babies" to discuss children born in the U.S. to immigrants who are in the country illegally. The term is considered offensive by some in the Hispanic community, but Trump said "we don't have time" for a longer definition that refers to the parents as undocumented.
Critics have said his bombastic style, and in particular the way he talks about Muslims, are putting American national security at risk. Democratic presidential candidate Hillary Clinton came under fire for calling Trump the "best recruiter" for the Islamic State of Iraq and Syria (ISIS) when there was no evidence he was being used in their videos.
Now, however, an ISIS-affiliated group called al-Shabab has released a video featuring Trump calling for a temporary shutdown of Muslims entering the United States.
"Look, there's a problem. I bring it up," Trump said, although he claimed other people have called him and complimented him for having the "guts" to raise the issue.
But when moderator John Dickerson asked whether he was concerned about being used in a recruitment video, Trump said, "They use other people, too. What am I going to do? I have to say what I have to say."
The images of former Presidents Bill Clinton and George Bush have also been used in an ISIS recruitment video called "No Respite" which glorifies the caliphate the group established in Iraq and Syria in 2014.
Trump said that radical Islam "may be on a collision course with us," and faulted Mr. Obama for calling global warming a major problem, and said the president is the reason he has to talk about Islam so much.
"Until he's willing to admit the problem, how can you not at least talk about the problem? And one of the things I've done is I've brought the problem out. The world is talking about what I've said," he said.
The other foreign policy issues he discussed were use of nuclear weapons and U.S.-Israel relations. Some of Trump's fellow candidates have faulted him for not knowing about the nuclear triad, the trio of ways the U.S. can launch nuclear bombs. Trump said that nuclear weapons should be an "absolute last stance" but also called for a little more unpredictability in U.S. foreign policy.
By his telling, someone who Trump recently dealt with in business said in an interview that he made a great deal because he was unpredictable.
"It turned out he meant it positively. We have to be somewhat unpredictable in this whole thing," he said. "Nuclear, though, has to be an absolute last stance. Don't forget. I was against the war in Iraq. I'm not a fast trigger."
He did speak publicly against the war in Iraq, but not until 2004 - a year after it started.
And in response to reports that the U.S. might have spied on top Israeli officials despite President Obama's pledge to curb eavesdropping on U.S. allies abroad, Trump declined to rule out the possibility of doing the same.
"I would certainly not want to do it, but I have to say this. We're being spied on by everybody," he said. "I would say that I would leave open possibilities of doing whatever it takes to make our country very, very strong and to make our country great again."
In other parts of the interview, he said that his Republican rivals Sens. Ted Cruz of Texas and Marco Rubio of Florida were trying to toughen up their stances against illegal immigration because he is in the race.
"They're trying to, you know, solve the problems that they've had in the past because they were both weak on it. And I have been very strong on it," he said. He added that his wife recently said Cruz was copying his immigration plan by pledging to build a wall on the Mexican border.
Trump still maintains he will be able to get the Mexican government to pay for the wall because they make so much money off of trade with the U.S.
"If you look at the kind of numbers that Mexico makes with us, the wall is peanuts. Only a businessperson would say that. The politicians don't understand it. They're all talk and no action," he said.
He also addressed a recent remark he made about Cruz where he said, "not a lot of evangelicals come out of Cuba," (Cruz is performing very well with evangelical voters, a key voting bloc in places like Iowa and South Carolina).
"As far as you know, he could be more devout than you are," Dickerson said.
"It's possible. Certainly it's possible. I'm not questioning it. And I say it in a somewhat smiling manner. But there's a little truth to it," Trump responded.
He slammed Mr. Obama's consideration of executive actions to institute stricter gun control, saying, "I don't like anything having to do with changing our Second Amendment. We have plenty of rules and regulations."
"They should be looking at mental health," he added. "I mean, we should build, like, institutions for people that are sickos. We have sickos all over the place. And that's the problem."
He said he would "definitely" spend more money on mental health facilities.
He also said he doesn't like the president's frequent use of executive orders on issues like immigration.
"Our country wasn't based on executive orders. Nobody really knew that we even had an executive order, such a thing. It's supposed to be you get along with Congress, and you cajole, and you go back and forth. And everybody gets in a room. And we end up with deals," he said.
"I would be rescinding a lot of executive orders that he's done," Trump promised. "The one thing good about executive orders: The new president, if he comes in, boom. First day, first hour, first minute, you can rescind that."
Thanks for reading CBS NEWS.
Create your free account or log in
for more features.