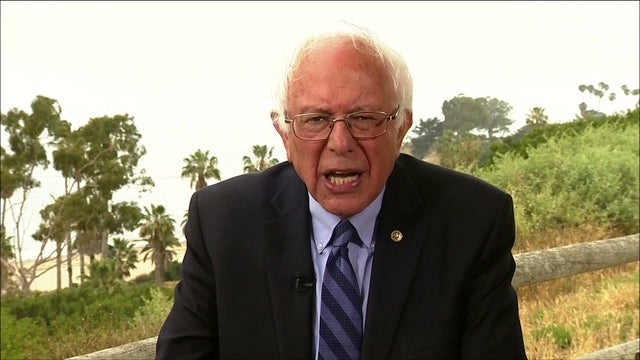 Sanders: Voters should take a "hard look" at Clinton emails report
Vermont Sen. Bernie Sanders said in an interview airing Sunday that voters will need to take a "hard look" at the State Department audit criticizing Clinton for her use of a private email server, but stopped short of going after her directly for it.
"The Inspector General just came out with a report, it was not a good report for Secretary Clinton. That is something that the American people, Democrats and delegates are going to have to take a hard look at," he said. "But for me right now, I continue to focus on how we can rebuild a disappearing middle class, deal with poverty, guarantee health care to all of our people as a right."
Back in the fall, at the first Democratic debate, Sanders famously said he was "sick and tired of hearing about [her] damn emails," and it's not an issue the Vermont senator has used against Clinton on the campaign trail.
Sanders said he believes he doesn't have to focus superdelegates' attention on the IG report.
"They will be keeping it in mind. I don't have to tell them that," Sanders said. "I mean, everybody in America is keeping it in mind, and certainly the superdelegates are."
Despite the steep mathematical odds facing him for the Democratic nomination, Sanders said he would not try to get the support of superdelegates in states Hillary Clinton won overwhelmingly. He has focused his efforts on trying to flip superdelegates in states where he won big victories.
"Hillary Clinton won Mississippi by a huge vote. Should I convince super delegates there to vote for me when she won that state overwhelmingly? No, I shouldn't," he said in a Saturday interview for CBS "Face the Nation."
"But we won states -- you know -- like Washington, Alaska, Hawaii, New Hampshire in landslide victories," he continued. "And I do believe that the super delegates, whether it's Clinton's or mine -- states that we won -- super delegates in states where a candidate wins a landslide victory should listen to the people in those states and vote for the candidate chosen by the people."
He addressed the influence of superdelegates, saying the primary process isn't "rigged" against him because of superdelegates--just that it's "dumb."
"You have a situation where over 400 super delegates came on board Clinton's campaign before anybody else was in the race, eight months before the first vote was cast," he said. "That's not rigged, I think it's just a dumb process which has certainly disadvantaged our campaign."
The Vermont senator, whose campaign has been sustained by record small-dollar donations, said he is the candidate with grassroots enthusiasm--and that an uninspiring Clinton at the top of the ticket could keep Democratic turnout low in November.
"We have the energy and enthusiasm in our campaign that Clinton's campaign frankly in my view does not have. That can generate a large voter turnout in November," he said. "Democrats win when the voter turnout is high. We can generate that. Republicans win when the voter turnout is low. Frankly, I don't know that Secretary Clinton's campaign can create a high voter turnout."
Sanders reiterated that he would not depend on any super PACs in the general election if he were to be the Democratic nominee, despite the billions of dollars that will be spent on the Republican side.
"Right, we will continue what we are doing. We will depend on the middle class," he said. "And an incredible number of small individual campaign contributions is how we'll fund our campaign and it is how we will win the national election."
Thanks for reading CBS NEWS.
Create your free account or log in
for more features.