'We Gotta Do Better': Parents At Mitchell Elementary School Are Outraged After Some Students Weren't Fed Breakfast Or Lunch
PHILADELPHIA (CBS) - Parents at Mitchell Elementary School are outraged after learning that students never received lunch Thursday. Parents say they were not notified until after their children returned home from school.
Philadelphia School District officials say meals were sent to the elementary to be distributed on Thursday, but they didn't end up in the hands of 400 students.
Teachers and other staff members were forced to order pizza for about 400 students after the district's food services never delivered food for students' breakfast and lunch. While some pizza orders arrived, others were not delivered until 2:15 p.m. and some students were not served lunch.
"I was angry about it because I didn't know if she ate," Terri Jones, a parent, said.
Jones shouldn't have to worry about whether her first-grade daughter has eaten breakfast or lunch at school, but that was the concern of many parents at Mitchell Elementary on Thursday.
"Yesterday the person responsible for distributing meals at Mitchell elementary did not show up for work," Monica Lewis, of the Philadelphia School District, said. "And so the policy is when that happens the school leader can call the food services team to get a roving employee to step in and assist, or have a non-food service person in their school assist the distribution of meals, that didn't happen."
School district officials cite major labor shortages in the food services department which led to what happened at Mitchell Elementary, and many other schools are feeling the effects.
"I've been told we have upwards of 180 vacancies in our food services department, so we are experiencing a lack of manpower," Lewis said.
"We gotta do better," Catrese Hopewell said.
Parents say this letter was sent home with their children about the situation, but many of them were unaware of what had happened. Students in 3rd through 8th grades did not receive breakfast support on Thursday.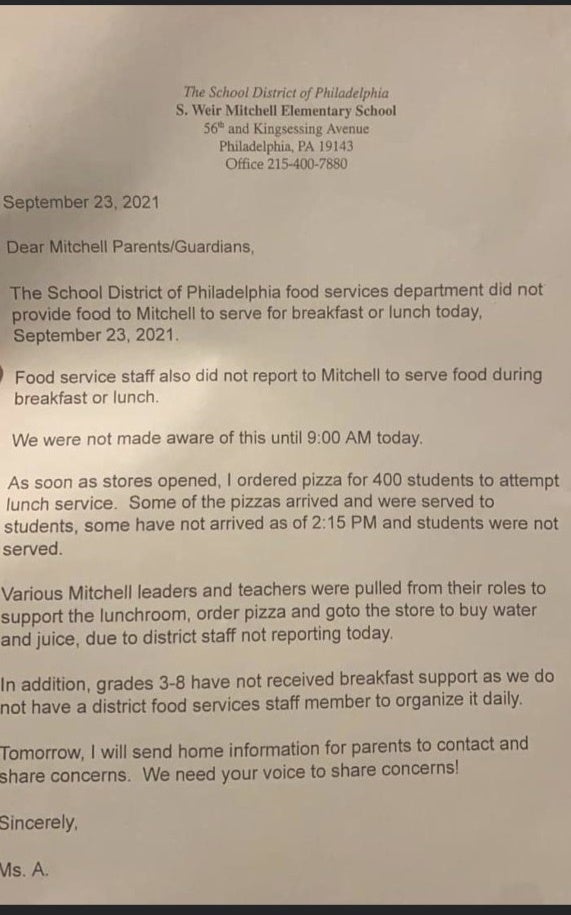 "If we would have been notified when they didn't get breakfast some parents could've came up and brought their kids lunch or brought lunch for other kids," Hopewell added.
District officials say they're addressing the staffing issues to ensure every child is always able to have access to a healthy meal.
"We've been working really hard to recruit," Lewis said. "This is something that is not only a School District of Philadelphia matter, it's a nationwide issue."
A spokeswoman for the Philadelphia Federation of Teachers acknowledges that the district did not create the staffing shortage that led to the school lunch disruption.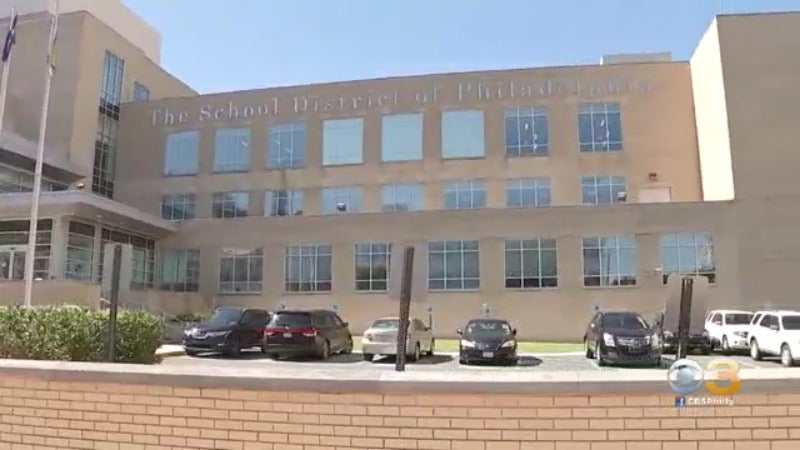 But Jerry T. Jordan, president of the PFT, says the district should have intervened sooner to all of the ongoing shortages, including nursing and bussing, while ignoring pressing concerns from parents and staff, perpetuates untenable conditions inside of city schools.
Thanks for reading CBS NEWS.
Create your free account or log in
for more features.