Exploring Hoboken: Best Restaurants, Shopping, Nightlife And More
Across the Hudson River is the vibrant city of Hoboken. With the characteristics of a miniature New York City, Hoboken boasts countless things to do in one day. From shopping to art galleries, restaurants and desserts, people can discover what Hoboken has to offer. By John Friia/Samantha Lazarus Bennet
EXPLORER SERIES: Hell's Kitchen | NoMad | Little Italy | LIC | Times Square | Williamsburg
Antique Bar & Bakery
122 Willow Avenue
Hoboken, NJ 07030
201-683-7029
TO EAT: Antique Bar & Bakery is located in a century-old building that once housed a bread factory. With Chef Paul Gerard at the helm, flavors of Italian and French cuisine and blended together to create some unforgettable dishes. From the wood paneling to the Culver glassware and swag lights the décor of the space is reminiscent of the 1970s. Diners will feel they are on a set of movie instead of a restaurant in New Jersey with the menu designed as a movie script.
Revival Vintage Boutique
47 Harrison Street
Hoboken, NJ 07030
TO SHOP: When people step inside Revival Vintage Boutique, they will feel like they stepped back into a different decade with their selection of vintage dresses and apparel. Each item is restored, mended and crafted by one of the seamstresses on staff to become a unique piece of clothing. Revival Vintage Boutique offers more than just clothing with various events throughout the month -- including coat drives and pop up events for local artists and musicians.
Carlo's Bake Shop
95 Washington Street
Hoboken, NJ 07030
201-659-3671
TO INDULGE: A day in Hoboken is not complete without visiting Carlo's Bake Shop. Famous from the TLC series "Cake Boss," this hometown bakery has been a staple in the community since 1910. People can satisfy their sweet tooth with their endless selection of treats, including pastries, cookies, cakes and cupcakes. Fans of the reality show might even catch a glimpse of the Cake Boss himself, Buddy Valastro. While there are outposts of the bakery throughout the world, people can experience the original shop in Hoboken.
Barsky Gallery
49 Harrison Street
Hoboken, NJ 07030
888-465-4949
TO DISCOVER: Art aficionados can flock to Hoboken's Barsky Gallery. Founded in 2011, the gallery hosts numerous exhibits throughout the year. Besides highlighting international artists, Barsky Gallery offers advice on for finding the perfect artwork for homes and offices. People have access to many pieces, including lithographs and photographs.
The Dubliner
96 River Street
Hoboken, NJ 07030
201-656-7731
TO DRINK: Before the day ends, people can head to Hoboken's largest bar for a pint of beer or a cocktail. The Dubliner is a tri-level gastropub boasting over 20 televisions, weekly trivia nights and a rooftop space that overlooks the Manhattan skyline. Whether meeting friends or co-workers, people can choose a brew from a rotating selection of American and imported draft beers. There are daily drink specials, including Thirsty Thursday, with $2 mugs of Bud Light, $5 glasses of wine and $12 pitchers of Bud Light.
Frank Sinatra Self-Guided
Walking Tour
Hoboken Historical Museum
1200 Hudson Street
TO EXPLORE: Enjoy a leisurely walk around Hoboken and learn about the city's most famous former resident: Frank Sinatra. A brick arch and bronze star is all that's left at 415 Monroe Street to mark Ol' Blue Eyes' birthplace, but you can also follow along on the city's self guided walking tour to see the schools, homes and social clubs that were part of his life in the 1930's. The walking tour takes about two hours. After you done with the tour, swing by the Hoboken Historical Museum for more information on the man the city calls "Hoboken's Gift To The World" as well as additional exhibits about past and present-day Hoboken.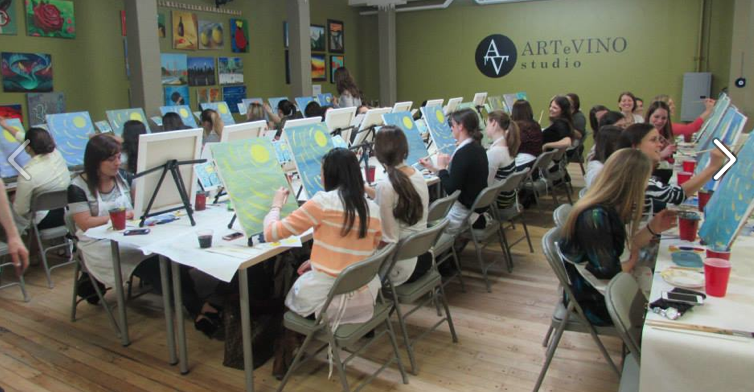 ARTeVINO Studio
Monroe Art Center
720 Monroe Street
More: Best Paint 'N Sip Classes In NYC
TO LEARN: Discover your inner artist with a glass of wine in your hand. ARTeVINO is an art and wine studio for recreational, BYOB art classes. It's a fun, social atmosphere where you can create your own version of some of the most famous artistic masterpieces. The studio provides the paint, canvas, brushes as well as guidance from a variety of patient, fun art teachers. It's a fun activity to do while socializing with your friends over that bottle of wine you've been meaning to try. ARTeVINO is located in Hoboken's Monroe Art Center: home to a variety of artists, photographers and galleries that host Open Studio Tours throughout the year.
Mangia Hoboken!
Food and Culture Tour
TO DISCOVER: Many out-of-towners sign up for this food tour around Hoboken with the hopes of getting a behind-the-scenes glimpse of the 'Cake Boss' from Carlo's Bakery. What they'll quickly realize is that 1. They're not going to see Buddy from 'Cake Boss' and 2. Hoboken has an authentic, old-world Italian food scene that's difficult to find anywhere else. On the tour, you'll make more than a half-dozen stops at mostly family-run specialty stores, and talk with the artisans who roast specialty coffees, bake crusty breads in a 1930s coal-burning brick oven and hand-pull mozzarella. Come with an empty stomach and stamina - the tour can be almost 3.5 hours in length. Learn more here.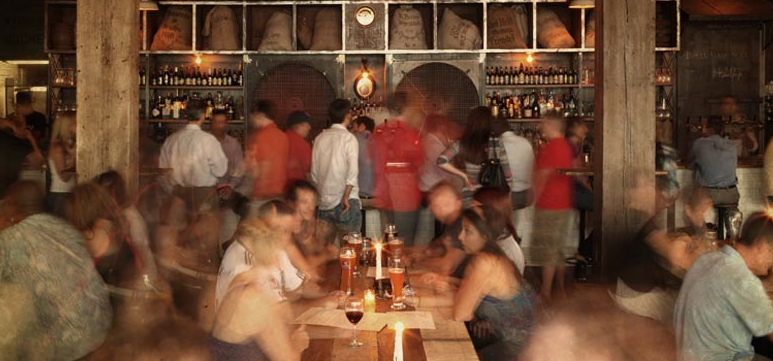 Pilsener Haus Beer Garden
1422 Grand Street
TO RELAX: Pilsener Haus brings a truly authentic Austro-Hungarian beer garden to Hoboken. Choose from a variety of imported drafts and European craft beers as well as delicious biergarten fare. Pair your beer with one of their huge Bavarian pretzels served with cheese and house-made mustard. You'll say you're going to share, but you may end up gobbling down the whole thing.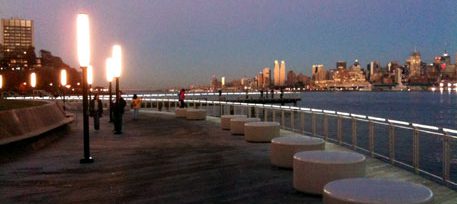 Pier A and Pier C Park
(A): 100 Sinatra Drive
(C): Sinatra Drive near 4th Street
For a small city, there's no shortage of green space, playgrounds and parks to hang out and enjoy the nice weather. However, Pier A and Pier C parks shine well above the others because of the breathtaking, postcard-worthy views they offer of downtown Manhattan. Pier A has plenty of lawn space for a picnic and also plays host to many of the free exercise and yoga classes offered during the summer months. Pier C park is a tiny oasis basically detached from Hoboken except for a small walking path that has a water play area for small kids as well as other, dryer playground activities that older kids (and adults) will have fun on. Learn more about Hoboken's parks here.
John Friia is a freelance journalist and native New Yorker writing about food, drinks and lifestyle. You can follow his adventures on Instagram.
Thanks for reading CBS NEWS.
Create your free account or log in
for more features.