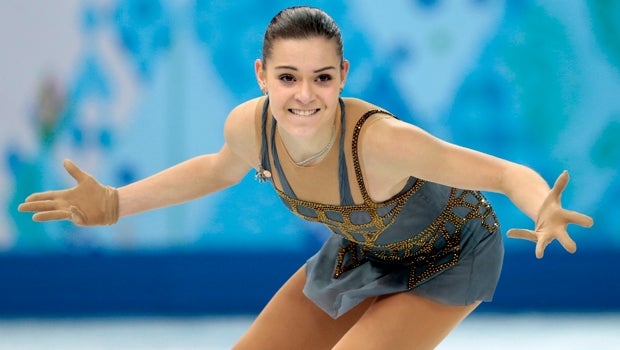 Russia stuns with Olympic gold in women's figure skating, U.S. shut out
SOCHI, Russia -- Bursting from the shadow of her adored teammate, Adelina Sotnikova gave Russia its first gold medal in women's Olympic figure skating.
While much-heralded Julia Lipnitskaia was stumbling, the 17-year-old Sotnikova soared. When she won the free skate Thursday at the Sochi Games, she denied South Korea's Yuna Kim from defending her title and confirmed Russian command of the sport once more.
"This is the happiest day in my life," Sotnikova said. "I simply stepped on the ice today and realized how much I like what I'm doing and skated really good."

The Russians have won three figure skating gold medals at these Olympics: team, pairs and women's.

Only this latest one was a surprise. A huge surprise.

Sotnikova, 2 years older than Lipnitskaia but far less accomplished, was considered a long shot against the likes of Kim, Italy's Carolina Kostner, who took bronze, Japan's Mao Asada and even Americans Gracie Gold and Ashley Wagner.

But Sotnikova, seemingly far more relaxed than nearly every other competitor, won it all, giving Russia or the Soviet Union 27 Olympic gold medals. They own five men's golds, 13 in pairs, seven in ice dance, and took the first team event this year.

Sotnikova was in the media area when she was told she won. She ran waving her arms in the air before finding her coach and sharing a warm hug. When she got onto the podium for the flower ceremony, to raucous chants of "Ross-si-ya," she jumped up and done like, well, a teenager who had just had her Olympic dream come true.

"It's the Olympics. And it was a long way for me," she said. "To compete at the Olympic Games, I dreamed of any medal, but frankly speaking, I wanted a gold one."

Lipnitskaia was fifth.

"I wanted to skate my best today but it didn't work," she said. "I've lost control over my jumps- tiredness and emotions."

Gold finished fourth, Wagner seventh and 15-year-old American Polina Edmunds ninth. Asada was third in the free skate after finishing 16th in Wednesday's short program and wound up sixth.

Sotnikova trailed Kim by just .28 going into Thursday, and she overcame that by winning the free skate 149.99 to Kim's 144.19. The final totals were 224.59 for Sotnikova, 219.11 for Kim and 216.73 for Kostner
Skating last, Kim needed a repeat of her Vancouver performance to hold onto the gold. She began masterfully with a triple lutz-triple toe combination and hit four more triples. Because she had one less triple jump than Sotnikova, Kim's artistry couldn't make up the difference.

Of the three medalists, Kostner went first to the sport's iconic musical piece "Bolero." While not as powerful or precise as Torvill and Dean's masterpiece at the Sarajevo Games 30 years ago, it was graceful and enchanting. From beginning to end, she owned the music - and by the finish, she owned much of the crowd, too.

She patted her heart when she was done, and her 142.61 was a season's best.


But it was not enough to beat Sotnikova, whose interpretation marks surpassed Kostner's if not Kim's. The Russian's routine was filled with action and pace, and she hit seven triple jumps, which turned out to be decisive. There wasn't much interaction with the music, but the energy sold the program.

That left only Kim with a shot at gold. She couldn't match the feat of Witt or Sonja Henie.

To chants of "Jul-i-a, Jul-i-a," Lipnitskaia took the ice first in the last group, knowing her chances to win were ruined with her fall in the short program. Again she struggled in the second half of her routine to "Schindler's List," stepping out of one jump and falling on another. She showed little emotion when she finished, in direct contrast to when she helped Russia win the team gold.

With a slight frown, she left the ice, waved weakly to the crowd from the kiss-and-cry area, and wound up fifth, far below expectations.

Then again, Sotnikova made up for it for Russia.

One member of the judging panel, Yuri Balkov of Ukraine, served a one-year suspension after the 1998 Nagano Olympics, but was back on the ice dancing panel at the Salt Lake City Games.
Thanks for reading CBS NEWS.
Create your free account or log in
for more features.