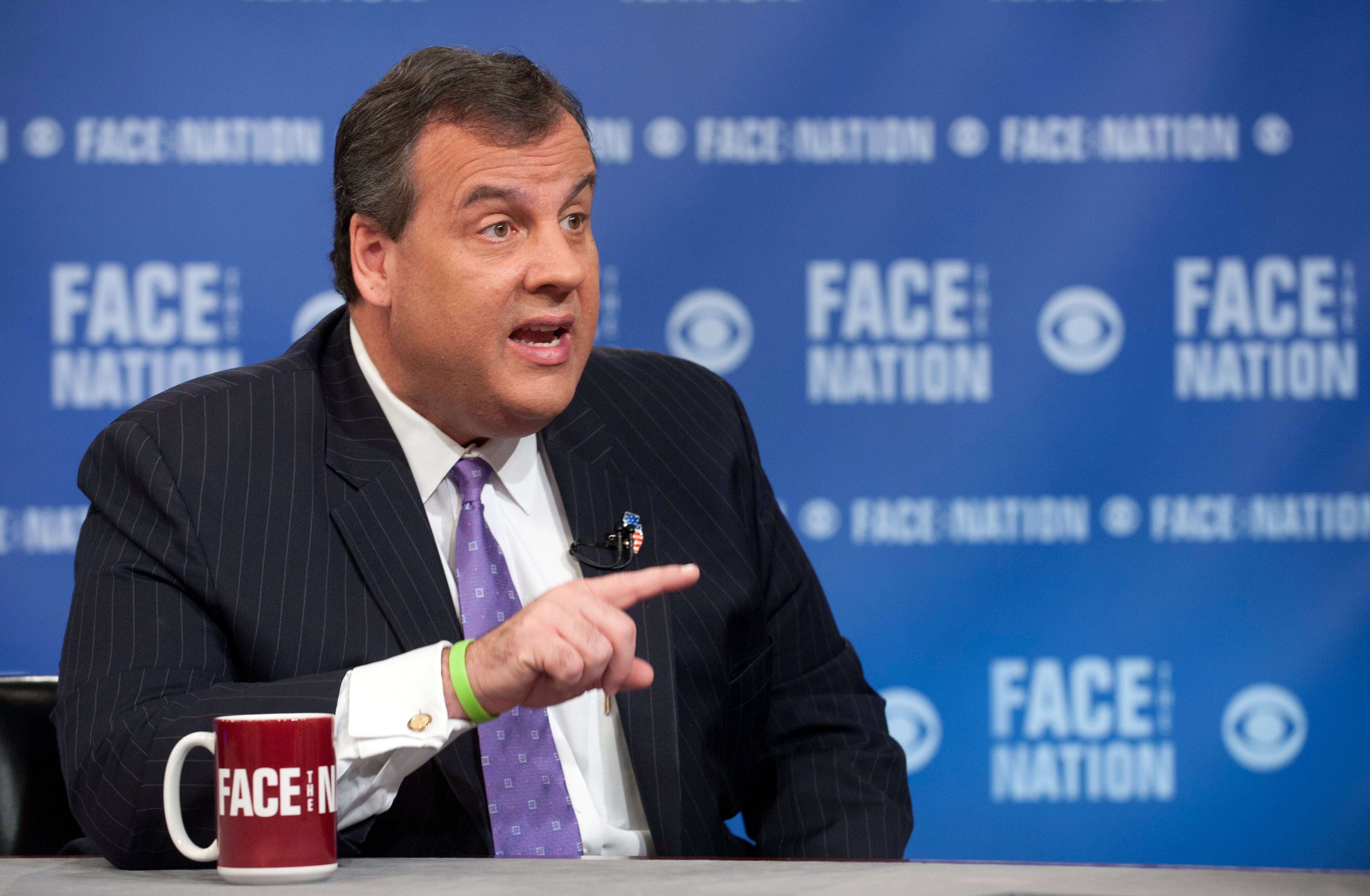 Why did Chris Christie go after Black Lives Matter?
Republican presidential candidate Chris Christie's charge that President Obama should not be "justifying" Black Lives Matter - a movement "calling for the murder of police officers" - is attracting an avalanche of criticism from the group and its supporters. But could there be a political upside for the New Jersey governor?
"There's lawlessness in this country. The president encourages this lawlessness. He encourages it...by his own rhetoric. He does not support the police....He justifies Black Lives Matter," Christie declared Sunday on "Face the Nation."
Host John Dickerson followed up, asking, "But Black Lives Matter shouldn't be justified at all?"
"Listen, I don't believe that that movement should be justified when they're calling for the murder of police officers, no," Christie replied.
"But they're not calling for the murder of police officers," Dickerson said.
"Sure, they are. They have been chanting in the streets for the murder of police officers," Christie insisted. "That's what the movement is creating. And the president of the United States is justifying that."
Christie seemed to be referring to Mr. Obama's recent defense of the phrase "black lives matter," which demonstrators have adopted as a creed to protest the treatment of black people at the hands of law enforcement officials.
"I think the reason that the organizers used the phrase 'black lives matter' was not because they were suggesting nobody else's lives matter," the president said Thursday. "Rather, what they were suggesting was there is a specific problem that's happening in the African-American community that's not happening in other communities. And that is a legitimate issue that we've got to address."
Whatever the impetus, Christie's accusation quickly came under fire from representatives of Black Lives Matter and those who support the group.
"Governor Christie needs to apologize for his statement that the Black Lives Matter movement is responsible for the killing of police officers in the United States," added Udi Ofer, the executive director of the New Jersey ACLU. "Such statements are irresponsible, offensive and flat-out wrong. Americans across the political spectrum have come to recognize that our nation's criminal justice system is broken, and the Black Lives Matter movement is part of a growing consensus that has rightfully focused on demanding greater transparency and accountability from our nation's police forces."
"It's amazing to me that black people and their allies affirming that Black Lives Matter is somehow celebrating murder," one of the movement's leaders, Johnetta "Netta" Elzie, told ThinkProgress earlier this month after similar remarks from another GOP candidate. "Nothing about us affirming our own lives has anything to do with 'embracing and celebrating the murder of police officers.'"
The kerfuffle illustrates the stark political divisions underlying the recent debate over race and criminal justice in the U.S. Progressives and those who support the "Black Lives Matter" movement believe there are pervasive patterns of racial bias in law enforcement - the recent videos of a white cop aggressively detaining a black female student in a South Carolina high school provided a fresh example of that bias. They insist they're not anti-police, but they believe racism in law enforcement needs to be acknowledged and confronted.
Some conservatives, though, believe the movement is more interested in sowing division than solving problems. They say "Black Lives Matter" is unfairly maligning the difficult, dangerous work done by police officers, creating a climate in which violence against law enforcement is encouraged. Some have pointed to a recent suggestion from FBI Director James Comey that "part of the explanation" for a crime spike in some U.S. cities is "a chill wind blowing through American law enforcement over the last year." Comey was arguing that public scrutiny of police officers may contribute to reluctant policing - and a corresponding increase in the crime rate.
It's that narrative that may explain Christie's decision to cannonball into the debate over race and policing. Conservative voters are generally more likely to buy into a law-and-order message that prioritizes being tough on crime over any concerns about racial prejudice. If Christie is able to speak viscerally to those concerns and earn a fresh look from conservatives, he may be able to improve his standing in GOP primary polls, which currently place him near the back of the pack.
Christie's remarks are "great lines in Iowa, New Hampshire and South Carolina with a more conservative crowd than might typically look at the governor," GOP strategist Rick Davis told NJ.com.
"The guy's done a lot of talking in new Hampshire and it doesn't seem to be resonating," added Dave Carney, another veteran Republican operative. "He doesn't get a lot of coverage. He hasn't seen any of his messages that have caught fire locally in terms of earned media, so if nothing else is working, it's certainly worth a try."
Perhaps the strongest evidence that Christie may have found a winning strategy to court conservatives, though, is the fact that some of his competitors are singing a similar tune.
"If you look at the Black Lives Matter movement, one of the most disturbing things is more than one of their protests have embraced rabid rhetoric, rabid anti-police language, literally suggesting and embracing and celebrating the murder of police officers," Texas Sen. Ted Cruz told ThinkProgress earlier this month. "That is disgraceful."
Thanks for reading CBS NEWS.
Create your free account or log in
for more features.