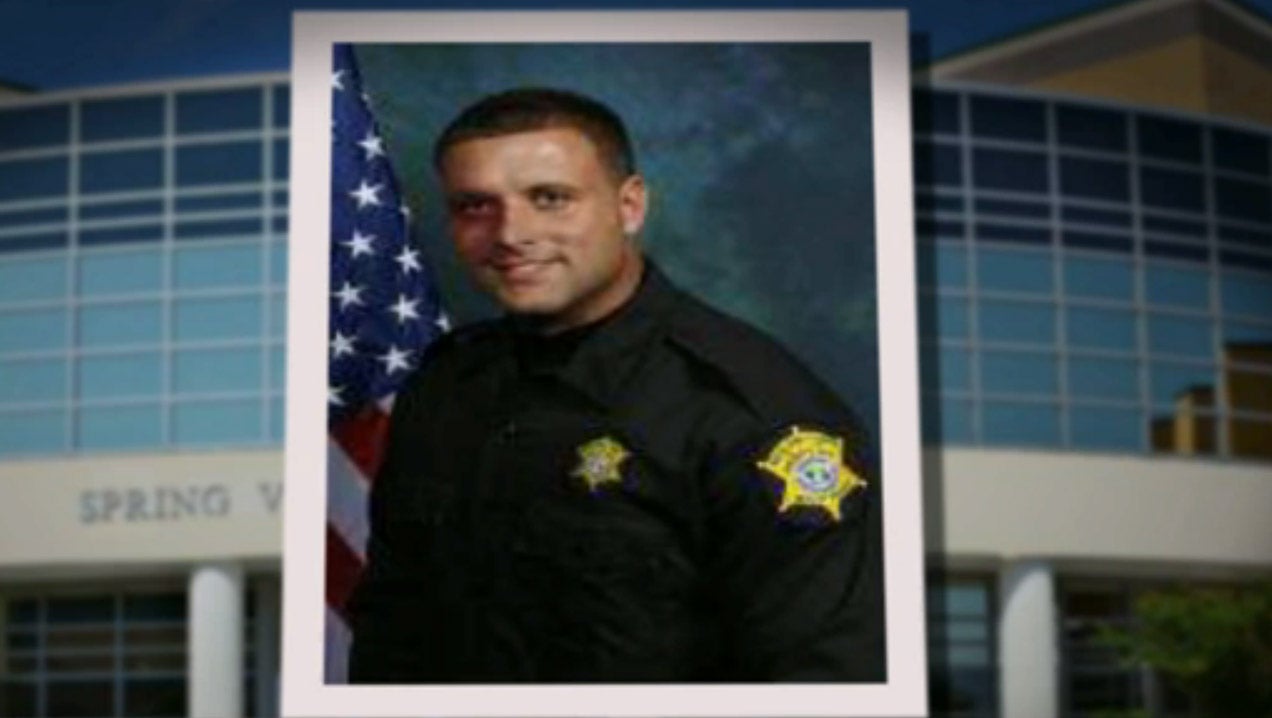 Officer fired over violent S.C. classroom arrest
COLUMBIA, S.C. - The South Carolina Sheriff's deputy captured on video forcefully removing a student from class has been fired, the local sheriff said Wednesday, less than a week after the incident at Spring Valley High School first came to the public's attention.
Richland County Senior Deputy Ben Fields was already suspended after videos of him flipping and tossing a black female student across a classroom went viral online.
Fields was told of his firing late Wednesday morning
"What he should not have done is throw the student," Richland County Sheriff Leon Lott said. "Police officers make mistakes too. They're human and they need to be held accountable, and that's what we've done with Deputy Ben Fields."
Lott said he wouldn't describe Fields as remorseful, but rather sorry it all happened.
Fields' lawyer released a statement on Wednesday on his behalf. In the statement it said Fields would like to acknowledge and personally thank everyone who has offered their support and positive response.
"We believe that Mr. Fields' actions were justified and lawful throughout the circumstances of which he was confronted during this incident," the statement read. "To that extent, we believe that Mr. Fields' actions were carried out professionally and that he was performing his job duties within the legal threshold."
Civil rights groups praised the swift action against Fields, a veteran school resource officer and football coach at Spring Valley High School. Outrage spread quickly after videos of the white officer arresting the black teenager on Monday appeared on the Internet.
Lott thanked the FBI for investigating whether civil rights were violated, and school officials for promising to review how police are used for discipline.
"They need to understand that when they call us, we're going to take a law enforcement action," Lott said. "Maybe that ought to have been something handled by the school without ever calling the deputy."
Critics have accused Fields, who is white, of racial bias, something local officials have so far denied, and they say school teachers and administrators and even at least one fellow student have publicly said they support Fields' actions. He had been a school resource officer at Spring Valley High School for seven years, and many there have voiced support for him, Lott said.
Lott has already asked the FBI to assist in the investigation into the incident, and the Department of Justice has opened a civil rights probe into it.
While Lott said, "the student was being disruptive," his department's review of the incident led to the conclusion that Field's "use of force was unacceptable" and he "did not follow proper training, proper procedure" when he "threw her across the classroom."
Because he did not follow proper procedure, Lott said Field's employment was terminated Wednesday morning.
"Deputy Ben fields did wrong," Lott said. "We're taking responsibility for that. Police officers make mistakes too. They're human."
The attorney for the teen says his client did suffer several injuries during her arrest.
Columbia attorney Todd Rutherford said Wednesday that Fields should have been fired as soon as Lott saw the video recorded by several students at Spring Valley High School in Columbia.
"She now has a cast on her arm, she has neck and back injuries. She has a Band-Aid on her forehead where she suffered rug burn on her forehead," Rutherford said.
Classmates of the student say the confrontation began when a teacher and school administrator repeatedly asked her to put away her cellphone during class.
One student -- who asked that his identity be concealed -- says other kids in the class tried to defuse the situation.
"She was even told by the students to just get up and leave when the administrator came in," the student said.
Fields was then then called to remove the student.
"You're going to come with me or I'm gonna make you," Fields tells the student in the video. "Put you hands behind your back. Give me your hands, give me your hands."
When she didn't get up from her desk, the officer wrapped a forearm around her neck, flipped her and the desk backward onto the floor, tossed her toward the front of the classroom and handcuffed her.
The deputy also arrested a second girl who verbally objected to his actions. Both girls were charged with disturbing schools and released to their parents.
The second student, Niya Kenny, told CBS affiliate WLTX-TV that she felt she had to say something. Doris Kenny said she's proud her daughter was "brave enough to speak out against what was going on."
Lott said the charges against the two students would not be dropped and would be dealt with at a later date. However, he commended the students who recorded the incident, saying he encouraged citizens to record authorities and bring it to his attention if they think something is wrong.
Fields, who also helped coach the Spring Valley football team, has prevailed against accusations of excessive force and racial bias before. Lott said he would not release Fields' personnel file, saying only that some complaints have been filed in the past against him, none of which came from the school district.
Trial is set for January in the case of an expelled student who claims Fields targeted blacks and falsely accused him of being a gang member in 2013. In another case, a federal jury sided with Fields after a black couple accused him of excessive force and battery during a noise complaint arrest in 2005. A third lawsuit, dismissed in 2009, involved a woman who accused him of battery and violating her rights during a 2006 arrest.
Lott said there have been school resource officers in the county ever since he has been sheriff for the last 19 years. He said the deputies have to receive more training and certification.
Many districts across the country put officers in schools after teenagers massacred fellow students at Columbine High School in Colorado in 1999. Schools now routinely summon police to discipline students, experts say.
Thanks for reading CBS NEWS.
Create your free account or log in
for more features.