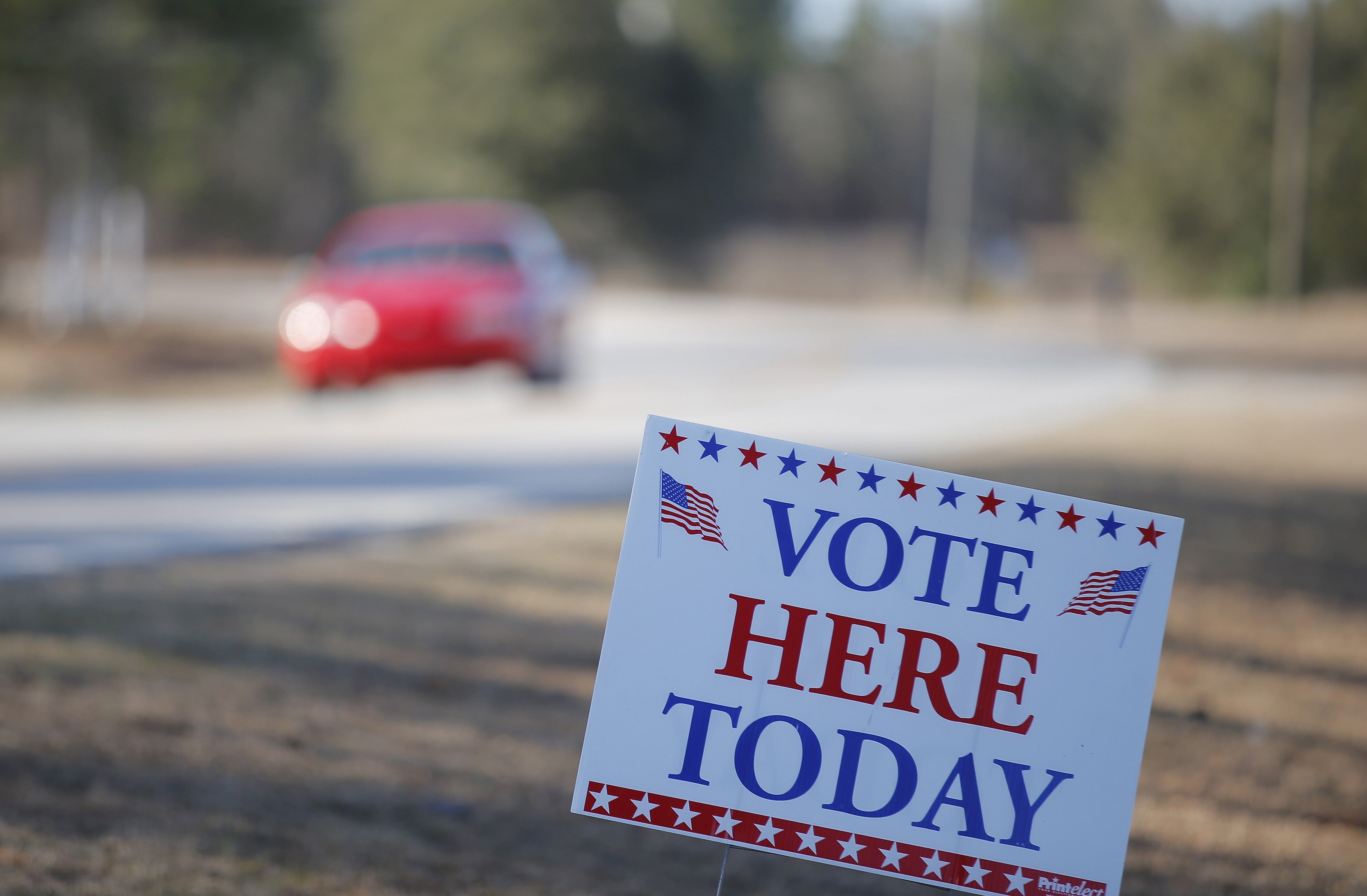 What do the turnout numbers say about the 2016 race?
After the first four voting contests of 2016, a clear trend is showing up in the numbers: compared with 2008, Democratic turnout is down, while Republicans are hitting record turnout highs.
In South Carolina's Democratic primary, for example, where Hillary Clinton scored a big victory Saturday night, just over 367,000 people turned out to vote--a 30-percent decrease from 2008, the last contested Democratic primary, when 532,000 Democrats voted.
Just a week earlier, when Republicans in South Carolina went to the polls, a whopping 738,000 turned out, over 20 percent more than the 603,000 Republicans who voted in 2012 in the GOP's last contested primary.
The picture is similar across the board. In Nevada's caucuses, 84,000 Democrats turned out to vote--a nearly 30-percent drop from 2008, when 118,000 Democrats caucused. In New Hampshire, just over 250,000 Democrats turned out, compared with 288,000 in 2008 (a 13-percent drop). In the Iowa caucuses, turnout fell from about 240,000 to just over 171,000 (a decline of just under 30 percent).
On the Republican side, it's the opposite: turnout in the first four contests has been record-breaking. In New Hampshire, GOP turnoutwas up about 14 percent over 2012 (284,000 people voted this year, compared to 248,000 in 2012).
In Iowa, more than 186,000 Republicans caucused, a more than 50-percent increase over 2012's 121,000 GOP voters. In Nevada, a record-breaking 75,000 Republicans caucused, compared with just 33,000 in 2012--in fact, more people cast a vote for Donald Trump -- just over 34,000 -- than voted in the entire 2012 caucuses.
Why is this happening?
Strong turnout is typically a sign of how enthusiastic and engaged a party's voters are, a point Republicans are driving home as they tout the GOP's record turnout. And generally, a party's primary or caucus turnout is higher when its voters are engaged in the process and the race is competitive--both of which are true on the Republican side.
More candidates in the race means more candidates for voters to choose from and get excited about, and more resources directed at turning their party's voters out. With more than a dozen candidates in the GOP race in Iowa, for example, each campaign had field staffers on the ground and people whose jobs it was to make sure they turned out every supporter they could.
In a memo circulated to reporters about 2016 turnout thus far, the Democratic National Committee made reference to that disparity in the number of candidates: "In Iowa TWO Democrats turned out nearly as many caucus-goers as ELEVEN Republicans," the memo said, noting similar figures for Nevada and New Hampshire.
The Republican side this year also has Donald Trump, whose polarizing campaign has drawn headlines and brought new people into the fold of presidential primary politics. Plus, while many people show up to the polls to vote for a specific candidate, others come to vote against someone. "There's no question about it: Donald Trump is the main cause of high Republican turnout," Larry Sabato, director of the Center for Politics at the University of Virginia, said recently. "Love him or hate him, he's the center of attention."
Democrats have a contested primary, too, but with just two remaining candidates--and despite Sanders's victory in New Hampshire, his candidacy hasn't been able to bring in the kind of new, first-time voters that then-Sen. Barack Obama's did in 2008.
Still, lower Democratic turnout doesn't necessarily mean the party's voters aren't paying attention, or that they won't show up in November. On the Democratic side, 2008 was a historic election--and Democratic Party officials say it was always unlikely they'd be able to match it again, even with a contested primary between Clinton and Sanders.
"It would be unusual for the turnout rate to be as high as it was for the Democrats in 2008," said Michael McDonald, an expert on voter turnout at the University of Florida who tracks turnout at ElectProject.org. "The fact that the turnout is lower than the 2008 level is not something that's a huge surprise to me."
In New Hampshire and South Carolina, especially, polls put one Democratic candidate so far ahead that some voters may have felt the results were a foregone conclusion and that they didn't need to show up.
What can we expect on Super Tuesday and beyond?
Typically as the primaries progress to places that are less politically involved than Iowa and New Hampshire, turnout tends to drop. The further we get into the calendar, the less likely it is that voters will turn out at the rates they have in the early states.
But early voting numbers from some key Super Tuesday states, like Georgia and Tennessee, have reportedly risen significantly this year, meaning those states are likely to set some turnout records when the polls close Tuesday night. (Those increases are reported for the overall electorate, not for either party specifically--so it's tough to know for sure which party the increases are coming from.)
Ultimately, turnout levels going forward depend in large part on whether the nomination battles continue until the last states vote in June. If Clinton or Trump were to wrap up the nomination in mid-March, for example, their party's turnout numbers might see a lag once the race gets to April and May.
Turnout will "remain at these levels and potentially go even lower as we get further into the calendar--especially if we get down to one inevitable candidate on each side, turnout levels are going to plummet," McDonald said.
That's true for young voters, too, whose turnout rates have remained relatively stable among Democrats but surged for Republicans. "We don't know how long the competition is going to last ... that's a really important factor we're going to have to watch," said Abby Kiesa of the Center for Information & Research on Civic Learning and Engagement, a group that tracks trends relating to young voters. "In 2008, at least on the Democratic side side, the competition went on for very long, and provided the opportunity for more young people to be outreached to. That could have contributed to the increased turnout in 2008."
At least thus far, the high Republican turnout has most helped Trump's campaign, likely a sign he is bringing new people into the fold for the party. (Trump acknowledged this in a tweet Sunday: "While Hillary and I both won South Carolina by big margins, Repubs [sic] got far more votes with a massive increase from past cycles. GROWING PARTY," he said.)
For Democrats, low turnout has hurt Sanders's campaign--a fact he acknowledged after the Nevada caucuses. Like Obama, he needs to grow the electorate and bring in new people in order to be successful, and it's unclear whether he'll be able to do that going forward.
What does this mean for November?
It's hard to predict what relationship primary turnout has, if any, to who shows up to the polls in November. Primaries often draw people who feel strongly about a particular candidate or who are more engaged in politics--and not everyone who votes in the general election is ready and paying attention this early in the process.
McDonald cautioned against reading these early turnout numbers as a sign Republicans will dominate in November. Back in 2000, he said, Republicans had higher turnout in the primaries but Democrat Al Gore actually won the national popular vote in November.
"It's not clear to me that the levels of engagement right now signal that Republicans will have a victory in November," he said. Still, he added: "All things equal, I would rather have high turnout than low turnout for my contested nomination contest."
Thanks for reading CBS NEWS.
Create your free account or log in
for more features.