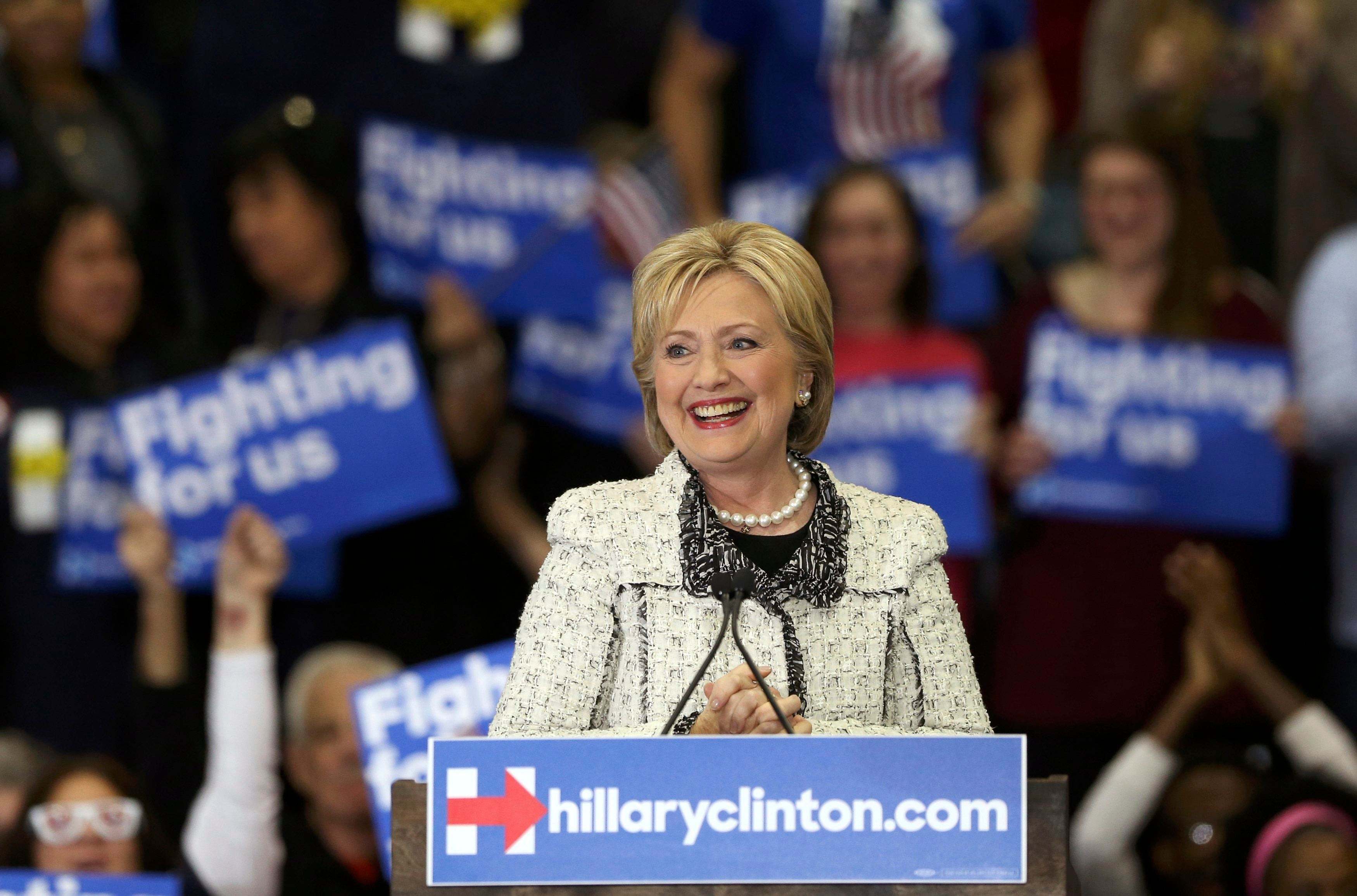 Hillary Clinton trounces Bernie Sanders in South Carolina
9:13 p.m. As he landed at a rally in Rochester, Minnesota, Sanders told reporters, "In politics on a given night sometimes you win, sometimes you lose. Tonight we lost."
"I congratulate Secretary Clinton on her very strong victory," he added. "Tuesday over 800 delegates are at stake and we intend to win many many of them. Thank you very much."
8:08 p.m.Black voters were actually a larger portion of the electorate in 2016 than they were in 2008, and Clinton won a larger percentage of their votes.
In 2008, 55 percent of the Democratic primary electorate in South Carolina was black. Mr. Obama won 78 percent of their votes, and Clinton won 19 percent.
In 2016, 61 percent of primary voters were black. Clinton won 87 percent of their votes, compared to Sanders, who won 13 percent.
8:00 p.m.A triumphant Clinton declared, "Tomorrow this campaign goes national. We are going to compete for every vote in every state." She also said she would not take anything or anyone for granted. Read more about her victory speech here.
7:45 p.m. Clinton is about to speak in South Carolina. She was introduced by Rep. James Clyburn, D-South Carolina.
"We tonight have started Hillary Clinton on her way to the White House," he said.
7:40 p.m.According to the exit poll, 72 percent of Democratic voters want the next president to continue President Obama's policies, and just 18 percent would like the next president to change to more liberal policies.
Clinton won 79 percent of the votes of those who want to continue Mr. Obama's policies, compared to just 21 percent who voted for Sanders. On the other hand, Sanders won 66 percent of those who want to change to more liberal , compared to 34 percent who voted for Clinton.
7:35 p.m.Consistent with the previous state primaries and caucuses, Sanders did better among younger people. Overall, Sanders won among those under 30, 63 percent to 37 percent, but lost to Clinton among voters over 30.
Among white voters, Clinton only beat Sanders among those 65 or over 61 percent to 39 percent. Sanders won among white voters under 45 by a margin of 69 percent to 31 percent.
There was a sizable gender gap in support for Clinton among white primary voters. She got the support of 49 percent of white women (compared to 51 percent who voted for Sanders) but only 32 percent of white men (versus 68 percent who voted for Sanders). The gender gap was much smaller among African-Americans. Clinton got 86 percent of black female votes and 79 percent of black men.
Clinton ran well among voters across a range of issue priorities, but somewhat less well among those who said inequality was the most important issue. While she won more than 70 percent of voters who cited the economy/jobs, health care and terrorism as the top issue, she won just 54 percent of those who cited income inequality as the top issue.
7:17 p.m. Clinton's victory in South Carolina included a very strong showing among African Americans.
More than 86 percent of black women and 79 percent of black men supported her over Sanders.
There was also a strong turnout among African-Americans. According the CBS News Exit Poll, 62 percent of primary voters were black, compared to 34 percent who were white. The percentage of black voters today was higher than in 2008, when they made up 55 percent of the Democratic primary electorate.
African Americans continue to have very favorable feeling for Clinton and they are more skeptical about Sanders.
Among blacks, Clinton won overwhelmingly in all age groups, except for those under 30, where her victory was more narrow -- 57 percent to 43 percent. She won more than 80 percent among black voters over 30.
Clinton ran strongly among black college graduates and those with only a high school degree, among poor and more affluent blacks.
African Americans want the next president to continue President Obama's policies and are more confident Clinton will do that than Sanders.
Eighty-four percent of African Americans think Clinton is honest and trustworthy; only 51 percent say Sanders is. Nearly nine in 10 trust Clinton to handle race relations; only 5 in 10 trust Sanders. Ninety-two percent of black voters said they would be satisfied if Clinton wins the nomination, whereas only 51 percent would be satisfied with Sanders.
Sanders ran much better among white Democratic voters, beating Clinton 58 percent to 42 percent. He ran particularly well among white men who favored him by a 68 percent to 32 percent margin. They ran almost equally among white women.
7:11 p.m. Bernie Sanders released a statement congratulating Clinton but making it clear the race isn't over yet, as far as he's concerned.
"Let me be clear on one thing tonight. This campaign is just beginning," he wrote. "We won a decisive victory in New Hampshire. She won a decisive victory in South Carolina. Now it's on to Super Tuesday. In just three days, Democrats in 11 states will pick 10 times more pledged delegates on one day than were selected in the four early states so far in this campaign."
As the South Carolina polls closed, Sanders was getting ready to take off from Dallas, Texas, en route Rochester, Minnesota, CBS News digital journalist Kylie Atwood reports
7:00 p.m.CBS News projects a big win for Hillary Clinton, based on exit poll interviews.
Clinton tweets:
6:45 p.m. Many voters made up their minds well before the election. Just 20 percent decided which candidate to support in the past week.
6:33 p.m. Nearly seven in 10 primary voters say Hillary Clinton is the best candidate to handle nominating the next justice to the Supreme Court.
6:15 p.m. More than two-fifths of South Carolina Democrats say the economy is the most important issue in the election.
And 31 percent say the most important quality in a candidate is someone who "cares about people like me."
5:25 p.m.Some more early numbers from the exit polls show pessimism among the electorate. Forty-six percent of Democratic primary voters say that race relations have gotten worse, including 45 percent of blacks and 48 percent of whites.
Eight in 10 voters say the U.S. economic system generally favors the wealthy, and 82 percent said they are very or somewhat worried about the direction of the nation's economy.
On the issue of guns, South Carolina voters indicated they would be open to more gun control measures. Eighty-four percent of Democratic primary voters said reducing gun violence is more important than protecting gun owners' rights.
5:00 p.m. In two hours, polls will close in the South Carolina Democratic primary, the fourth nominating contest of the 2016 election. Voters can choose either Hillary Clinton or Bernie Sanders. The state held its Republican primary last weekend, which Donald Trump won.
Watch CBSN for coverage of South Carolina's Democratic primary
South Carolina has 53 Democratic delegates up for grabs, with an additional six unpledged superdelegates who are party officials who can commit to whomever they want.
Exit polls show that about seven in 10 Democratic voters want to continue President Obama's policies, a higher percentage than voters in Iowa, New Hampshire and Nevada who voiced a similar desire. Among African American voters, 87 percent want to continue the president's policies.
South Carolina operates under an open primary system, which means people can participate in the primary even if they're not registered Democrats. People who already voted in the GOP primary, however, cannot participate.
The primary comes a week after Clinton won Nevada's Democratic caucuses 53 percent to 47 percent, where she performed well among black voters. More than three-quarters of black Democratic voters in Nevada caucused for Clinton, signaling she would also come out strong in South Carolina.
Her campaign is hoping for a strong showing to give her momentum heading into Super Tuesday next week.
In 2008, 55 percent of South Carolina Democratic primary voters were black and then-Sen. Barack Obama wound up winning that primary. But this time around, polls show Clinton will almost certainly prevail. A CBS News Battleground Tracker Poll released earlier this month showed Clinton with a 19-percentage-point lead ahead of Sanders, 59 percent to 40 percent.
Clinton has also picked up several key endorsements ahead of the primary. Influential South Carolina Democrat Rep. James Clyburn has endorsed the former secretary of state as did a top Hispanic Democrat in Congress, Rep. Ben Ray Luján of New Mexico, on Friday. Senate Majority Leader Harry Reid, D-Nevada, also expressed support for Clinton this week.
The primary also comes just a day after the State Department released its penultimate batch of Clinton emails from her private server. The final publication date will be Feb. 29, just one day before Super Tuesday's nominating contests.
Following his win in New Hampshire earlier this month, Sanders told CBS News' Scott Pelley that he had a "strong chance" in Nevada and South Carolina.
Clinton won the Iowa caucuses, the first nominating contest at the beginning of February.
→ What: South Carolina's Democratic primary
→ CBSN election coverage begins at 6 p.m. EST
→ Where: Across South Carolina
→ When: Polls will be open from 7 a.m. to 7 p.m. on Saturday
CBS News election analyst Stanley Feldman contributed to this story.
Thanks for reading CBS NEWS.
Create your free account or log in
for more features.