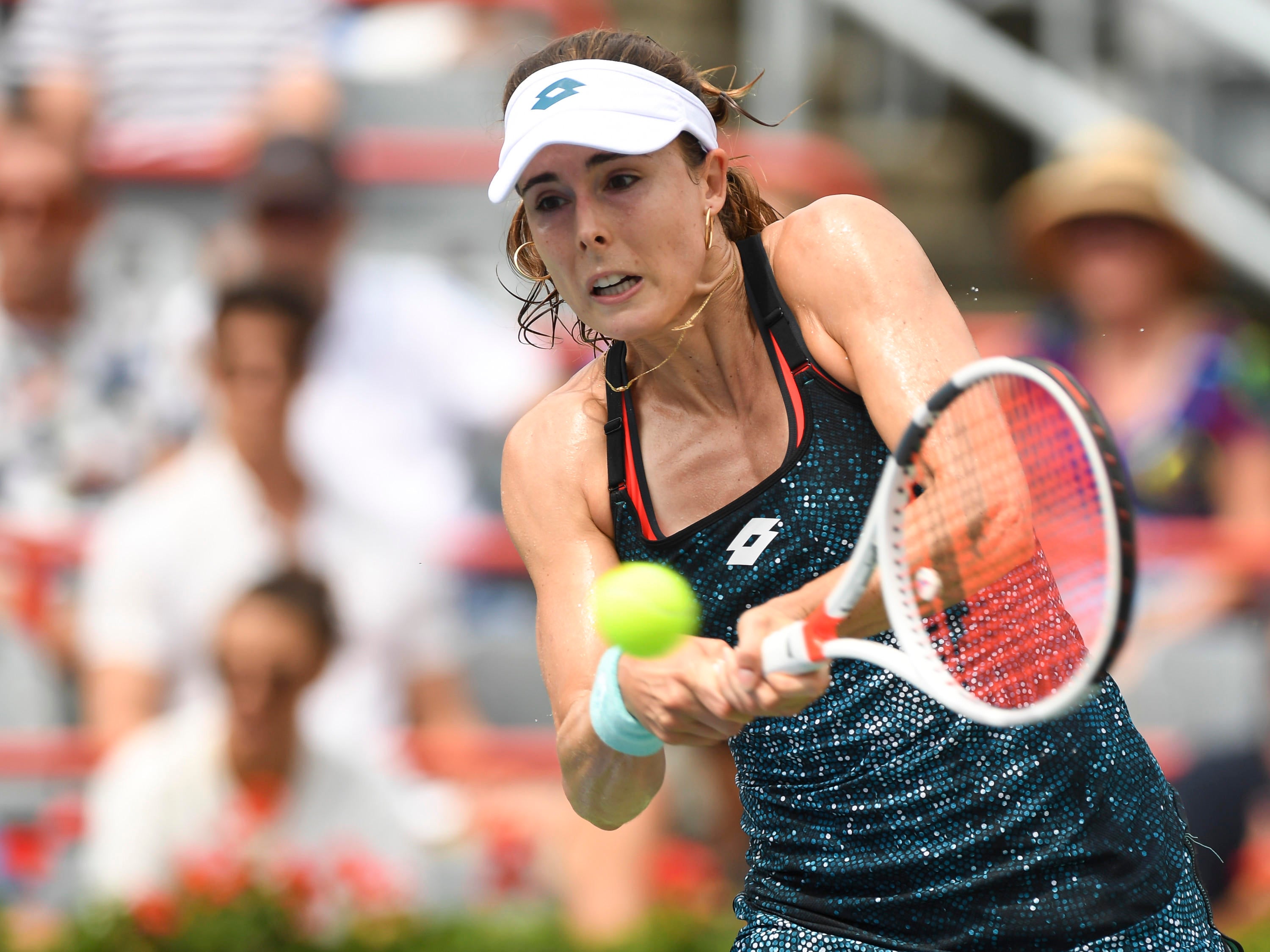 U.S. Open accused of sexism after Alizé Cornet penalized for taking off her shirt while male players sit shirtless
The U.S. Open is feeling the heat today — not just because this year's tournament has been dogged by crushing humidity and dangerous temperatures near 100 degrees Fahrenheit, but because of a code violation many are flagging as sexist.
The incident in question occurred between the second and third sets of a women's match on Tuesday. French player Alizé Cornet, who is ranked 31st in the world among professional female players, was returning to the court after a 10-minute heat break in the locker room, when she realized that the fresh shirt she had just changed into was on backwards. Cornet quickly turned away from the cameras, pulled the shirt over her head (while her black sports bra remained in place) and righted the situation. It reportedly took less than 15 seconds.
Seems simple enough, right? Wrong.
When Cornet turned back toward Center Court, the chair umpire shocked her — and scores of stunned fans — by serving her up with a code violation for unsportsmanlike conduct. "Not fair. Not right," one outraged fan said on Twitter. "The double standard here is DEAFENING," another wrote.
The Women's Tennis Association (WTA) rules stipulate that female players are not permitted to change their clothing while on the court, but must instead do so in a dressing room. Male players, on the other hand, regularly pull their shirts off and switch them on the court when changing ends.
And in the oppressive heat at Arthur Ashe Stadium this week, many prominent male players, like Roger Federer and Novak Djokovic, even took it a step further by sitting on the sidelines without their shirts on for prolonged periods of time.
This is just the latest example of gender inequalities in professional sports, coming almost immediately on the heels of the controversy over Serena Williams' form-fitting catsuit, which she said she wore for medical reasons. And now, many tennis fans are hoping it'll serve as a sort of "break point" for the sport's governing body.
Judy Murray, mother of the former top male player in the world, Andy Murray, was even among those who took to Twitter in outrage.
In fact, the sport's Extreme Heat Policy itself borders on sexism. The 10-minute break offered between the third and fourth sets of a match in instances of extreme heat is generally only extended to women. This week, however, the temperatures in Flushing Meadows, New York, were so extreme that officials made an exception.
"Upon the recommendation of the U.S. Open medical team, the Extreme Heat Policy will be implemented immediately for men's matches," the USTA said in a statement.
The very existence of the discrepancy, however, seems to imply that female players are somehow more fragile than their male counterparts.
And separate from the sexism on the books is the issue of double standards in the enforcement of discipline after players are cited for unseemly conduct. That problem seems to exist along gendered lines in more sports than just tennis.
Take the issue of trash talking, for example. In men's sports, it is rampant, expected and almost glorified. In fact, for some male athletes like Conor McGregor and Draymond Green, it's become an intregal part of their persona. But when Hope Solo called the Swedish national team "a bunch of cowards" after a heated Women's World Cup match, however, she was banned from U.S. soccer.
Male athletes have done far worse and are still allowed to return. Numerous NFL players, like Adrian Peterson, Michael Vick and Ray Lewis, have weathered controversies over child abuse, dog fighting and even a murder case, returning to multi-million dollar contracts and, in the case of Lewis, being inducted into the Hall of Fame. Milwaukee Brewers pitcher Josh Hader recently received a warm ovation from fans when he returned to the mound after his years-old racist and homophobic tweets surfaced during the All-Star Game. Floyd Mayweather Jr. remains the highest paid athlete in the world, cashing in hundreds of millions of dollars for a single fight, despite repeated domestic abuse charges.
In the case of Alizé Cornet, the WTA has now responded with a statement standing up for the player. "The code violation that USTA handed to Alize Cornet during her first round match at the U.S. Open was unfair and it was not based on a WTA rule, as the WTA has no rule against a change of attire on court. The WTA has always been and always will be a pioneer for women and women's sports. This code violation came under the Grand Slam rules and we are pleased to see the USTA has now changed this policy. Alize did nothing wrong," the group said.
The USTA, too, has now released a statement in the hopes of clarifying the situation.
"All players can change their shirts while sitting in the player chair. This is not considered a code violation," it reads.
"We regret that a code violation was assessed to Miss Cornet yesterday. We have clarified the policy to ensure this will not happen moving forward. Fortunately, she was only assessed a warning with no further penalty or fine.
"Female players, if they choose, may also change their shirts in a more private location close to the court, when available."
Thanks for reading CBS NEWS.
Create your free account or log in
for more features.