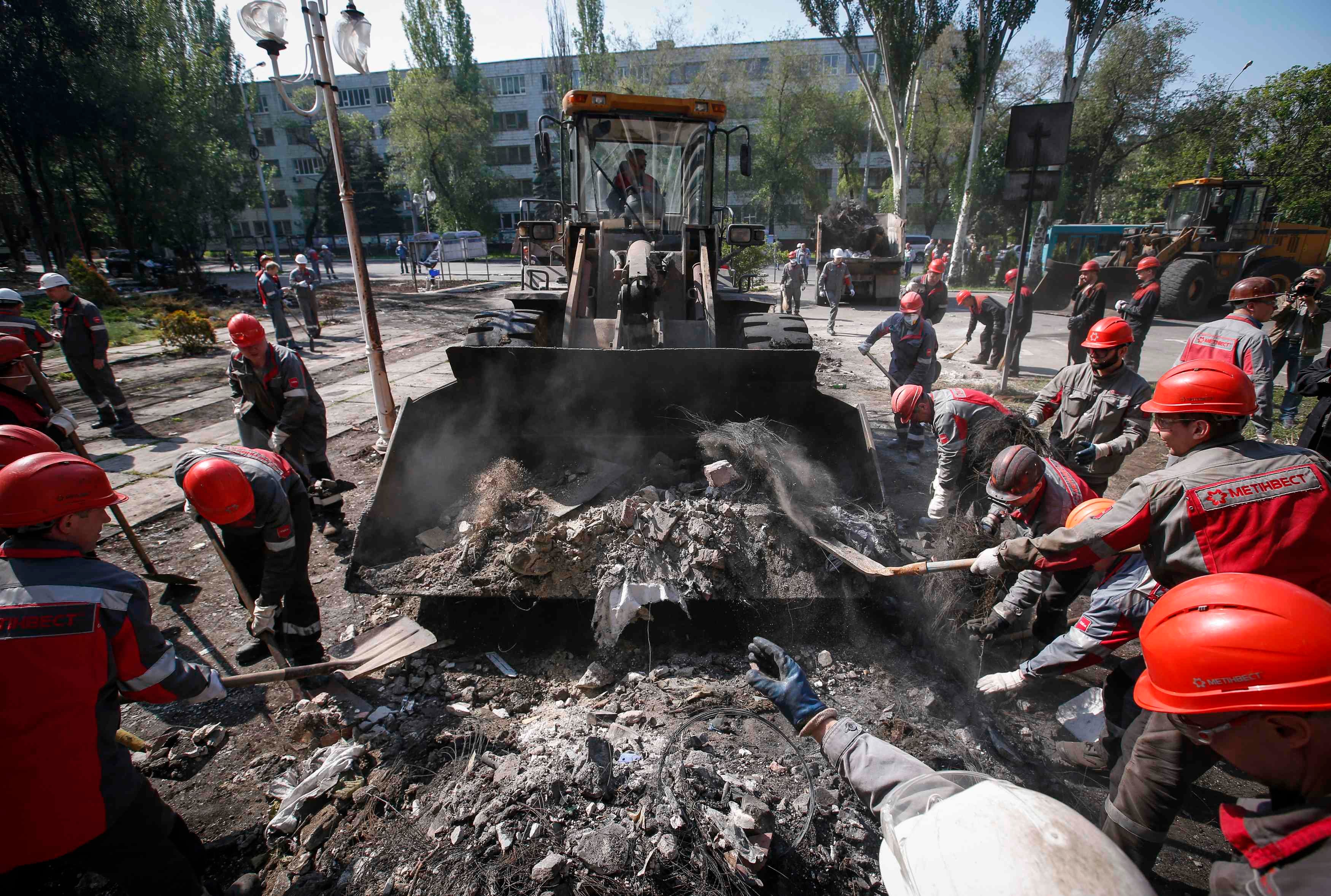 Ukraine's richest man does what gov't forces couldn't
DONETSK -- It wasn't Ukrainian soldiers, but an army of steelworkers who managed to take back the contested city of Mariupol on Thursday, forcing pro-Russian separatists out of government buildings and off the streets.
The order came from Rinat Akhmetov, Ukraine's richest man, who urged hundreds of his unarmed factory workers to help police wrestle back control of the city, taking down barricades and joining citizen patrols.
The deft move proved two truths here in eastern Ukraine: oligarchs still wield considerable power, and not everybody supports the pro-Russian movement in this region.
It doesn't look like the pro-Russian forces put up much of a fight. Their self-declared commander of Mariupol's government building, German Mandrakov, told the Associated Press he was "forced" to leave the building he and his men had occupied for weeks. "Everyone ran away," he lamented, using some colorful language to describe his retreating forces.
It's a different story in Donetsk. The separatists still occupy the main administration building here and their crude barricades of tires and barbed wire remain in place.
There are only about two dozen people still hanging around outside the building, in a sort of mini-protest camp with a few tents and posters with slogans like, "please Obama and Merkel...don't kill us."
The city itself feels strangely normal for a region supposedly under siege, and in sort of a diplomatic limbo after the weekend's rebel referendum calling for autonomy.
Just blocks away from the men in masks and military fatigues around the administration building, everyone is going about their daily business.
Under sunny skies and temperatures in the low 80's, people are strolling and shopping, and the parks and playgrounds are filled with children.
Police are still patrolling, driving through the streets.
Open-air restaurants were filled Thursday night with soccer fans watching their local team, Shakhtar Donetsk, lose a national final, 2-1 to Kiev. The match ended in a brawl between players. But no hard feelings from the fans themselves -- backers of both teams support a united Ukraine. In addition to his factories, pro-Ukrainian Akhmetov owns the Donetsk team, too.
Local separatist commander Sergei Zdrilyuk gave Ukrainian forces a deadline earlier this week to leave the region or face an onslaught. That deadline came and went without incident. So far anyway, Ukrainian forces aren't budging, which -- in this atmosphere of uncertainty -- makes the take-back of Mariupol an important development.
Rinat Akhmetov's power cannot be overestimated. His motive in mobilizing his own factory workers was simply the realization that his interests, along with the interests of the region, were threatened by the separatists and somebody had to do something about it.
With 300,000 workers and their families depending on a paycheck, Akhmetov can't afford the instability that would come with the prospect of autonomy in the region.
And it should go without saying that he has a lot to lose if the Russians choose to annex this area as they did in Crimea.
His gamble in Mariupol paid off without any bloodshed -- for now, anyway.
But what will happen in the rest of eastern Ukraine is still uncertain, as the next potential flashpoint looms in the form of Ukraine's presidential elections on May 25.
Thanks for reading CBS NEWS.
Create your free account or log in
for more features.