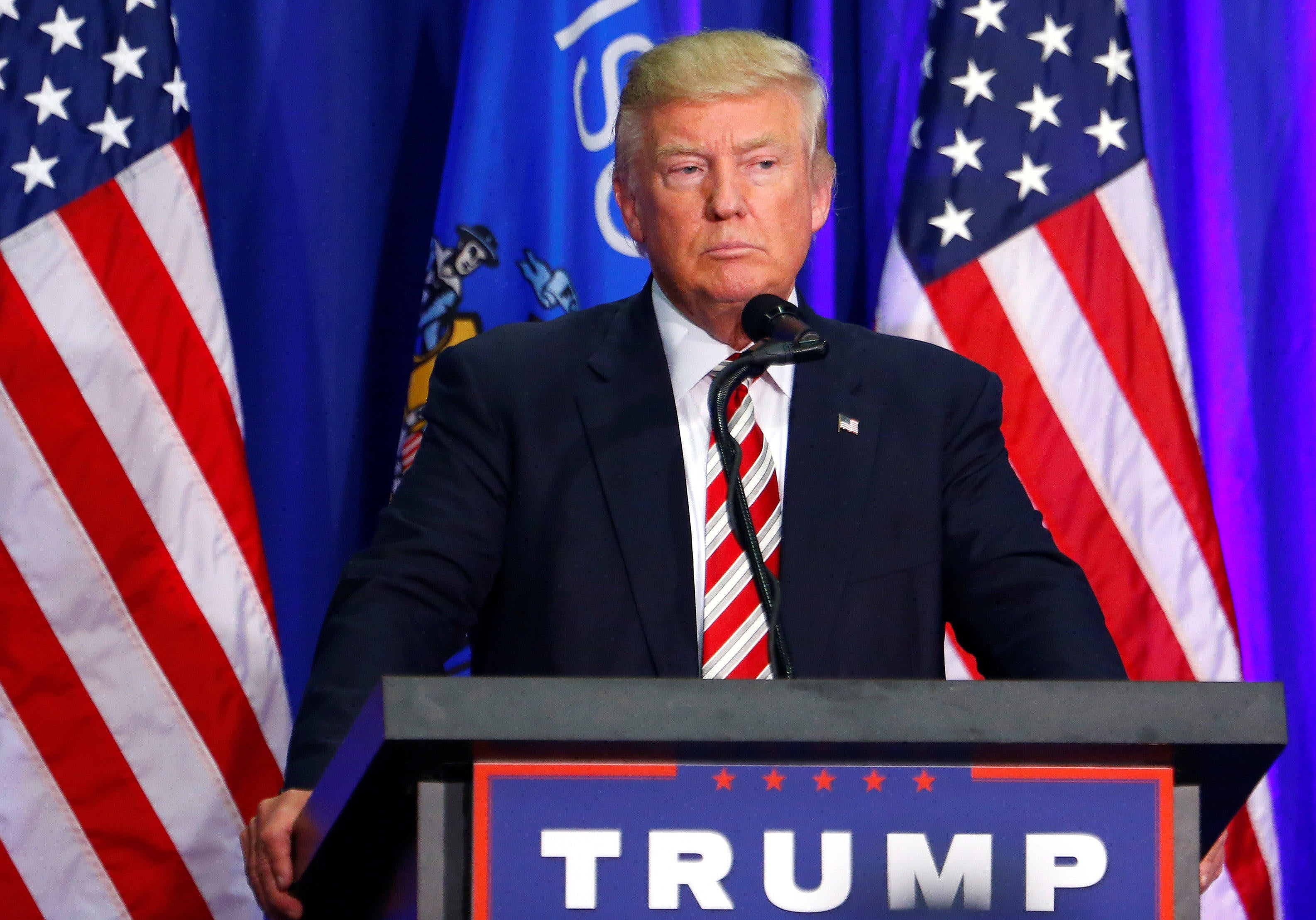 Trump: Clinton is a bigot
WEST BEND, Wis. -- Donald Trump called Hillary Clinton a bigot in a speech Tuesday night and accused his Democratic rival for the presidency of pandering to "communities of color."
"We reject the bigotry of Hillary Clinton, which panders to and talks down to communities of color and sees them only as votes," Trump said. "That's all they care about. Not as individual human beings, worthy of a better future. They have taken advantage."
It was an unfamiliar sight indeed for a Trump rally, seeing him reading off teleprompters, after months of mocking Clinton for using one at her rallies.
In West Bend, in a packed building on a fairgrounds, Trump made his most distinct pitch to African-Americans to date, titling the speech "Creating a New and Better Future For America's Inner Cities." However, the optics might have been a bit awkward, given that the audience was almost entirely devoid of minorities.
"The Democratic Party has taken the votes of African-American for granted," Trump said. "They've just assumed they'll get your support and done nothing in return for it. They've taken advantage of the African-American citizen."
And at a time when racial tensions are high in the country between communities of color and police departments, Trump aimed his pitch toward African-Americans by honing in on his message of "law and order."
"Just like Hillary Clinton is against the miners, she is against the police," Trump said. "Believe me. You know it and I know it and guess what? She knows it."
"So how are we serving these American victims by attacking law enforcement officers?" he continued. "The war on our police must end and it must end now."
It took until about halfway through the speech before Trump offered specifics on how he would be better for the African-American community than Clinton, and the messaging was filled with similarities to themes in one of his typical rallies.
Trump said he would renegotiate existing trade agreements and withdraw the United States from the Transpacific Partnership. He would repeal and replace the Affordable Care Act and "stand up to China." He said his administration would make the U.S. "wealthy" again by keeping companies from taking their manufacturing abroad, increasing wages and securing the border.
On education, Trump suggested he would eliminate teacher tenure.
"It's time to have school choice, merit pay for teachers and to end the tenure policies that hurt good teachers and reward bad teachers," Trump said.
The GOP nominee also said he would restrict the ability of administration officials and their spouses to give paid speeches while they serve (and after). Trump told the Wisconsin crowd that he would also insist senior officials sign an agreement that would stop them from collecting speaking fees for five years after leaving office, specifically from companies with official lobbyists or any corporation tied to a foreign government.
At one point, Trump even led the crowd in an "America first!" chant.
Trump's current support from the black community isscant​. In a NBC/Wall Street Journal poll released earlier this month, Trump took 1 percent of the African-American vote.
Many African-Americans view Trump's past comments on President Obama's birth certificate with scorn. In 2012, Trump grabbed headlines for months, heavily suggesting Mr. Obama wasn't born in the U.S. He even said he had sent investigators to Hawaii, the president's birthplace, to seek the truth. Trump never walked back those claims and even mentioned them again in 2015 at the Conservative Political Action Conference in Washington.
In July, in an interview with Fox News host Bill O'Reilly, Trump was asked what he would do to lessen racial tensions in the country.
"Well, one thing is spirit," Trump said. "I mean, we don't have spirit. The country doesn't have any spirit."
In a separate interview with O'Reilly, Trump said, without evidence, that he had seen members of the Black Lives Matter movement calling for moments of silence for the killer of five police officers in Dallas in July. It wasn't the last time he would make that claim.
"When you see something like that taking place, that's really a threat, if you think about it," Trump said. "And when you see something like that taking place, we are going to have to, perhaps, talk with the Attorney General about it or do something. But, at a minimum, we're going to have to be watching, because that's really bad stuff and it's happened more than once."
With few exceptions, almost the entirety of Trump's paid campaign staff is white. One of the few African-American staffers, the North Carolina state director, Earl Phillip, left the campaign earlier this month​ due to an alleged altercation with a volunteer that has since resulted in a lawsuit.
On the campaign trail, Trump is often joined by vocal African-Americans supporters such as Pastor Mark Burns, of South Carolina, and the duo of "Diamond and Silk," who became a sensation among Trump supporters for their YouTube videos supporting the nominee.
African-Americans have been one of the Democratic Party's most reliable voting blocs for decades. Trump used to say on the campaign trail that he might be able to get a quarter of the black vote – a figure unheard of for a Republican presidential candidate in modern presidential politics. He has not repeated that line recently.
Thanks for reading CBS NEWS.
Create your free account or log in
for more features.