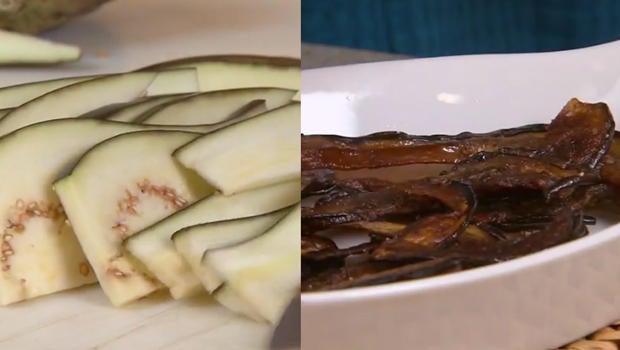 Today's Special: How veggies impersonate other foods
With 4 out of 10 Americans moving toward a more veggie-centric diet, Susan Spencer finds out how vegetables can substitute for other foods:
What's the hot new side dish? Rice. Well, it's sorta rice …. In fact, it's cauliflower rice.
Vegan cookbook author Ann Hodgman demonstrated: "You just drop chunks of it into the food processor, grind it up, and then I stir fried it with a little bit of garlic.
"Cauliflower is awesome, because it has great texture and has a real chew."
Cauliflower? Awesome? Hodgman apparently isn't the only one who thinks so! Over the past year, Americans spent $44 million on package "rice" made from cauliflower, along with its equally popular counter-part, veggie noodles. That would be noodles made with no noodles at all … like spaghetti made from zucchini!
"A lot of us are looking for more plant-based foods," said Hodgman.
In fact, some 4 out of 10 Americans say they're trying to do just that: Goodbye processed foods and meat, hello veggies!
"I think it is a trend," Hodgman said. "And I think it's a very worthwhile one."
Novel recipes make it easier ... that and talented vegetables impersonating other food. Have some smoked salmon made from carrots.
Spencer said, "It doesn't taste much like carrots."
"The marinade has lemon juice and soy sauce and liquid smoke," Hodgman said. "If you were a vegan, it would ring your lox chimes, so to speak."
Then there's eggplant cleverly disguised as … wait for it … BACON!
"Bacon is the thing people miss more than almost any other food when they go vegetarian," Hodgman said.
"This is much better than I expected," Spencer said.
But perhaps the most bizarre ingredient twist of all is hidden in the recipe for a delicious chocolate mousse, made vegan-style: No eggs.
Hodgman drains a can of chickpeas, whips it with a little sugar and flavorings, and it turns out exactly like a meringue. Sounds crazy, but Spencer watched it happen.
"And then you melt the chocolate and let it cool, and fold it in, and that's all you have to do for this," Hodgman said.
"Chocolate and sugar will overpower just about anything," Spencer laughed.
And then there's the whipped coconut cream on top.

Recipes from Ann Hodgman:

Spencer asked Hodgman the worst vegan recipe she'd ever come across. "Oh, cheeses. You take raisins and put them in some water with some lemon juice and let it ferment. And then you add that to soy milk and salt."
And what did it taste like? "Sort of a salty Vaseline."
Everyone's favorite!
If that doesn't scare you off, grab your cauliflower. This could be the diet for you.

For more info:
Thanks for reading CBS NEWS.
Create your free account or log in
for more features.