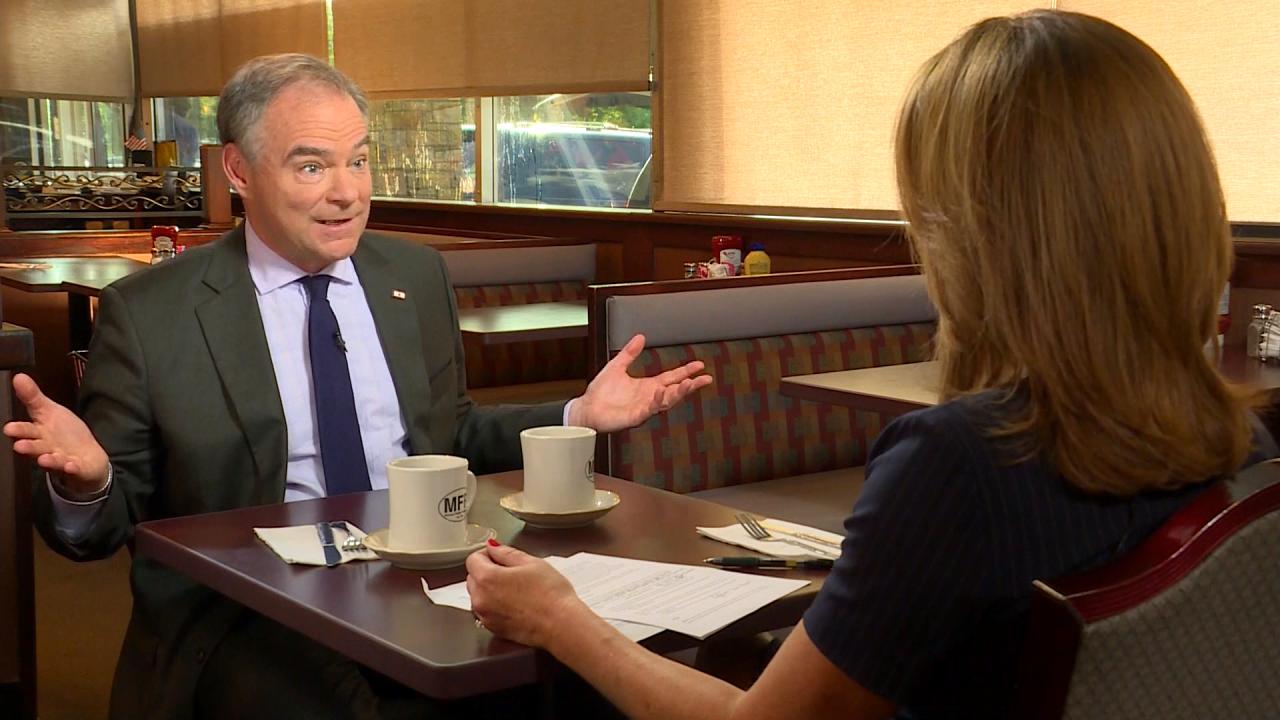 Tim Kaine defends Hillary Clinton on email scandal
For more from Norah O'Donnell's interview with Virginia Sen. Tim Kaine, tune into "CBS This Morning" on Friday
Responding to questions about Hillary Clinton's trustworthiness, particularly when it comes to questions about her private email server, Democratic vice presidential nominee Tim Kaine said he trusts Clinton is being "honest" when she answers questions about her email practices.
"Hillary and I have talked about this personally and we sat down within minutes after I was rolled out as her running mate to do a '60 Minutes' interview and she said, 'I made a mistake. I screwed up and I learned something and I'll do it differently,'" Kaine told CBS News' Norah O'Donnell in an interview Thursday. "That's been the way she's pitched it to me, and I think that's the honest response, and I've heard her say that a number of times."
Asked about FBI Director James Comey's statement that Clinton and her staff were "careless" in their handling of classified information, Kaine said Clinton "would acknowledge" that Comey is right.
"He said that, and I think she would acknowledge that," Kaine said. "She said, 'Look, it was a mistake and I've learned from it and I'd do something different.'"
"Look I think this probably taught a lot of people," he said. "Cause others have done similar things or been careless in similar ways."
O'Donnell also broached Trump's debunked claim that he's seen footage of a plane landing in Iran with money "pouring off a plane." His campaign says that he did see some video, but the video the campaign pointed CBS News to does not show any money -- only the detained Americans who were being released by Tehran.
Kaine, who serves on both the Senate Armed Services and Foreign Relations committees had no light to shed on Trump's claims."I have no idea what he's talking about," he said.
"I'm very involved in these diplomatic activities," adding that "he might be thinking about Iran Contra from, like, 35 years ago or something like this," suggesting that Truand referred to him as the governor of New Jersey."
"You think Donald Trump is confused?" O'Donnell asked Kaine, who replied, "I absolutely think he's confused."
Thanks for reading CBS NEWS.
Create your free account or log in
for more features.