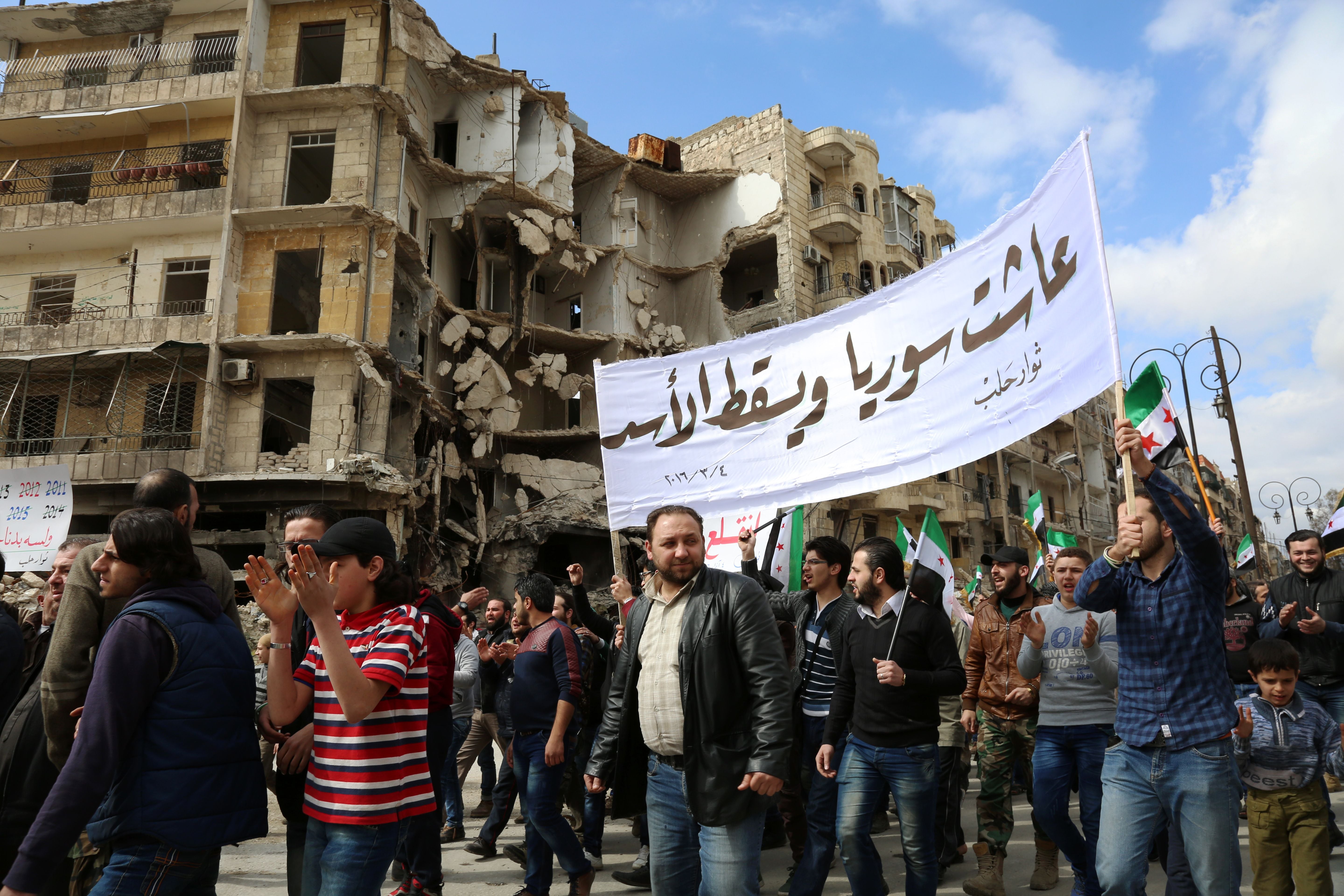 How well is the Syrian cease-fire really working?
BEIRUT -- A shaky cease-fire in Syria brokered by Moscow and Washington has survived its first week, outlasting skeptics' expectations and providing some hope that a diplomatic solution to the five-year-old war might be possible.
With daily incidents of artillery shelling, airstrikes and clashes, it would be easy to dismiss the "cessation of hostilities" as a charade.
But the partial truce, which came into effect Feb. 27, has dramatically reduced overall violence across the devastated country -- a remarkable accomplishment in a war that has killed a quarter million people, displaced half the population and decimated towns and villages.
And because the cease-fire excludes areas held by the Islamic State of Iraq and Syria (ISIS) and al Qaeda's Syria affiliate, the Nusra Front, some of the continuing violence is not technically a breach.
Much now depends on whether peace talks actually resume next week and make progress -- and on the determination of the Russians and Americans to prevent a full-scale resumption of fighting.
Here are some takeaways from the past week:
Violations and casualties
The first few hours saw a dramatic drop in military operations, with residents reported an eerie quiet not experienced in years. Russia grounded its warplanes and skies were clear of the feared government helicopters that drop barrel bombs on opposition-held areas. But complaints of violations have mounted in the past few days, including reports of Russian and Syrian government strikes that have hit rebel targets well away from areas controlled by ISIS or Nusra.
The Russian government reported Thursday 66 cease-fire violations by opposition forces since the truce went into effect Feb. 28 - either shelling of residential areas of government positions. The Syrian opposition, in turn, reports more than 170 breaches, all of them in rebel-held areas. The reasons are rarely clear; some cases appear to be local initiatives, or specific battlefield dynamics that could not be centrally controlled.
The Britain-based Syrian Observatory for Human Rights, an opposition group that closely monitors the conflict using activists on the ground, says the overall violence has decreased by 90 percent. It documented the death of 118 people in areas included in the cease-fire agreement in its first five days - a sharp drop from the daily toll before the truce.
On Friday, it reported 12 people had been killed in Syria on Thursday -- the lowest daily toll in 13 months. The group's director, Rami Abdurrahman, says the violations are like "small waves that rock the boat but are not strong enough to capsize it."
Aid deliveries
So far, the cease-fire has failed to achieve one of its most important objectives: to facilitate the free flow of desperately needed aid supplies to besieged areas in Syria.
"Fewer Syrians may be dying in bomb attacks but they are still facing starvation," said Henrietta McMicking of The Syria Campaign, an opposition advocacy group. The U.N. said Monday it planned to deliver assistance to about 154,000 people over the following five days in Syria, but only a trickle of that aid has been delivered so far.
Jan Egeland, humanitarian aid adviser to the U.N.'s Syria envoy, warned that in recent days, aid shipments have been beset by "logistical" problems. U.N. officials have cited a shortage of available trucks as well as difficulties in gaining approvals from Syrian government officials, who have at times removed medical supplies from convoys. Egeland said U.N. officials had received "indications" that the system for gaining permissions will be "much simplified," including a monthly schedule.
Refugee crisis
The international community is hoping that if the cease-fire continues to hold, it will ease the refugee flow toward neighboring countries and Europe. But the truce would have to be sustained for weeks, if not months, to discourage people from fleeing and for refugees to contemplate returning.
This week, there were reports that some of the tens of thousands of people who had fled February's government offensive in Aleppo and were trapped near the Turkish border have returned home. But aid organizations say thousands are still sleeping in makeshift shelters, cars or open fields.
Political solution
The implementation of the cease-fire has demonstrated the dependence of players on the ground on their international sponsors. The Obama administration has made the centerpiece of its policy a U.N. Security Council endorsed road-map outlining an 18-month political transition for Syria. It is working with and counting on Russia to help eventually convince Syrian President Bashar Assad to step aside.
With the U.S. and Russia having engineered the cease-fire and cooperating on making it work, it seems the sides on the ground have little choice but to comply, at least in the beginning. That creates hope for serious political negotiations between the government and the opposition. U.N.-brokered proxy talks are scheduled to resume in Geneva on March 9.
If it lasts, the cease-fire could also focus and intensify the fight against ISIS, which controls large swaths of territory in the country's east.
Prospects
The sides agreed to an initial cease-fire of two weeks with the aim of extending it if it works, and there is no clear day-after scenario for what happens if no formal extension occurs. Breaches and the lack of aid deliveries complicate things, as do claims that Russia and the government are continuing air operations against mainstream rebels under the pretext of fighting the Nusra Front and ISIS. Another problem is the absence of neutral and credible observers on the ground to monitor and identify violations, and no clarity on the actions that would be taken in case of violations.
It would be awkward for the sides to simply resume the previous level of attacks. But if the violations ramp up and the talks go nowhere, the effort could unravel in stages. Saudi Arabia and Turkey could then stoke the fire further by deciding to arm rebels with more efficient weapons to carry on fighting. And the Syrian government will probably be eager to complete its effort to encircle rebel-held parts of Aleppo and make additional advances in the north and around Damascus.
Thanks for reading CBS NEWS.
Create your free account or log in
for more features.