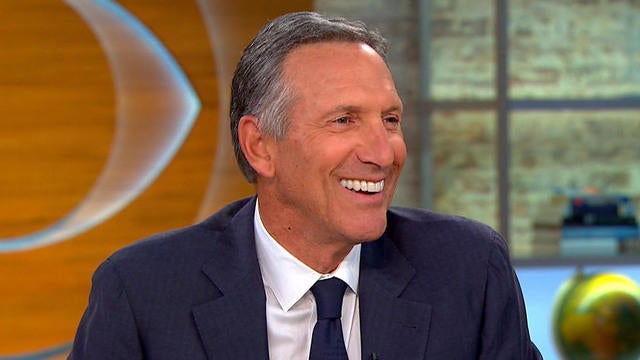 Starbucks CEO shines light on "extraordinary" citizens
The acrimonious presidential race dominates the daily headlines, but Starbucks chairman and CEO Howard Schultz said the stories of ordinary citizens doing extraordinary things too often go unnoticed.
At his company's annual stockholders meeting last March, he first raised the question of what it means to be a good citizen.
"We must do everything we can to reclaim and reimagine the American dream and fill the reservoir back up -- not with cynicism but with optimism, not with despair, but with possibility, not with division but with unity," Schultz said then.
Now, that's become the focus of his company's first original series, "Upstanders," a national campaign to identify and inspire great citizens across the country.
"The country is not going to be fixed by people in Washington – not in the near term – but it can be fixed by people doing extraordinary things every day and I hope this series is an opportunity for people to see … they too can do the kind of things to help their neighbor and help their community," Schultz said Wednesday on "CBS This Morning."
Among the 10 people profiled in the series is former NFL player David Vobora, who overcame addiction to painkillers after an injury. After meeting with a quadruple amputee Army veteran, Vobora was inspired to turn his for-profit gym for elite athletes into a training center for disabled veterans and athletes.
Schultz said personally meeting with Vobora and the others profiled in the series was both "heartwrenching and heartwarming."
When asked what he thought was the "common gene" among these "extraordinary" individuals," Schultz described their sense of humanity.
"We as a country for some reason have lost our sense of humanity, but when we see it, we're drawn to it," Schultz said. "And I think the people that we've met have given us such a gift because everyone has given us the opportunity to see what it means to serve, to be as a servant leader, and I think when you're around these people, you want to do more."
The CEO also said he's become more optimistic than ever after meeting with the ordinary citizens in the series, in contrast to the "negativity," "hate" and "bigotry" in brought to the fore during the current election cycle.
"Let's be honest, Washington is broken. We don't have truth, we don't have authenticity, we have fractured leadership," Schultz said. "This election cycle is something that has embarrassed the country and the world."
Real change, Schultz believes, will come from the daily actions of average citizens.
"We must have people getting very active, but it's not the decision we make every four years, it's the decision we make every day."
As for himself, he said as a private citizen, "recognizing that Hillary Clinton​ needs to be the next president of the United States."
"Upstanders" may be Starbucks' first original series, but it's certainly not its first social campaign. The company has dipped into some sensitive issues, with its criticism of the lack of affordable health care​ prior to Obamacare and ban of firearms​ in its stores. It's "Race Together​" campaign in 2015, that urged its baristas to engage in conversations about race with customers, was strongly criticized for making people uncomfortable.
But Schultz is not bothered by the idea of corporate activism, even when it comes to politics.
"Here's what I believe -- we can't be in business just to make money. We must balance profit with conscience and humanity and benevolence and do what's right for our people and communities," Schultz said. "We can do all those things and create long-term value."
Thanks for reading CBS NEWS.
Create your free account or log in
for more features.