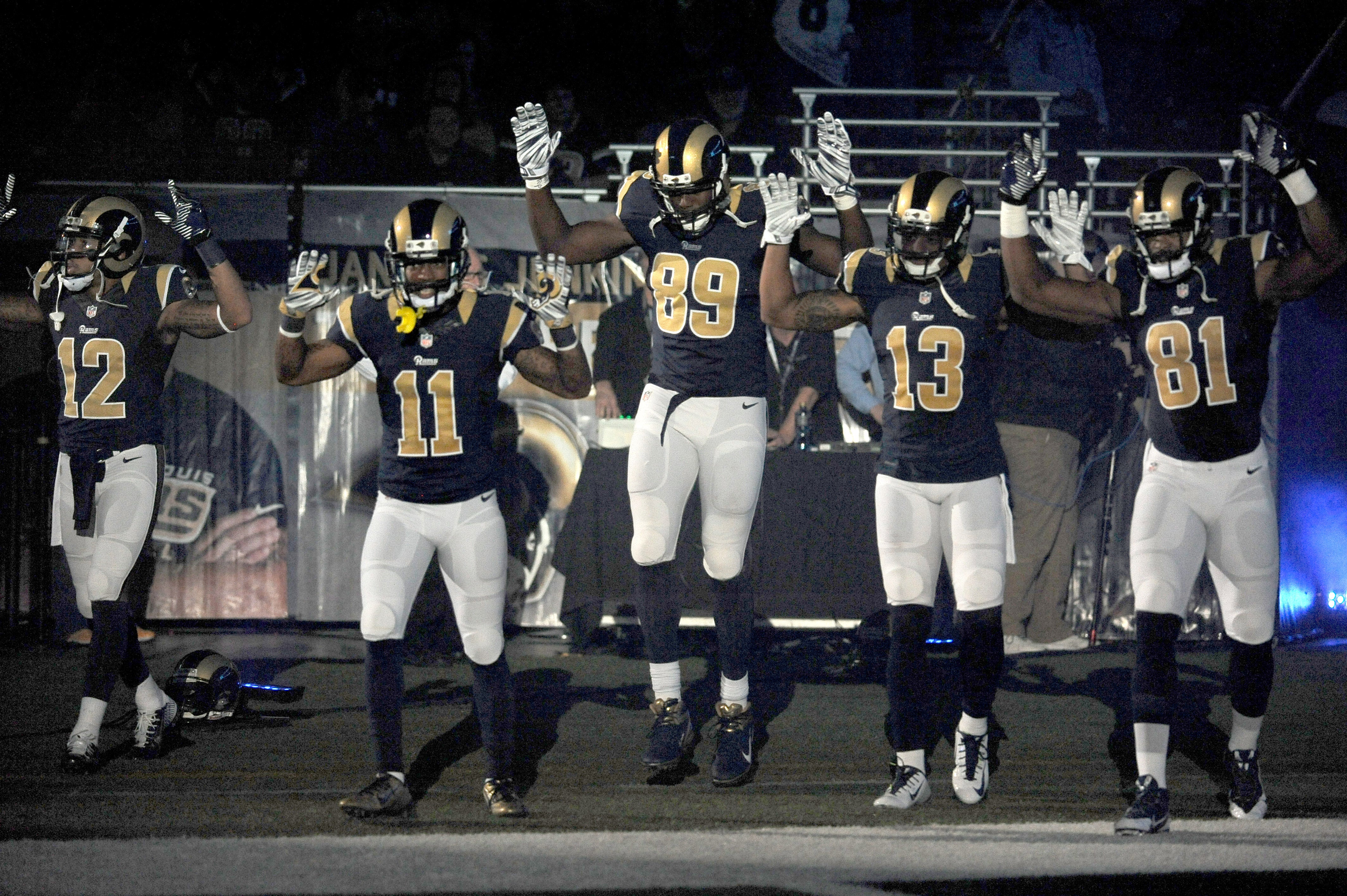 Did Rams apologize to police for hands-up gesture?
ST. LOUIS -- A St. Louis Rams official and a county police chief differed Monday about whether the team had apologized for the actions of five players who raised their hands during pregame festivities in a show of solidarity with Ferguson protesters.
Kevin Demoff, the executive vice president of football operations for the Rams, denied in an email to the Associated Press that he'd apologized.
"I expressed regret for any perceived disrespect of law enforcement," Demoff said. "Our players' goal was to show support for positive change in our community. I do believe that supporting our players' First Amendment rights and supporting local law enforcement are not mutually exclusive."
The St. Louis Post-Dispatch said county chief Jon Belmar told his staff by email Monday night that Demoff had apologized. The email said Demoff "clearly regretted that any members of the Rams organization would act in a way that minimized the outstanding work that police officers carry out each and every day."
In an email sent to the AP, St. Louis County police Sgt. Shawn McGuire said Belmar interpreted Demoff's comments as an apology.
Jared Cook, Kenny Britt, Chris Givens, Stedman Bailey and Tavon Austin made the "Hands up. Don't Shoot!" gesture protesters in Ferguson -- a suburb of St. Louis -- have been using since a grand jury did not indict police officer Darren Wilson over the Aug. 9 shooting of Michael Brown, who was black. Some witnesses said Brown had his hands up before being shot by officer Wilson. Wilson, who is white, told the grand jury that he shot Brown in self-defense.
Rams coach Jeff Fisher said Monday that neither the team nor the NFL would discipline the players. He said it was their "choice to exercise their free speech," but he would not comment further on their actions.
"It's my personal opinion, I firmly believe, that it's important that I keep sports and politics separate," Fisher said. "I'm a head coach. I'm not a politician, an activist or an expert on societal issues, so I'm going to answer questions about the game."
Fisher did say he plans to talk with the players, who are all black, but those conversations will remain confidential.
The players' made their show of support before running onto the field during pregame introductions.
The St. Louis Police Officer's Association issued a statement demanding the players be disciplined and the NFL to issue an apology.
St. Louis Police Officers Association business manager Jeff Roorda said: "It is unthinkable that hometown athletes would so publicly perpetuate a narrative that has been disproven over and over again."
In an interview with CBS News, Roorda called the overall unrest over Ferguson "not a failure of law enforcement."
"If we spend this time in the wake of Michael Brown's killing trying to change law enforcement to fix this problem, it's going to be a betrayal to his legacy because that's not why Michael Brown ended on the street confronting a police officer," Roorda said. "It's decades of racial disparity, and economic disparity. It's not a problem with the police."
In Springfield, Missouri, Rodney Shetler, watched the players' action from his home. He said the move was "in pretty poor taste" and was divisive and disrespectful to law enforcement.
"It's a gesture proven by the grand jury not to be appropriate or accurate," said Shetler, the 44-year-old owner of a copying and printing business.
The NFL responded with a one-sentence statement Monday from spokesman Brian McCarthy: "We respect and understand the concerns of all individuals who have expressed views on this tragic situation."
After the Rams' 52-0 rout of Oakland, the players said they meant no disrespect by their show of support.
"We just understand that it's a big tragedy and we hope something positive comes out of it," Bailey said, following his five catch 100-yard performance.
Added Cook: "We help build up the people around this community daily with our visiting schools and talking to kids, so coming out and showing that we're unified with the rest of them, it was key to us."
A similar episode unfolded more than four decades ago at the 1968 Olympics in Mexico City.
John Carlos, the American 200-meter bronze medalist, raised eyebrows on the medal stand when he and teammate Tommie Smith gave the black power salute. He stood by the Rams players.
"If they choose to come out and raise their hands in support of whatever their emotions are, they have the right to do that," Carlos told The Associated Press. "I don't think the whole story has been told about the Michael Brown tragedy, and the pros and cons on both sides. They can just go by their emotions. I don't think anyone got injured or shot by expressing emotions."
Thanks for reading CBS NEWS.
Create your free account or log in
for more features.