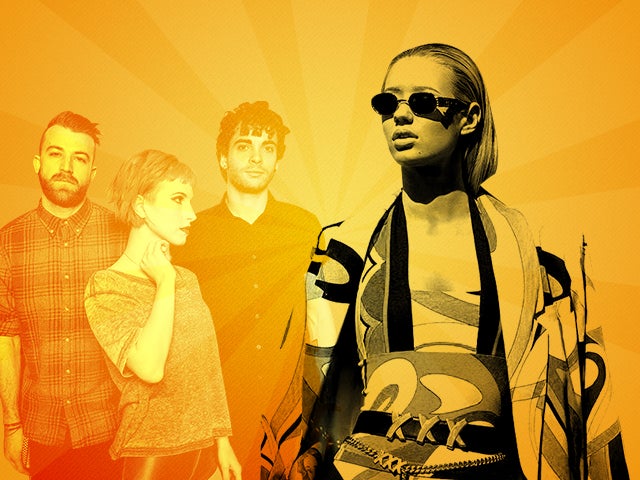 Song of summer 2014: Which will it be?
Summertime is upon us, which means beach, sun, barbecues and yes, good jams, are knocking on our door.
But which song will be the official tune of summer 2014?
Practically every summer has one. Who could forget DJ Jazzy Jeff & The Fresh Prince's "Summertime"? The single, released on May 20, 1991, just oozed summer with the lyrics: "School is out and it's a sort of a buzz..."
More recently there was "Party Rock Anthem" by LMFAO (2011) and Carly Rae Jepsen's irresistibly catchy "Call Me Maybe" (2012). Last year, it was nearly impossible to escape the No. 1 summer track: Robin Thicke's "Blurred Lines," featuring T.I. and Pharrell Williams -- although Daft Punk's "Get Lucky" was a very close second.
This summer's anthem is up for grabs at this point. Take a listen to some potential contenders below and vote in our poll for your favorite.
Iggy Azalea - "Fancy," ft. Charli XCX
Australian rapper Iggy Azalea came on the scene in 2012, but it's this electro-hop song featuring English singer-songwriter Charli XCX that launching her into the spotlight. The track appears on the 24-year-old artist's debut studio album, "The New Classic," released in April. Azalea played "Fancy" at the mtvU Woodie Awards in March and it caught on shortly thereafter; actress Anna Kendrick even covered the track on "Saturday Night Live." Essentially, the rising star dropped it and "let the whole world feel it."
And after all, don't we all want to be fancy?
Granted, Calvin Harris dropped this tune back in March, and it's possibly too obvious for the 2014 summer tune, but how could we leave it off the list? Plus, it's dreamy to think about meeting someone special in the summer and falling in love in the fall when the leaves turn brown.
Jason Derulo - "Wiggle," ft. Snoop Dogg
Jason Derulo's single has all the ingredients for a summer anthem -- the laid-back vibe of Snoop Dogg, on top of a catchy chorus and an accompanying "wiggle" dance move. Reminiscent of summer jams of days gone by, even the music video evokes the mood of summer with a pool, bathing suits galore and denim cut-offs. There are already viral videos of the song -- and honestly, it does make you want to wiggle. Just a little, right?
Ariana Grande - "Problem," ft. Iggy Azalea
Ariana Grande is hot hot hot right now -- and so is the single "Problem," which finds our Australian pal Iggy Azalea guest starring on the track. The saxophone loop makes it a stand-out, memorable single that hearkens back to the '90s at points. Grande performed it at the 2014 Radio Disney Music Awards in April and it's been on the up and up ever since. "Problem" will appear on Grande's upcoming sophomore album. The way Grande's career is going, we're thinking Grande will have very few problems...
Paramore's "Ain't it Fun" has been kicking around for a little while, but it has kept momentum. Featured on Paramore's 2013 self-titled release, "Ain't it Fun" has been performed on "The Voice," "American Idol" and more. The feel-good upbeat tune, sung by cutie redhead Hayley Williams, is easy to sing along to, but does it have that special something to make it the summer song of 2014?
OK, so Pharrell appears to be on his way of nabbing the song of the year already, but perhaps this track will also be remembered as the song of summer 2014. Appearing on both the "Despicable Me 2" soundtrack and Pharrell's latest album,"Happy" has certainly taken on a life of its own. And darn-it, it's so hard to get the song out of your head once it's stuck in there.
He had a mission this time around, too, telling CBS News, "I realized along the way that there wasn't enough purpose in my music. Going back and listening to Stevie Wonder songs and Steely Dan songs, you'd see that Donald Fagen had a purpose. He had an intention. Stevie Wonder was really singing about something."
"Stay With Me" may not have the makings of a typical summer song, but it sure has gained a huge following as it continues to climbs up the charts. That track also has a chanting chorus and is quite different from what else is out there right now. The British singer-songwriter released his debut album in May and has been receiving quite a bit of buzz. Oh and that voice. Yes. Even if he doesn't have the song of the summer, Smith, 22, looks to have a bright future ahead.
Norwegian duo Nico Sereba and Vincent Dery are behind "Am I Wrong," a track released last year but one that has been slowly gaining traction. The video, shot in Botswana, has also garnered many views. These guys have a message with their lyrics ("Walk and don't look back / Always do what you decide..."). And that's just how they feel.
"Rude" has a reggae vibe, so it's no wonder this is a potential contender for the song of the summer. The reggae-fusion tune from the Canadian band has made it to the Top 10 in the U.S. and certainly has a summer feel. It appears on the band's upcoming album, "Don't Kill the Magic," due out July 1.
Which song do you think has what it takes to be the song of summer 2014? What's missing from our list?
Take our poll and sound off in the comments section below.
Whatever the song of the summer is, let's take a moment to reflect on summer songs of the recent past:
2002: "Hot In Herre," Nelly
2003: "Crazy In Love," Beyonce, ft. Jay-Z
2004: "Yeah," Usher
2005: "We Belong Together," Mariah Carey
2006: "Promiscuous," Nelly Furtado, ft. Timbaland
2007: "Umbrella," Rihanna, ft. Jay-Z
2008: "I Kissed A Girl," Katy Perry
2009: "I Gotta Feeling," Black Eyed Peas
2010: "California Gurls," Katy Perry, ft. Snoop Dogg
2011: "Party Rock Anthem," LMFAO
2012: "Call Me Maybe," Carly Rae Jepsen
2013: "Blurred Lines," Robin Thicke, ft. Pharrell Williams and T.I.
Thanks for reading CBS NEWS.
Create your free account or log in
for more features.