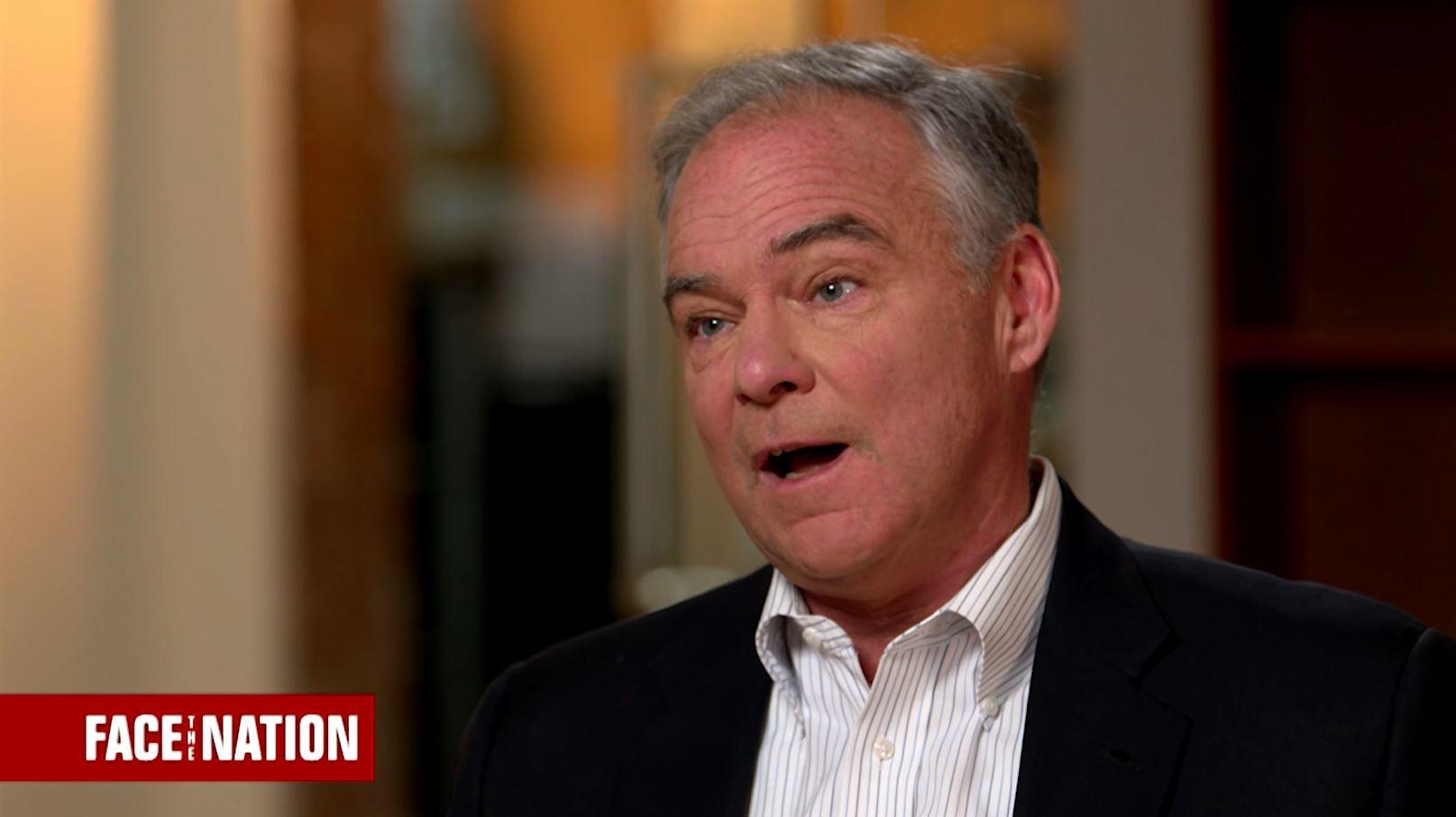 Sen. Tim Kaine: Trump didn't create America's racial divisions – but he's "stoking" them
President Trump did not create the racial divisions in America today, but he is "stoking" those divisions, Sen. Tim Kaine, D – Virginia, told Face the Nation in an interview set to air this Sunday.
The senator spoke with Face the Nation moderator Margaret Brennan on Thursday in Richmond, just a few days before the one-year anniversary of last summer's deadly violence in Charlottesville. On August 12, 2017, clashes between white supremacists and counter-protesters in the Virginia college town claimed three lives: one anti-racist demonstrator who was killed when a white supremacist drove a car into a crowd of protesters, and two state police troopers whose helicopter crashed as they were monitoring the unrest.
Mr. Trump's response to the episode, in which he blamed "both sides" for the violence, drew a parade of criticism from public figures on both sides of the aisle, including Kaine, Virginia's junior senator. Kaine told Face the Nation this week that the president's response to Charlottesville was typical of his penchant to sow racial division.
"There is a concerted effort that he has been engaged in to divide people including dividing them based on race," Kaine said of the president. "And nowhere was that more obvious nowhere than in the aftermath of Charlottesville."
"When somebody drove a car into a crowd in Columbus, Ohio between his election and when he was inaugurated, and that somebody happened to be someone from the Middle East, he called it 'terrorism,'" Kaine recalled. "When somebody of a Middle Eastern background drove a car into a crowd in Barcelona, he called it 'terrorism.' But when this happened in Charlottesville 90 miles from the White House… Suddenly he says, 'Well, you know, there are good people on both sides.'"
Trump "could not distinguish who was on the right side and who was on the wrong side in a white supremacist neo-Nazi rally, and that was infuriating," Kaine continued. "I think he has stoked division. I think he has stoked these fears of hatred. He didn't create them. The people who came to Charlottesville to demonstrate their hatred. They, I'm sure, had those emotions before there was a President Trump, but he's stoking it. And I think that's very, very damning."
Brennan asked Kaine whether he believes the president is a racist.
"I don't know him," the senator responded. "I have no idea about who he is as a person. So whether it's a sincere feeling, or whether he thinks it gets him some political edge, or…again, I don't know the answer.
"I don't know which of those two is worse," Kaine added. "If it's not your view but you do it to try to get a political edge and you try to stoke division in some ways that's every bit as morally bad as holding views that are that are bigoted or racist."
Brennan also pressed Kaine on whether he gives the president any credit for the low unemployment rate among African-Americans and other minorities (a fact for which Mr. Trump has frequently claimed credit.)
"No. I think he's been a failure," Kaine said. "The unemployment rate is low, generally. That's good – it was coming down when he took office."
"But how about how about gaps in income?" Kaine asked. "They are significant. How about gaps in wealth? They are significant."
For more of Margaret Brennan's interview with Sen. Tim Kaine, plus a broader look at race in America one year after the violence in Charlottesville, tune into Face the Nation this Sunday. Click here to check your local listings for airtimes.
Thanks for reading CBS NEWS.
Create your free account or log in
for more features.