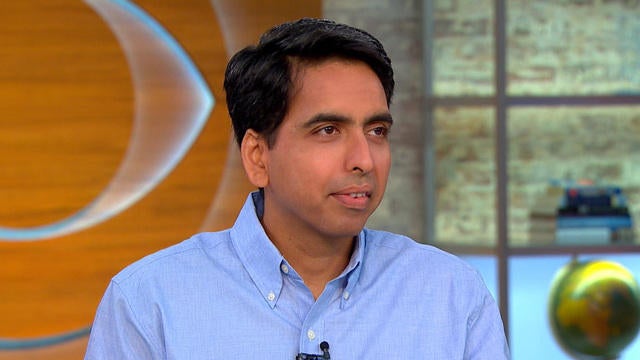 Khan Academy expands its digital education to preschoolers
Online education pioneer Sal Khan is expanding his learning empire to reach its youngest students yet.
Khan Academy has delivered more than 800 million free lessons on subjects ranging from basic math to computer science and beyond, for everyone from kindergarteners to college students to adults wanting to expand their knowledge. Now, it'll also offer 21 free apps for young children ages 2 to 7, donated by award-winning app maker Duck Duck Moose.
Khan said his own children – ages 7, 5 and 2 – grew up with the apps, even learning their alphabet and numbers from them. The apps offer lessons involving creative play along with reading, writing and arithmetic skills. Major tech companies have sought after Duck Duck Moose, but the company decided to provide its apps to Khan Academy for free.
"This doesn't typically happen," Khan explained on "CBS This Morning." Just as Khan was inspired by his own daughter to launch his nonprofit academy, the founders of Duck Duck Moose – a husband and wife – had also developed the apps for their family.
"And they decided they would rather their legacy being free to the world, accessible –especially by the children in families who wouldn't normally be able to access their apps – and eventually internationalize them," Khan said.
But there is also some pushback from doctors who suggest that parents should limit the amount of time kids spend on computers and other digital devices. According to the American Academy of Pediatrics, children under 2 years old shouldn't have any screen time, but Khan said there could be a "nice balance." He also clarified that Khan Academy does not think that education should be "purely online," but a mixture with traditional school.
Khan also spoke about the positive progress of his brick-and-mortar school, The Khan Lab School, which founded in 2014. The mixed-age program for students from 5 to 14 years old offers an an extended school year in place of a traditional summer break, doesn't give grades, and kids play an active role in picking subjects they want to explore.
"They're progressing faster than we would've expected... and it's faster than you'd expect to a typical school," Khan said.
The Khan Lab School measures its students' progress with standardized tests. But while students in major cities take an average of eight standardized tests per year, Khan students take just three, which, Khan said, is a "small dimension of what a student is." At the Khan Lab School, the tests are an opportunity for students to discuss how they are doing.
"It's much more of, we share the results with the students and we say, 'OK, this is where you are, this is where you thought you were going to be. Let's talk about it,'" Khan explained.
Khan also weighed in on the debate over the value of homework, recently brought to light by a second-grade teacher in Texas who eliminated all homework​ and asked parents to spend time with their children and put them to bed early instead.
Khan said that there wasn't even science to establish a correlation between the quantity of homework and success.
"The things that do correlate are whether you're able to have dinner with your family, and whether you're able to get a full night of sleep so any time that homework or anything else competes with those things, I do think it's a negative," Khan said.
Thanks for reading CBS NEWS.
Create your free account or log in
for more features.