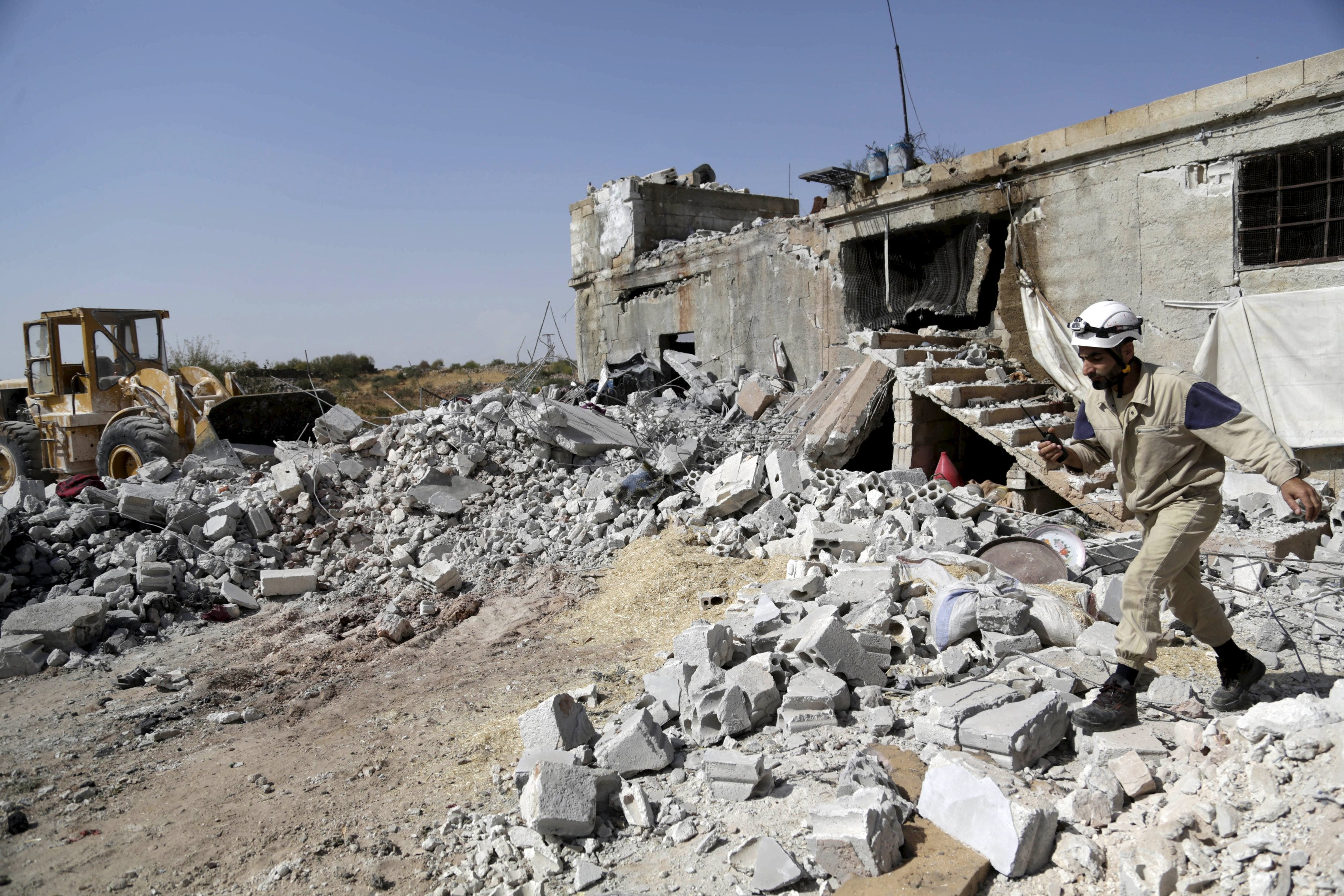 Russia's airstrikes in Syria are playing well at home
MOSCOW -- Whatever effect Russia's airstrikes are having on the ground in Syria, their impact at home is clear: They prove to Russians that their country is showing up the United States and reclaiming its rightful place as a global power.
So far, Russia's intervention in Syria has served President Vladimir Putin's goals. The potential danger, military analysts say, lies down the road.
To frame and illustrate Putin's success in Syria, state television stations provided a series of seemingly scripted news broadcasts over the weekend.
Channel One's evening news program on Saturday opened with dramatic cockpit videos of Russian jets making what were described as direct hits on terrorist training camps and weapons stores. The bombs were never off by more than five meters, a military spokesman said, because of the jets' advanced targeting capabilities.
This was followed by a report of the disastrous airstrike in the northern Afghan city of Kunduz that destroyed a hospital and killed at least 19 people, including international medical staff. U.S. responsibility for the airstrike had not been proven, but Russian viewers were left with little doubt of who was to blame or of whose military capabilities were superior.
There was no mention of any civilian casualties in Syria as a result of the Russian air raids, while activists have reported dozens of deaths.
On the contrary, Russian television stations replayed the section of Putin's address to the United Nations General Assembly last week in which he criticized U.S. policy in the Middle East and asked: "Do you realize now what you have done?"
Rossiya state television interviewed Putin's spokesman, who noted that Putin and President Barack Obama called each other by their first names, suggesting that Obama welcomed the meeting and treated the Russian leader as his equal.
Russia's military buildup in Syria in the weeks ahead of the annual gathering of world leaders at the United Nations appeared instrumental in persuading Obama to schedule the meeting with Putin on the sidelines. While some in Washington had argued against such a meeting, it was played in Moscow as Obama's initiative and a reflection of U.S. recognition that Russia had become a major power broker in the Syria conflict.
The focus on Syria has diverted attention from Ukraine, a conflict that Putin appears eager to put behind him. Television viewers on Saturday saw the Russia-backed separatists in eastern Ukraine withdrawing columns of tanks from the front line in accordance with an agreement reached last week. The message as articulated by rebel commanders was that the fighting was over.
The national pride generated by Russia's show of force in Syria also has helped the Kremlin compensate for Russia's sputtering economy.
More directly, Russia's military intervention has allowed Moscow to defend its strategic interests in Syria, where it has a naval base on the Mediterranean coast and a longtime ally in President Bashar Assad.
The Russian airstrikes that began Wednesday have mainly targeted central and northwestern Syria, strategic regions that are the gateway to Assad's strongholds in the capital, Damascus, and along the coast.
Russia says it is targeting the Islamic State of Iraq and Syria group and al Qaeda's Syrian affiliate, but at least some of the strikes appear to have hit Western-backed rebel factions.
Political commentator Yulia Latynina said Russia wants to see the destruction of the Islamic State of Iraq and Syria (ISIS). "Only this will allow Putin to achieve the desired result, to show Obama how he, Putin, a real man, succeeded where Obama was disgraced," she said in her program Saturday night on Ekho Moskvy radio.
Military analysts say that for the airstrikes to be effective they need to be followed up on the ground. Putin has ruled out sending Russian combat troops and said Russia would be supporting offensive operations by the Syrian army.
Even with Russia's support, however, Assad's forces likely will be unable to do anything more than defend the 20 percent of Syria they already control, according to Georgy Mirsky, a widely respected Middle East scholar.
Writing in his blog on Sunday, Mirsky warned of the risk of escalation if Russia gets pulled deeper into the conflict.
With ISIS apparently lacking any sophisticated air defense weapons, Putin can run his air campaign without risking casualties that could provoke a negative reaction at home. Any ground operations, though, could result in military deaths and invite unwelcome parallels to the botched Soviet war in Afghanistan.
Mirsky said the bigger worry was that the airstrikes would kill not only militants but Sunni Arab civilians, motivating Islamic terrorists to turn their sights on Russia and making it easier for them to recruit volunteers within Russia. Most of Russia's Muslims are Sunnis, including those in Chechnya, Dagestan and elsewhere in the North Caucasus, where there is a simmering Islamic insurgency.
It is these radical Islamists, he said, who pose the real threat to Russia: "America will not send terrorists to carry out bombings in Moscow, but these fanatics easily could."
Thanks for reading CBS NEWS.
Create your free account or log in
for more features.