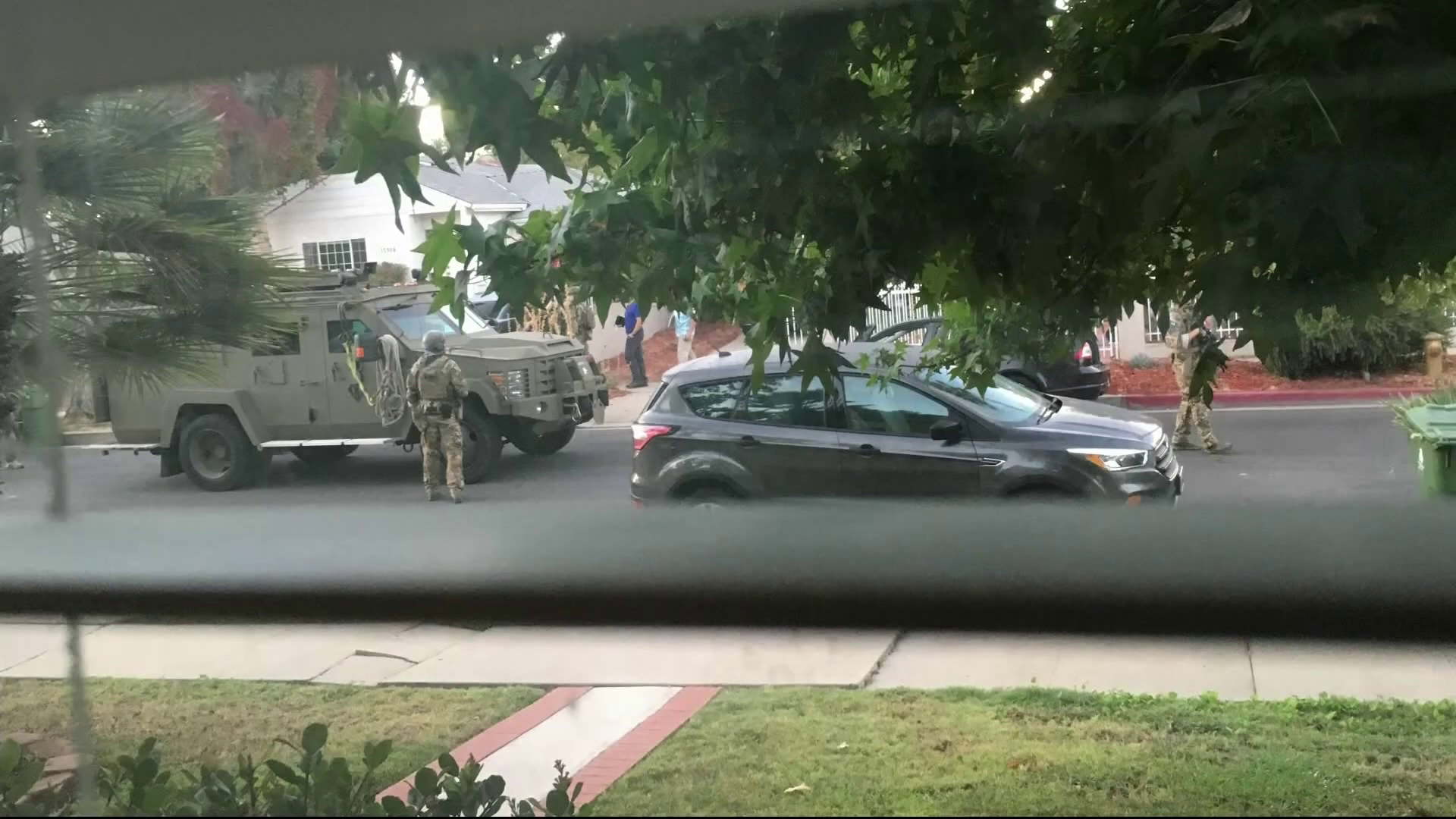 Man charged with making death threats against journalists over Trump editorials
NEW YORK — An FBI SWAT team swarmed a house in Encino, California, overnight and arrested a man who allegedly threatened to kill journalists at the Boston Globe. Prosecutors say 68-year-old Robert Chain was angry over the paper's editorials about President Trump.
He's charged with making threatening communications in interstate commerce, which calls for up to five years in prison. Chain was released Thursday on $50,000 bail in federal court in California. A judge ordered he stay away from The Boston Globe and other media organizations.
Chain is scheduled to appear in federal court in Boston on Sept. 24 on the charge by the U.S. Attorney's office in Boston of making threatening communications in interstate commerce. Until then, Chain's travel is restricted to California and Wyoming, where he apparently has another residence.
Hours before formal charges were filed, Chain's home was under siege. Prosecutors say he made 14 threatening phone calls to the Boston Globe's newsroom.
In his first phone call on Aug. 16, Chain told a Globe employee, "You're the enemy of the people, and we're going to kill every [expletive] one of you." He continued, "I'm going to shoot you in the head today at 4 o'clock."
The call came the same day the Boston newspaper published a full-page editorial appealing to newspapers across the country to condemn Mr. Trump's constant attacks on the press.
More than 400 newspapers answered the Globe's call.
In another call six days later, Chain allegedly said, "As long as you keep attacking the president ... I will continue to threat, harass and annoy the Boston Globe."
Chain's threats started just six weeks after a gunman shot and killed five employees at the Capital Gazette newspaper in Annapolis.
Records show Chain owns multiple firearms and purchased a new 9mm carbine rifle in May. A law enforcement source said the FBI seized 20 guns, both long guns and handguns, and hundreds of rounds of ammunition during a court-authorized search of Chain's California home, CBS News senior investigative producer Pat Milton reported.
A photo on a family Facebook page shows Chain and a son holding guns.
"I always thought he was loud, harmless guy," a neighbor of Chain's for nine years said. "Apparently he talked a little too loud at the wrong people."
Jane Bowman, a spokeswoman for the Globe, said the newspaper is grateful for law enforcement's efforts to protect its staffers and track down the source of the threats.
"While it was unsettling for many of our staffers to be threatened in such a way, nobody — really, nobody — let it get in the way of the important work of this institution," she said in an email.
Federal officials pledged to continue to go after anyone who puts others in fear of their lives.
"In a time of increasing political polarization, and amid the increasing incidence of mass shootings, members of the public must police their own political rhetoric. Or we will," said U.S. Attorney Andrew Lelling.
A statement from the Department of Justice said Chain's arrest should serve as a warning to others that "making threats is not a prank, it's a federal crime."
Court documents indicate that Chain had no intention of acting upon his threats.
Chain said in a declaration filed in a 2013 case that he hadn't worked since 1989 and was receiving Social Security benefits. He also said he had a heart attack in 2005 and had continuing health issues.
Thanks for reading CBS NEWS.
Create your free account or log in
for more features.