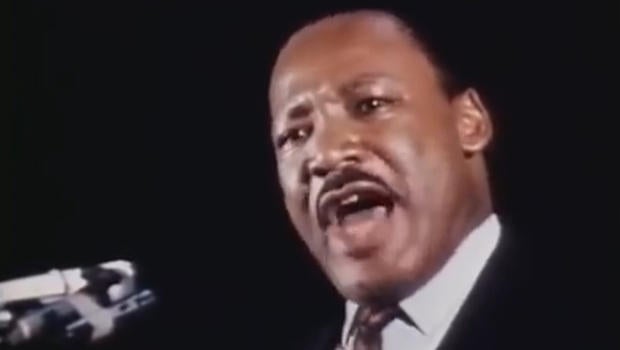 Remembering 1968: The Martin Luther King Jr. we knew
Among the most shocking events of 1968 was the assassination of Dr. Martin Luther King in Memphis, 50 years ago this coming Wednesday. Dr. King's legacy has a very personal meaning, notes Marc Morial, former mayor of New Orleans and president and CEO of the National Urban League:

---
"I have a dream that my four little children will one day live in a nation where they will not be judged by the color of their skin, but by the content of their character."
This is the Martin Luther King most of us know, but I'm here to tell you about a different Martin King … who in the early 1950s, at Boston University, befriended my mother:
"Martin was very popular," said Sybil Haydel Morial. "He had a wonderful, warm, outgoing personality. But he had something that not many people had during that time -- he had a car. So, whenever he asked for a date, everyone said yes!" she laughed.
"He didn't ask you out, did he?" Marc asked.
"He didn't ask me out," Sybil laughed. "No, no. He was Martin to me. He was Martin until he died."
After graduate school, Mom moved back home to New Orleans where she and my father, Dutch Morial, were both active in the civil rights movement. Dad would get elected to the Louisiana State House, and eventually become the first black mayor of New Orleans.
Growing up, my parents made sure my siblings and I knew all about Dr. King.
"We felt this is the reality," said Sybil. "This is what we are. We are fighting for this. And you are part of this fight as our children. We felt strongly that we wanted you to be steeped in what was happening in this country."
By the late 1960s Dr. King's message was evolving beyond race, evolving with new ideas: "Now, one of the answers it seems to me is a guaranteed annual income, a guaranteed minimum income for all people, and for all families of our country."
Then, an even bigger step: he broke with President Johnson and some of his closest advisors, condemning the war in Vietnam:
"If we continue, there will be no doubt in my mind and in the mind of the world, that we have no honorable intentions in Vietnam," he said at Riverside Church in New York City.
Martin Luther King III remembers his father's declining public support because of his campaigns against the Vietnam War and poverty.
"In many cases he was hated and despised by 1968," he said. "I remember distinctly him coming up the stairs at our home and being exhausted."
We know Harry Belafonte as a music legend. You may not recall that he was a friend, confidante, and long-time supporter of Dr. King. "He also felt that it was probably the most dangerous moment in his life," Belafonte said. "Because nothing he had done up until then really troubled the system."
Morial asked, "Did Martin Luther King fear for his life?"
"Dr. King developed a tic," Belafonte said. "And then, I noticed some time after the first discussion of what the problem was, that he had gotten rid of it. And I said to him, 'What happened? How'd you get rid of it?' He said, 'I've made my peace with death. I'm no longer distracted by it.' If that was to be the price, he was quite open to paying that."
That price was exacted in the spring of '68 in Memphis. Dr. King had joined sanitation workers striking for better wages and working conditions.
It was there he delivered his final, prophetic sermon:
"We've got some difficult days ahead. But it really doesn't matter with me now, because I've been to the mountaintop. I've seen the Promised Land. I may not get there with you. But I want you to know tonight, that we, as a people, will get to the Promised Land."
It was early evening, April 4, 1968, when Martin Luther King Jr took that fateful step out onto the balcony of the Lorraine Motel.
"I was heartbroken -- heartbroken that his voice had been silenced, that his voice that could corral thousands of people to use non-violence, to not be afraid, to step out, his voice was shut down," said Sybil Haydel-Morial.
Was she angry? "I was angry. And I was sad."
Five days later he was laid to rest in Atlanta. He was just 39.
Marc Morial asked, "What did you think at the time the effect of losing Martin Luther King would be on the civil rights movement?"
"I said that very thing to your father," recalled Sybil. "I said, 'Oh, we've lost our leader. What's going to become of the civil rights movement? He's gone!'
"'It will go on' -- he said it very deliberately."
And it has … from Black Lives Matter to last weekend's March for Our Lives. We see it in elected office and in boardrooms, as well as my work at the National Urban League.
Still, I refuse to call April 4 an anniversary. It was an American tragedy … a tragedy we are still coming to terms with 50 years later.
Like a good, obedient son, I leave the last word to my mother:
"When I think of from whence we came, kidnapped from Africa and brought to this country and enslaved for a couple of centuries, and then moving on to become citizens, equal citizens through the laws, yes, I'm optimistic," said Sybil. "But I know that we have to struggle. I know that we can't let up our efforts."

For more info:

Story produced by Dustin Stephens.

More from the series "Remembering 1968":
Thanks for reading CBS NEWS.
Create your free account or log in
for more features.