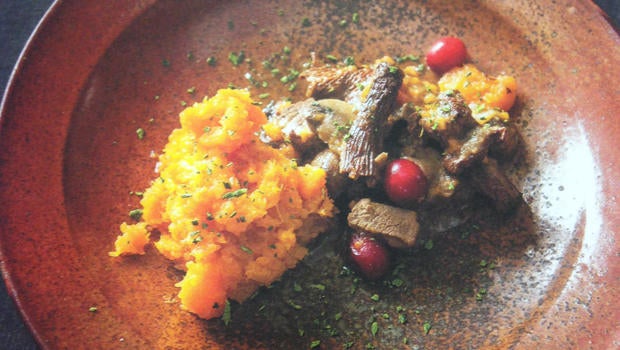 A Native American recipe for a hearty stew from Sean Sherman, author of "The Sioux Chef's Indigenous Kitchen," winner of the 2018 James Beard Foundation Book Award for Best American Cookbook.
Sherman says, "Bear remains a traditional Native food, especially in the Northern Heartland, where these animals are abundant. They're known to raid summer cabins and park dumpsters, and to snatch small pets. Hunting bear for food is one of the best ways to control the expanding population.
"Moose, elk, and antelope are also great choices for this recipe because the slow cooking helps to turn the meat tender and flavorful. If these are not available, substitute bison or lamb. Serve it over Corn Cakes or Cornmeal Mush. Like most hearty stews, it will taste better the day after it's made."
Hunter's Stew
(Wóle Wičháša Waháņpi Tȟáwa)
Serves 4 to 6
Ingredients:
1 ounce dried wild mushrooms, such as chanterelles, trumpet, or morels
1 cup boiling water
3 Tablespoons sunflower oil
2½ to 3 pounds bear, lamb, or bison, cut into 2-inch cubes
Coarse salt
Crushed juniper
3 wild onions or 1 large leek, white part, trimmed
8 ounces fresh mushrooms, coarsely chopped
1 Tablespoon minced fresh oregano
2 teaspoons sumac to taste
1 cup Corn or Bison Stock (see below)
Instructions:
Put the dried mushrooms in a small bowl and pour the boiling water over them. Soak about 20 minutes until softened. Drain and reserve the soaking liquid. Chop the mushrooms and set aside.
In a large, heavy pot, heat the sunflower oil over medium-high heat and brown the meat pieces in batches, seasoning with salt and juniper. Be careful not to crowd the pan. Cook each batch about 10 to 15 minutes. Remove the browned meat to a platter.
Reduce the heat and add the onions, mushrooms, oregano and sumac, and sauté until the onion is soft and the mushrooms release some of their liquid, about 3 to 5 minutes. Stir in the chopped, reconstituted wild mushrooms and the soaking liquid and the stock, stirring to dislodge any brown bits that stick to the pan.
Return the meat to the pot, bring to a simmer, and cook, partially covered, until the meat is fork tender, about 2 hours. Taste and adjust the seasonings. Remove from the heat and let sit a few minutes before serving.
Corn Stock
Save the corncobs after you've enjoyed boiled or roasted corn on the cob, or you've cut the kernels for use in a recipe. Put the corncobs into a pot and cover with water by about 1 inch. Bring to a boil and partially cover. Reduce the heat and simmer until the stock tastes "corny," about 1 hour.
Discard the cobs, and store the stock in a covered container in the refrigerator or freezer.
Fish, Game, Meat Stock
We make stock with just about everything in the larder, including vegetables (except greens) and bones (even smoked fish bones). Essential seasonings:
Juniper and cedar are aggressive flavors, so add seasoning with a light touch. You can always add more later on. Then, add enough water to cover the ingredients completely and set over a low flame until the stock is flavorful. Cooking time will vary depending on the amount of liquid and the ingredients, but most stocks require cooking at least 2 to 3 hours.

Recipes from "The Sioux Chef's Indigenous Kitchen" by Sean Sherman with Beth Dooley. © 2017 Ghost Dancer, LLC. All rights reserved. Reprinted by permission of the University of Minnesota Press. Available via Amazon.

For more info:

For more recipes from "Sunday Morning" visit the 2018 "Food Issue" Recipe Index
Thanks for reading CBS NEWS.
Create your free account or log in
for more features.