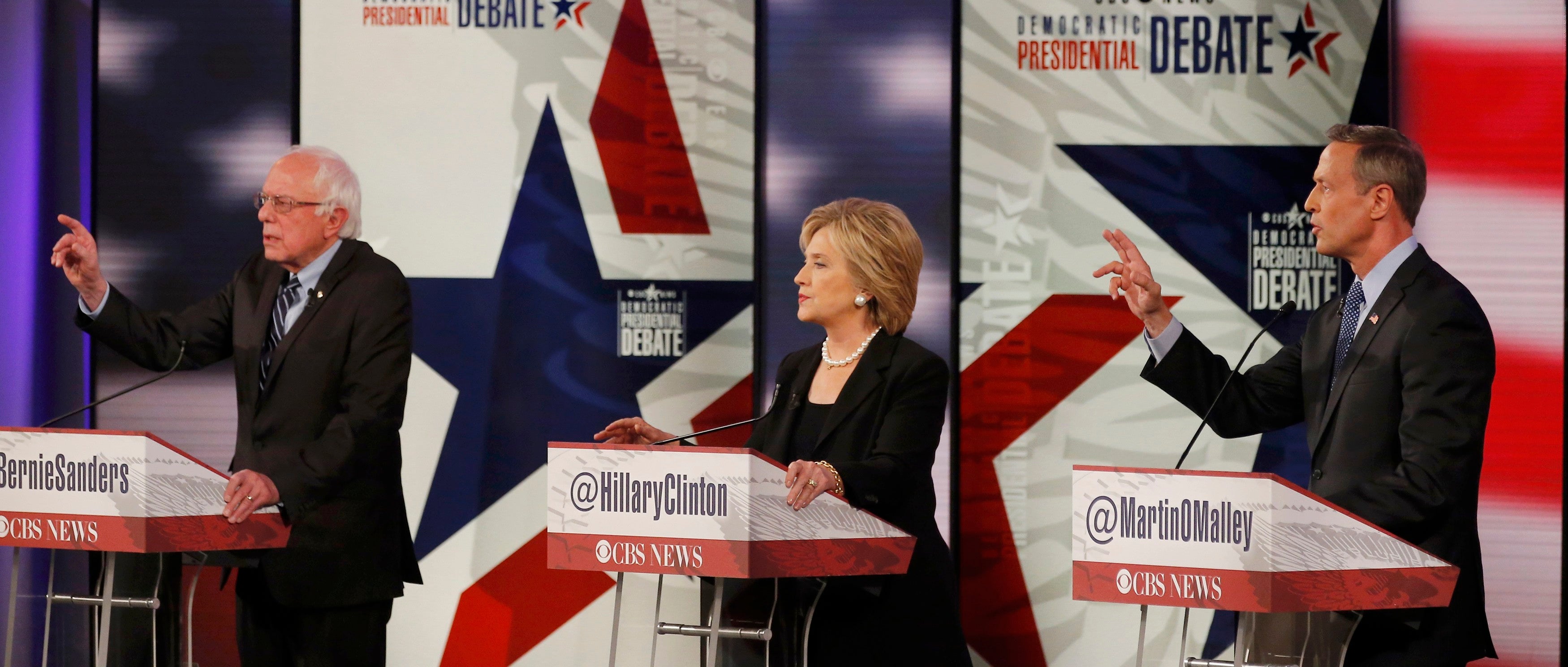 Presidential candidates react to Planned Parenthood shooting
After a gunman attacked a Planned Parenthood facility in Colorado Springs on Friday, killing three people and injuring at least nine more, Democratic presidential candidates issued swift responses to the violence.
Hillary Clinton, the first 2016 contender to publicly address the shooting, reiterated her support for Planned Parenthood on Friday.
She mentioned the shooting at the Jefferson Jackson dinner in Manchester, New Hampshire Sunday, too. "Our condolences and prayers are with the families of the victims," Clinton said. "And we think particularly of that brave young police officer who rushed toward danger to protect others. How many more Americans need to die before we take action?"
On Saturday, former Maryland Gov. Martin O'Malley sent out his own message of support for the Colorado Springs victims and Planned Parenthood:
Vermont Sen. Bernie Sanders also tweeted his support for the organization and for the police officers who responded. He later took it a step further, cautioning against "bitter rhetoric" in the anti-abortion rights debates surrounding Planned Parenthood.
The women's health organization has featured prominently as a target of the anti-abortion movement in recent months. Congressional conservatives made several attempts to defund Planned Parenthood earlier this year after undercover videos sparked outrage over the clinic's health care practices. In September, at the height of Republican discontent over the organization, the FBI even issued a nationwide bulletin to law enforcement agencies warning of the possibility of "lone offenders" attacking facilities.
In a longer statement, Sanders acknowledged that "we still do not know the shooter's motive" for the attack on the facility but added that "Planned Parenthood has been the subject of vicious and unsubstantiated statements attacking an organization that provides critical health care for millions of Americans."
In the wake of the shooting, Planned Parenthood Rocky Mountain, which runs the Colorado Springs clinic, echoed similar sentiments. In a statement Friday, the group said "we share the concerns of many Americans that extremists are creating a poisonous environment that feeds domestic terrorism in this country."
The health care provider drew immediate criticism from at least one conservative, with Rep. Adam Kinzinger, R-Illinois, criticizing the organization's reaction as "very premature."
"We may find out this person was targeting Planned Parenthood," Kinzinger said Friday on CNN. "If we find out he was not targeting Planned Parenthood, I would fully expect an apology from the Planned Parenthood director for saying that."
Texas Sen. Ted Cruz, who led the charge in the Senate to strip Planned Parenthood of federal funds, was one of only few Republican hopefuls to publicly comment on the shooting:
Ohio Gov. John Kasich is the other GOP contender to discuss the attacks, offering his prayers for the affected families and saying "senseless violence has brought tragedy to Colorado Springs."
President Obama also responded to the shooting, calling for stronger gun control legislation.
"If we truly care about this -- if we're going to offer up our thoughts and prayers again, for God knows how many times, with a truly clean conscience -- then we have to do something about the easy accessibility of weapons of war on our streets to people who have no business wielding them," the president said in a statement issued by the White House on Saturday.
"This is not normal," he added. "We can't let it become normal."
Thanks for reading CBS NEWS.
Create your free account or log in
for more features.