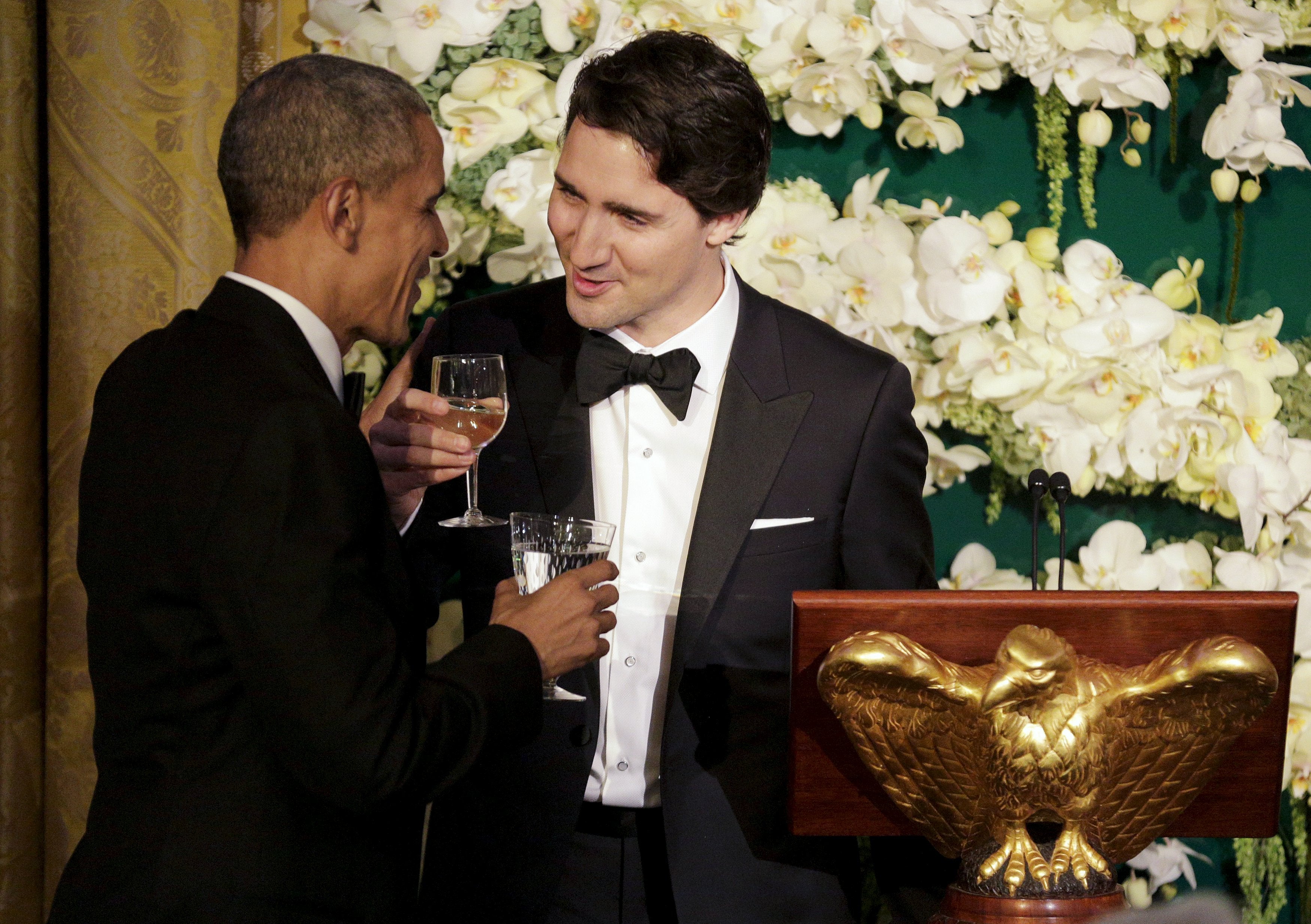 President Obama, Canada's Justin Trudeau trade jokes at State Dinner
After a day of joint appearances and press conferences, President Obama and Canadian Prime Minister Justin Trudeau traded jokes at Thursday night's State Dinner -- the first official state visit by a Canadian leader in almost 20 years.
Making a reference to Canadian pop artist Justin Bieber, Obama joked that in America Trudeau may be "the most popular Canadian named Justin."
Obama also spoke about how the closer ties between U.S. and Canada have affected the 2016 race, making a quip about GOP candidate Ted Cruz. "Where else could a boy born in Calgary run for president of the United States?" he said.
Obama also joked about Trudeau's past experiences that are unconventional for a politician: "If things get out of hand, remember the prime minister used to work as a bouncer," he said.
Meanwhile, Trudeau joked about the differences between the U.S. and Canada, saying the countries are like siblings where Canada is more "stay-at-home" and the U.S. is more "rebellious."
The Canadian leader also joked that he hopes when he's been in office as long as Obama, his "gray hair comes in at a slower rate."
The jokes followed others the two leaders made earlier Thursday at the welcoming ceremony for Trudeau. After a back-and-forth about which country is better at hockey and an opening line that included the word "eh," Obama quipped: "Where's the Stanley Cup right now? I'm sorry. Is it in my hometown, with the Chicago Blackhawks?"
The dinner menu was also designed with spring in mind: halibut casserole with spring vegetables; salad with apricots roasted in ginger, cardamom and White House honey; and herb-crusted Colorado lamb drizzled with a Canadian whiskey sauce.
The dessert course is cake made with toasted Texas pecans and New England maple syrup, along with a separate hand-crafted sugar sculpture inspired by the Rocky Mountains and bearing an assortment of petite pastries with American and Canadian influences.
The guest list for Thursday's dinner included celebrities like Canadian actors Mike Myers, Sandra Oh, Michael J. Fox and Ryan Reynolds. Singer Sara Bareilles performed for the attendees.
American elected officials in attendance included Maine Sen. Susan Collins, Utah Sen. Orrin Hatch, Maine Sen. Angus King, Vermont Sen. Pat Leahy, Montana Sen. John Tester, Minnesota Sen. Amy Klobuchar and Minnesota Gov. Mark Dayton.
Thanks for reading CBS NEWS.
Create your free account or log in
for more features.