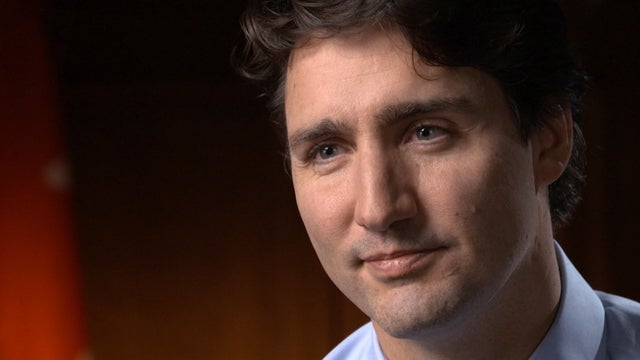 Trudeau to U.S.: Pay more attention to the world
Young and liberal, Canada's new prime minister snatched victory from conservative politicians last fall partially by promising to welcome Syrian refugees. He defends his program that brought 25,000 Syrians into Canada and discusses his life and famous family -- often compared to the Kennedys in the U.S. -- in a candid profile conducted by Lara Logan. The story will be broadcast on 60 Minutes Sunday, March 6 at 7 p.m.ET/PT -- four days before Trudeau visits Barack Obama for the first U.S. state dinner with a Canadian leader in nearly 20 years.
Asked by Logan what Canadians do not like about the U.S., Trudeau replies that Americans should pay more attention to the world, "...an awareness of what's going on in the rest of the world I think is what many Canadians would hope for Americans... I think we sometimes like to think that, you know, Americans will pay attention to us from time to time, too."
Trudeau, the son of former Canadian PM and progressive lion Pierre Trudeau, believes letting in 25,000 Syrians chosen by his agents after screening is smart, safe and the Canadian thing to do. But there is a risk. "Every time a tourist or an immigrant or refugee shows up in another country, there is a security risk," he tells Logan. "I am more than comfortable that...accepting 25,000 Syrian refugees does right by both the safety of Canadians and by the values that define us as a nation." Even if one of those refugees commits a terrorist act, says the prime minister in response to Logan's follow-up question, "Ultimately being open and respectful towards each other is a much more powerful a way to diffuse hatred and anger than...big walls and oppressive policies."
The new prime minister is 44 and has been in politics for just eight years. He did many things not usually connected with elective office before pursuing politics. "I was a snowboard instructor, I was a bouncer in a nightclub, I was a whitewater river guide...I worked as a teacher," says Trudeau. He tells Logan he makes no apologies for those experiences and won't be defined by his enemies' criticism of them or his youth, so he ignores such critics.
Trudeau stunned the country by coming from last in the polls and delivering a victory for his party after its worst defeat in the last elections -- an historic achievement. He also raised eyebrows by removing his military's six warplanes from the war on ISIS led by his country's greatest ally, the U.S. But that was really a move to more deeply engage Canada in the war on terror he says, by doubling the number of advisors in the war zone. "There's a lot of countries that do very well dropping bombs. There are other things that Canada actually does better than most other countries. And one of them is training people on the ground," says Trudeau.
Thanks for reading CBS NEWS.
Create your free account or log in
for more features.