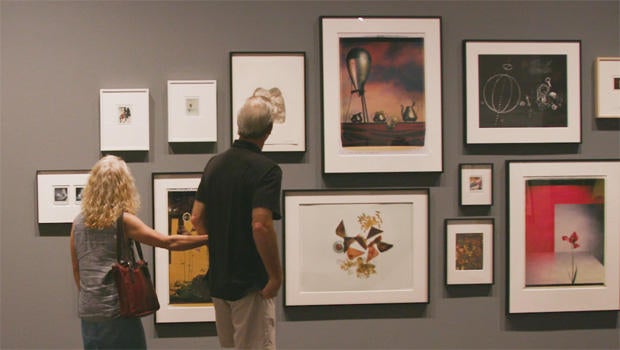 Pop-up art exhibits you may have missed
The 8 'till Late corner store popped up in New York this summer, and it was unlike any shopping experience the city had seen.
British artist Lucy Sparrow created an entire convenience store out of nothing but felt; chips, soda cans, candy, you name it -- 9,000 items, all researched to look just like the real thing, but all as soft as a pillow.
Like the champagne bottle. "Moet and Chandon is just flying off the shelves; I can't make it fast enough," Sparrow said. "Campbell's soup cans went very quick."
She explained: "Felt is a material that is really synonymous with childhood, it's brightly colored. Coming in here is like regression therapy for anyone. It's very childlike, it's very dreamlike."
It was an instant hit on social media, and among budding art collectors. The whole fuzzy shop sold out in a matter of days.
---

From bodega to barge we go, where the Windy City set sail with an art museum that drifted down the Chicago River.
Its aim was to take an industrial piece of equipment and use it to ship art to parts of the city that might not otherwise have access to a museum.
It docked multiple times along the route, creating pop-up galleries right on the river's edge.
---
And in Fort Worth, it was a Polaroid pop-up.
Long before the iPhone gave us instant gratification, the Polaroid was inspiring amateur photographers, and artists, too.
The Amon Carter Museum set about exploring just how artists like Andy Warhol and Chuck Close used those instant images in art -- embracing the new technology in a way Polaroid might never have imagined.
Just a few of this summer's exhibits that got us thinking differently about everyday things -- reminding us that art can be just about everywhere you look.
Thanks for reading CBS NEWS.
Create your free account or log in
for more features.