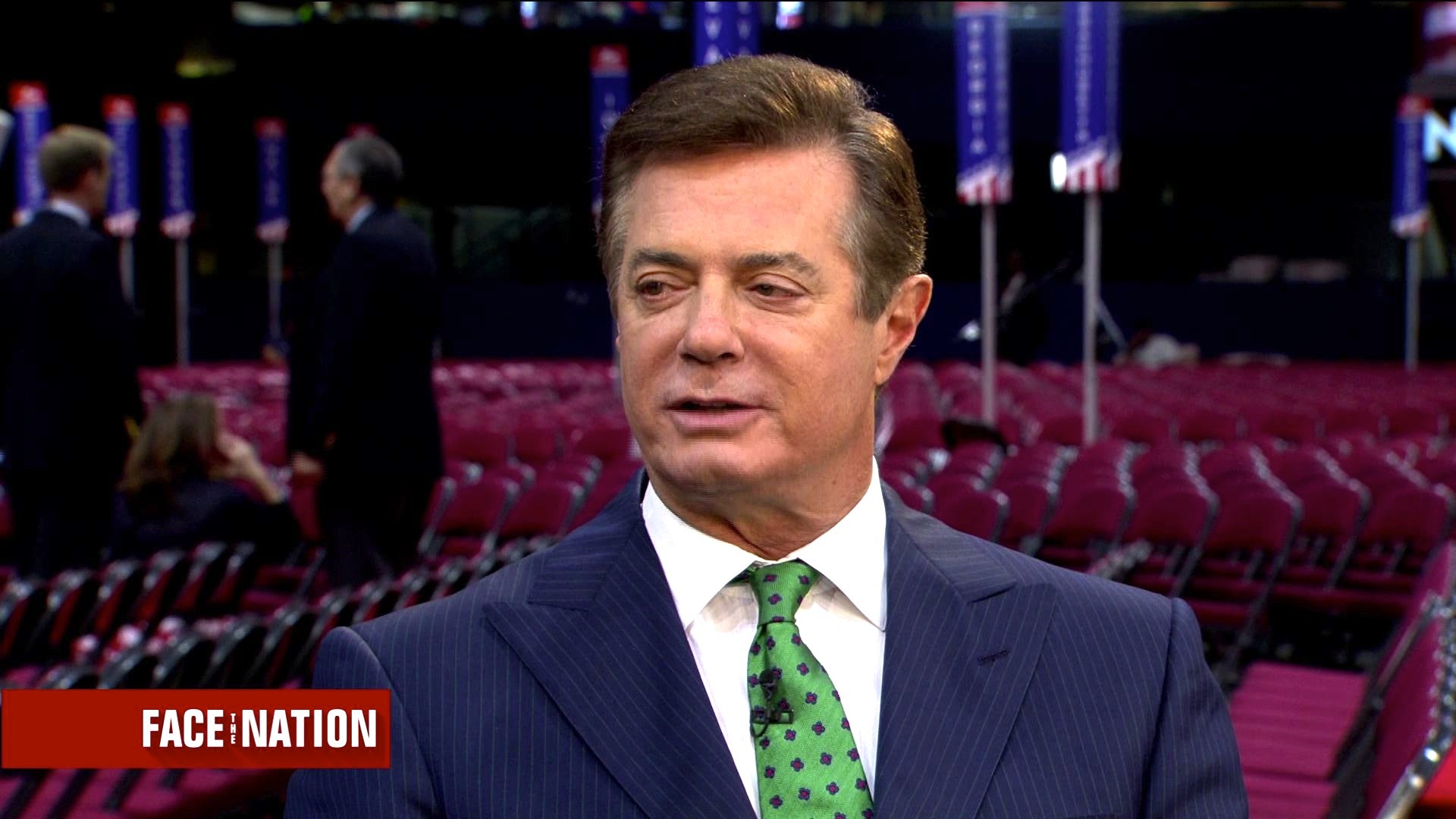 Paul Manafort: Convention will show "very personal" side of Donald Trump
Just one day out from the official start of the Republican convention in Cleveland, Trump campaign manager Paul Manafort said Sunday that the four-day event will do two things: show people the presumptive nominee is prepared to be president, and give them a "very personal" sense of who he is.
"They're going to see more of the man. I mean, they've seen him on the campaign trail, but they haven't seen him in the back, in the boardrooms," Manafort told CBS' "Face the Nation" in Cleveland. "They haven't seen him up close and personal. They have a perspective of the man, but this convention is going to focus on the whole part of the personality."
Party conventions are a chance for campaigns to craft a story about their candidate, putting that story in front of a wider audience. Manafort said convention-goers can expect to hear from members of the Trump family, the candidate's longtime friends and past work colleagues.
"I mean, you're going to have his family speaking," he said. "You're going to have friends who have known him speaking. You're going to have people who have worked with him both inside the company and outside of the company. And so you're going to see how he's built his successful empire."
Asked whether the four-day confab is more Trump's or the Republican Party's, Manafort said it's very much Trump's convention, and that he has put the "Trump stamp" on the traditional policies of the GOP.
"This is clearly going to be Donald Trump's convention," he said. "The delegates on the floor are going to be his delegates. More importantly, the message is going to be his. The platform that was passed in this past week that will be adopted by the convention. He has his clear imprint on what is the framework and principles of the Republican Party has had for many years."
Manafort praised newly minted Trump running mate Mike Pence, saying he "complements" Trump and that his story during his governorship in Indiana is representative of the kinds of changes Trump wants to make for the country.
"As governor, Mike Pence basically did the kind of things for Indiana that Donald Trump is talking about doing for the United States," he said.
As for Pence's past criticism of Trump's proposed Muslim ban--the governor called it "offensive and unconstitutional" back in December--Manafort said Pence "100 percent agrees" with the current version of Trump's plan. The GOP candidate has shifted from calling for a ban on Muslim immigration to the U.S. to calling for a ban on people from "terrorist areas."
"We're dealing in rhetoric here," he said. "Donald Trump's position on immigration is that the world is a mess. Terrorism is rampant internationally. People want to come here and destabilize our country."
"And he said, 'In terrorist areas, geographic areas that are historically filled with rebellion, we have to put a temporary suspension until we figure out what's going on. And once we figure it out, we then have to have a vetting process so we know who we're letting in,'" Manafort continued. "That Governor Pence 100 percent agrees with."
Thanks for reading CBS NEWS.
Create your free account or log in
for more features.