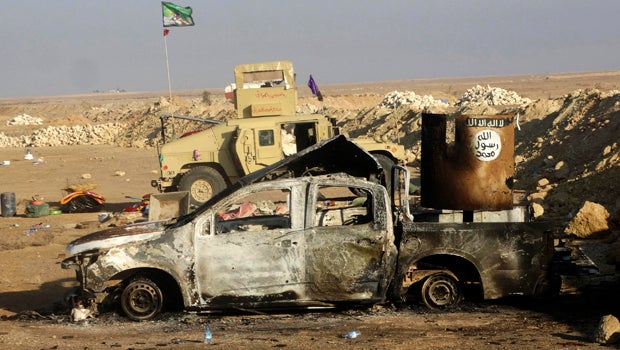 Obama poised to request authority to use military force against ISIS
WASHINGTON -- President Barack Obama is poised in coming days to ask Congress for new authority to use U.S. military force against Islamic State militants, the White House said Thursday. But the top Republican in Congress warned it won't be easy to pass the measure and that it will be up to Obama to rally support from lawmakers and the public.
"His actions are going to be an important part of trying for us to get the votes to actually pass an authorization," House Speaker John Boehner, R-Ohio, said Thursday. "This is not going to be an easy lift."
White House spokesman Josh Earnest responded that the administration is dedicated to getting a new authorization with support from Republicans and Democrats, and he didn't rule out that the new authorization could be formally submitted to Congress as early as Friday. That's even though Obama has argued new authorization isn't legally necessary and has been ordering airstrikes on militant strongholds in Iraq and Syria for months.
"The president believes it sends a very powerful signal to the American people, to our allies, and even to our enemies, that the United States of America is united behind this strategy to degrade and ultimately destroy ISIL," Earnest said, using an acronym for the Islamic State group, "That across branches of government and even across political parties, even in this divided time in our nation's political history, at least, that Democrats and Republicans are committed to this very important task."
Earnest declined to discuss specific provisions being discussed, such as how long the authorization will last, what geographical areas it will cover and whether it will allow for the possibility of ground troops. He said details are still being worked out with lawmakers from both parties, with the hopes of coming up with the authorizations can draw bipartisan support.
"What you can expect is specific legislative language that Democrats and Republicans have worked with the administration to produce and we're hopeful that language will earn a majority of support in the House and the Senate," Earnest said. "What the president is interested in is not just passing this AUMF but being able to demonstrate some bipartisan support for it," he added, using an acronym for the authorization of the use of military force.
But top House Democrat Nancy Pelosi of California said talks with the administration are focusing on a time frame of three years, while the other issues are still being worked out. Pelosi told journalists it will be a challenge for wary Democrats, the White House, and Republicans seeking a broader use of military force to forge an agreement, but that she ultimately expects one to be reached.
"I'm not saying anybody's come to an agreement on it," Pelosi said. "I think it's going to be a challenge, but we will have a solution to it and hopefully in a bipartisan way."
Pelosi outlined three concerns about the scope of the authorization: the amount of time it would remain in place, the geographical area it would cover, and the specific activities it would authorize.
Obama has been relying on congressional authorizations that President George W. Bush used to justify military action after the terrorist attacks of Sept. 11, 2001. Critics say the White House's use of post-9/11 congressional authorizations is a legal stretch, at best.
Pelosi said she hopes Congress will repeal the 2002 congressional authorization for the war in Iraq but retain the 2001 authorization for military action in Afghanistan. Earnest said the White House also supports repeal of the Iraq authorization replaced by the new authorization.
The developments come after Islamic militants released a grisly video of the murder of a Jordanian Air Force pilot by burning him alive. Pelosi also said that the U.S. should "move quickly" to steer military aid to Jordan, which has begun a stepped-up campaign against the militants, including a series of air strikes in Syria.
Republicans generally want a broader authorization of military action against the militants, who have overrun wide swaths of Iraq and Syria, than Democrats have been willing to consider. Obama has said he does not intend to have U.S. "boots on the ground" in combat roles, while many Republicans believe that option ought to be available to the military.
"I have always believed that when it comes to fighting a war that Congress should not tie the president's hands," Boehner said. "I'm expecting there will be an AUMF sent up here in the coming days and we're going to go through a rigorous set of hearings and continue to discuss this."
Secretary of State John Kerry has testified that any new authorization should not limit U.S. military action to just Iraq and Syria or prevent the president from deploying ground troops if he later deems them necessary. Kerry also said that if the new authorization has a time limit, there should be a provision for it to be renewed.
California Rep. Adam Schiff, the top Democrat on the House intelligence panel, already introduced legislation rather than wait for Obama's version. His bill would authorize the use of force against the Islamic State group in Iraq and Syria for three years, but prohibit the use of ground forces in a combat mission in either nation. He has said if the president later decided to deploy ground troops, he could return to Congress to ask for new authority.
"It is my hope that the administration will be willing to accept important limits in a new authorization as well as the sunset or repeal of the old AUMFs, as this will be necessary to ensure strong bipartisan support and meet the goals the president set last summer of refining and repealing the prior authorizations," Schiff said in a statement Thursday.
Thanks for reading CBS NEWS.
Create your free account or log in
for more features.