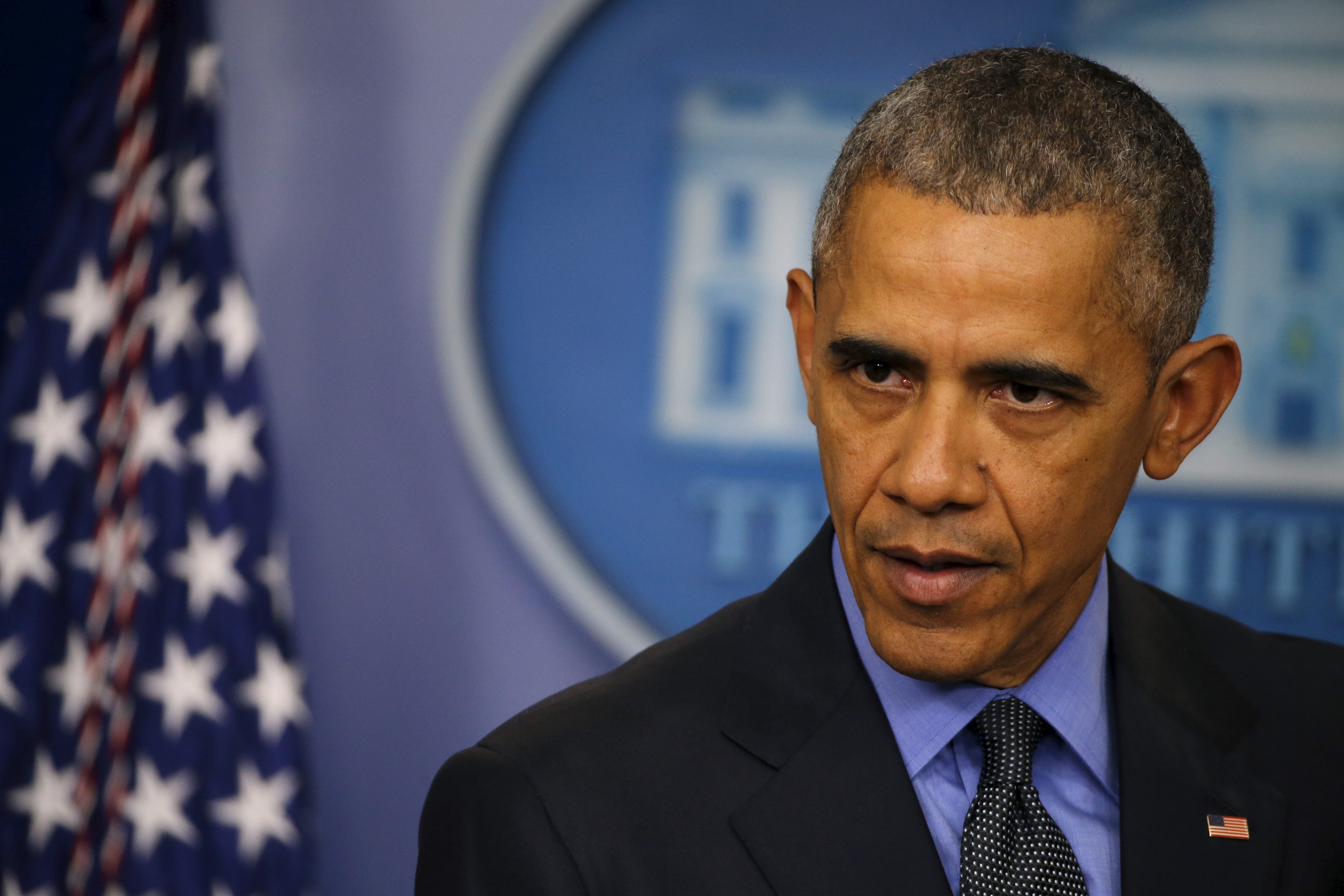 Obama: ISIS "not an organization that can destroy" America
Just weeks after the shooting in San Bernardino, President Obama is seeking to downplay the reach and impact of the Islamic State of Iraq and Syria (ISIS), saying America's strength is "not threatened" by the extremist group.
"This is not an organization that can destroy the United States," Mr. Obama told NPR in an interview released Monday. "This is not a huge industrial power that can pose great risks to us institutionally or in a systematic way."
The president was quick to add: "They can hurt us, and they can hurt our people and our families. And so I understand why people are worried."
"They've shown in Paris what they can do in an organized fashion, and in San Bernardino what we've seen is their ability to proselytize for their perverted brand of Islam and spur small-scale terrorist attacks," Mr. Obama said. "And those are very difficult to detect, so it is going to be important for us to be vigilant."
But the president remains "confident" that the U.S. will prevail over the terror group at home and abroad: "We are pounding ISIL's core structure in Syria and Iraq. We have put together a coalition that is increasingly effective. We have seen ISIL lose about 40 percent of its populated territory in the region."
"The most damage they can do, though, is if they start changing how we live and what our values are," he continued. If Americans "remember who we are and make sure that our resilience, our values, and our unity are maintained," the president pledged that "ISIL will be defeated."
Mr. Obama also sought to reassure Americans by comparing the United States' ability to combat ISIS to the action taken against al-Qaeda after the September 11 attacks.
"In the same way that al-Qaeda was able to carry out one spectacular attack, we ended up making some significant changes to harden homeland defenses," Mr. Obama said. "It then took a while for us to ultimately snuff out core al-Qaeda in the FATA [Pakistan's Federally Administered Tribal Areas]. And there are still lingering remnants, but at no point was there ever a sense that in fact it could do catastrophic damage to us."
The president has said previously that ISIS has been tactically "contained" in Iraq and Syria -- a statement that drew heat from conservatives for its purported dismissal of the terror threat.
But in his NPR interview, conducted before the president left for a family vacation to Hawaii on Friday, he also pointed to an increasing threat to the homeland: self-radicalization through the internet and jihadist propaganda.
Though self-radicalization is not a new concept -- the president pointed to the Fort Hood attack by Army psychiatrist Nidal Hasan as "inspired by Anwar Awlaki, who was with AQAP," or al-Qaeda in the Arabian Peninsula -- ISIS, he said, "is more systematic and more effective in their media, in their online presence, and that raises additional concerns."
"Part of what we have to do in response is to ramp up countering that narrative online, working with local communities to make sure that we are inoculating ourselves and our young people from this kind of recruitment," Mr. Obama added.
The president also weighed in on the politics involved in developing an ISIS strategy during a presidential campaign season.
"Those who are critics of our administration response, or the military, the intelligence response that we are currently mounting, when you ask them, well, what would you do instead, they don't have an answer," Mr. Obama said.
He took a slight jab at Texas Sen. Ted Cruz, who had proposed to "carpet bomb" ISIS during the Republicans' last debate.
"Who is it you are going to bomb? Where is it that you are going to bomb? When you talk about something like carpet bombing, what do you mean?" the president asked. "We carry out precision strikes based on intelligence of where ISIL is...And if the suggestion is that we kill tens or hundreds of thousands of innocent Syrians and Iraqis, that is not who we are and that would be a strategy that would have enormous backlash against the United States. It would be terrible for our national security."
He also praised the rhetoric of GOP presidential candidate and South Carolina Sen. Lindsey Graham, who has called for creating a U.S.-led regional army to attack ISIS in Syria.
"To his credit, I think Lindsey Graham is one of the few who has been at least honest about suggesting, here is something I would do that the president is not doing," the president said of the retired Air Force colonel. "He doesn't just talk about being louder or sounding tougher in the process."
When it comes to enforcing a no-fly zone in Syria -- a tactic Democratic presidential candidate Hillary Clinton has championed on the campaign trail -- the president dismissed the strategy.
"The challenge there is that ISIL doesn't have an air force, so the damage done there is not against ISIL, it's against the Syrian regime," Mr. Obama said. He added that "without a large number of troops on the ground, it's hard to create a safe zone like that."
Thanks for reading CBS NEWS.
Create your free account or log in
for more features.