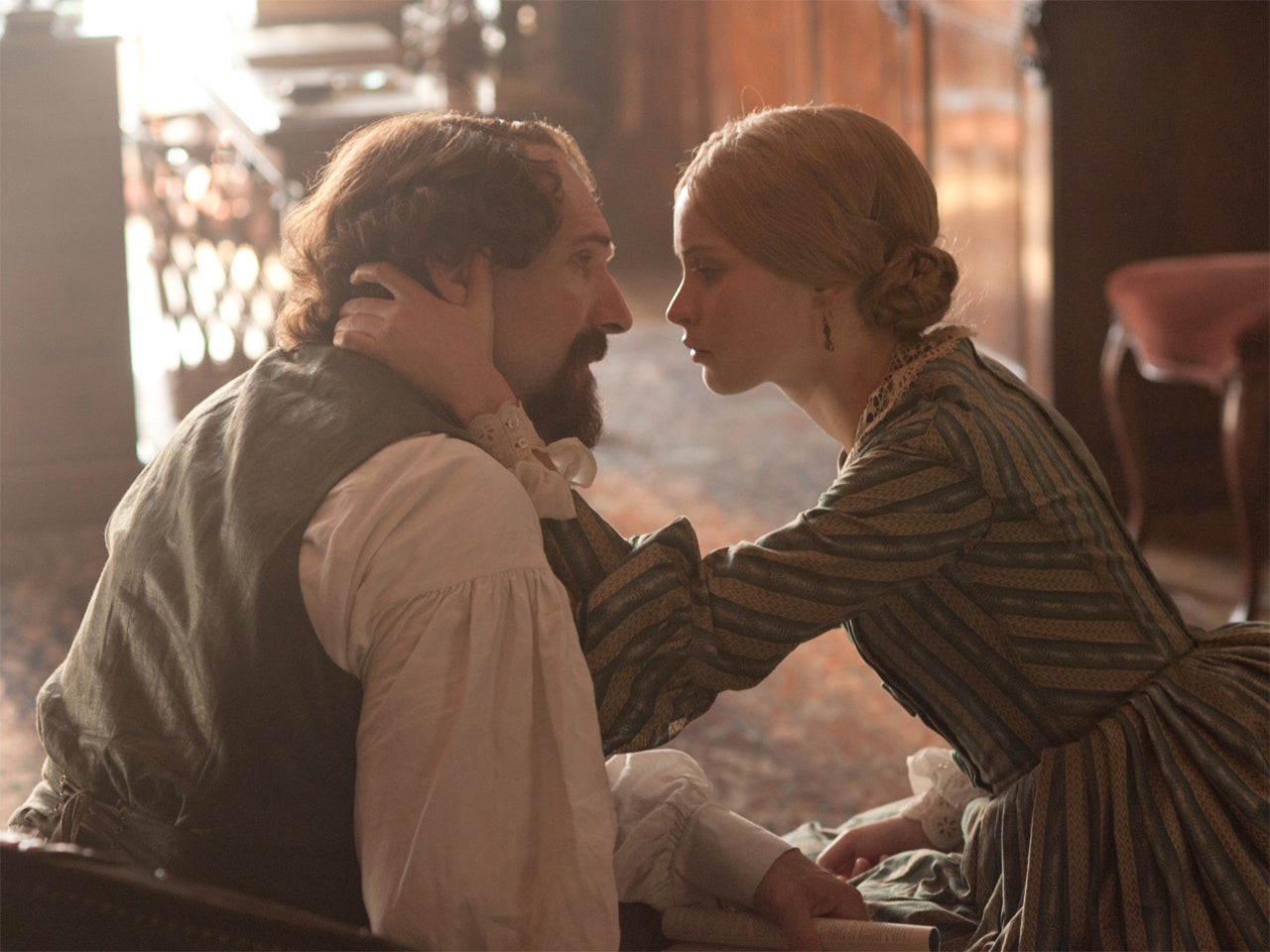 NYFF: Charles Dickens' mistress, "The Invisible Woman"
NEW YORK
Good period films -- think Merchant-Ivory productions, like "Howards End" and "The Remains of the Day," or Martin Scorsese's "The Age of Innocence" -- are studies in manners and social appearances. The anthropology of characters from 100 or 150 years ago is as intriguing as the textures and lacework of costumes, or the lighting of salons -- for what most fascinates an audience today is what makes characters so strangely of their time AND so timeless.
Actor Ralph Fiennes ("Schindler's List," "The English Patient," and Voldemort of the "Harry Potter" films) illuminates the private life of one of the 19th century's most well-known figures in "The Invisible Woman," his second directorial feature, following his modern-day telling of Shakespeare's "Coriolanus." (The movie, which played Wednesday at the New York Film Festival, opens in theaters on Christmas.)
The fascination with Charles Dickens, one of the most revered figures of English literature, extends beyond the printed pages of his novels and the readings and stage productions of his words. Married and with 10 children, in 1857 Dickens took up with 18-year-old Ellen Ternan, who came from a family of actors.
The affair was kept hidden (or as hidden as could be in gossip-hungry Victorian England, for a man of his celebrity), until Dickens abandoned his wife, to spend the remainder of his life with Ternan.
You would be forgiven for thinking his personal affairs downright Dickensian, even given to melodrama (as when he and Ellen were caught in a train derailment). The scandal was pretty much kept under wraps for years, and was not written about in depth until long after Ternan's death, in 1914.
"The Invisible Woman" explores how the young actress came to accept becoming mistress in a secret relationship with one of the most public of figures.
The story of her affair is told in flashback, as years later -- after Dickens' death -- Ellen married a school headmaster and settled into a quiet life in the seaside community of Margate. But those solitary walks on the beach are just excuses to ruminate on her previous life, and open a door into a secret past.
Even as a teenager, Ellen is not naive, and is judgmental of others who cohabitate or have children out of wedlock. Her own mother, played by Kristin Scott Thomas (Fiennes' co-star in "The English Patient"), finds herself torn between protecting her daughter's reputation, and preparing Ellen for an uncertain future, weighing the presumptuous Dickens' intentions to ensure her daughter something resembling a settled life.
Even before she accepts Dickens' passionate entreaties, Ellen finds herself the subject of whispers which, in the bubble of what was an early form of celebrity media culture, had the result of hastening the outcome rather than preventing it.
"The Invisible Woman" looks and sounds immaculate, with superb costumes, locations and production design.
Felicity Jones is note-perfect as Ellen, both as a wide-eyed ingenue in the presence of a Great Man, and later as the woman who -- having lied about her age, pretending to have met Dickens only as a child -- keeps her past hidden in the pages of books and mementos, such as the lock of hair that is a sad reminder of her relationship.
Fiennes plays the duality of Dickens -- a man given to basking in public adulation while cloistering his private life; a writer who blasted society for its injustices, yet who was unjust to his spouse AND his kept woman -- as a collision of repression and moral outrage.
And Joanna Scanlan offers a surprisingly moving portrayal of Dickens' wronged wife, Catherine, who is forced to hand-deliver her husband's jeweled gift to Ellen which had been wrongly addressed to her.
The film opens in New York City and Los Angeles on Dec. 25, and nationwide soon after. It has not yet been rated.
To watch a trailer for "The Invisible Woman," click on the video player below.

More NYFF reviews:
Thanks for reading CBS NEWS.
Create your free account or log in
for more features.