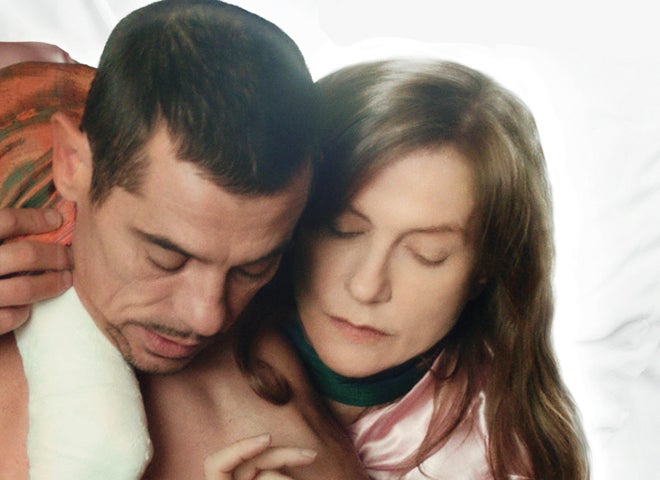 NYFF review: A con man's "Abuse of Weakness"
Director Catherine Breillat's body of work is comprised of tales of passion laced with acid -- power struggles between women and men, or between women and their own sexuality, such as "36 Fillette," "Fat Girl," "The Last Mistress," "Bluebeard," and "The Sleeping Beauty." As a screenwriter she co-wrote Maurice Pialat's "Police" and Marco Bellocchio's "The Eyes, The Mouth."
Her latest film is also provocative, combative and masochistic, all the more uncomfortable for being the most personal of all.
In "Abuse of Weakness" (which opened at the New York Film Festival this week), Isabelle Huppert plays Maud, a film director who in the opening scene suffers a stroke. After enduring months of physical therapy, she tries to regain a semblance of control over her professional life (if not her physical self), moving ahead on a film about a self-destructive woman in an abusive relationship.
Watching a TV interview with a notorious con man, she spies the perfect actor for her film: Vilko Piran (played by the rapper Kool Shen), whose arrogance and animal presence are both antagonistic and seductive. She invites him for a meeting and offers him the starring role. His response is aloof, demanding and egotistical -- almost like a big fish taunting the fisherman trying to reel him in.
And so begins a cat-and-mouse game between the two, in which Maud allows herself to be manipulated, even as she presumes to be a dominating figure, a manipulator of art and people. Her physical affliction puts her in an unfamiliar position of dependency, and Vilko (without even appearing to expend much effort) takes over her life.
The gender dynamics between the two are stretched because of Vilko's wife, who seems surprisingly unconcerned about the closeness her husband shares with Maud, or the source of his income -- which, we see with astonishment, is increasingly dependent upon repeated "loans" from Maud's checkbook.
Why would Maud succumb to his fraud? The answer is no less easily obtainable for it being a true story.
In 2004 Breillat herself suffered a stroke, and following her long rehabilitation she was preparing a film, titled "Bad Love," to star a notorious con man named Christophe Rocancourt. He swindled Breillat to the tune of 650,000 euros. (Rocancourt was actually the subject of a 2003 "60 Minutes" report, which dug into the background of "The Counterfeit Rockefeller" and his long string of cons.)
In 2009 Breillat published a book about her run-in with the con man, titled "Abuse of Weakness" (a French legal term). The following year Rocancourt was sentenced to 16 months in prison. (He's recently written a book of his own, and in interviews has refused to apologize for his crimes.)
While Breillat in the past has served as a cinematic provocateur, in "Abuse of Weakness" she is perhaps being her most provocative, by exposing her own wretched experience so nakedly. And with an actress of Huppert's considerable gift for baring the emotions of transgression -- even challenging the camera with an uncomfortable, dominating gaze -- the director has found the perfect vehicle to play herself, a woman used to using others who finds herself a willing victim.
The film is uncomfortable to watch (unsurprising given the director's reputation), but like the victims of the con man, the audience is reeled in, seeking an answer from Maud about how Vilko got as far as he did. Her explanation to her children about who signed the checks -- "It was me ... and not me" -- is Breillat at her most naked. Even hiding behind the camera, she can expose herself as brazenly as she does her actors.
"Abuse of Weakness" (in French, with English subtitles) is not rated. No U.S. distributor has been announced.
More NYFF reviews:
Thanks for reading CBS NEWS.
Create your free account or log in
for more features.