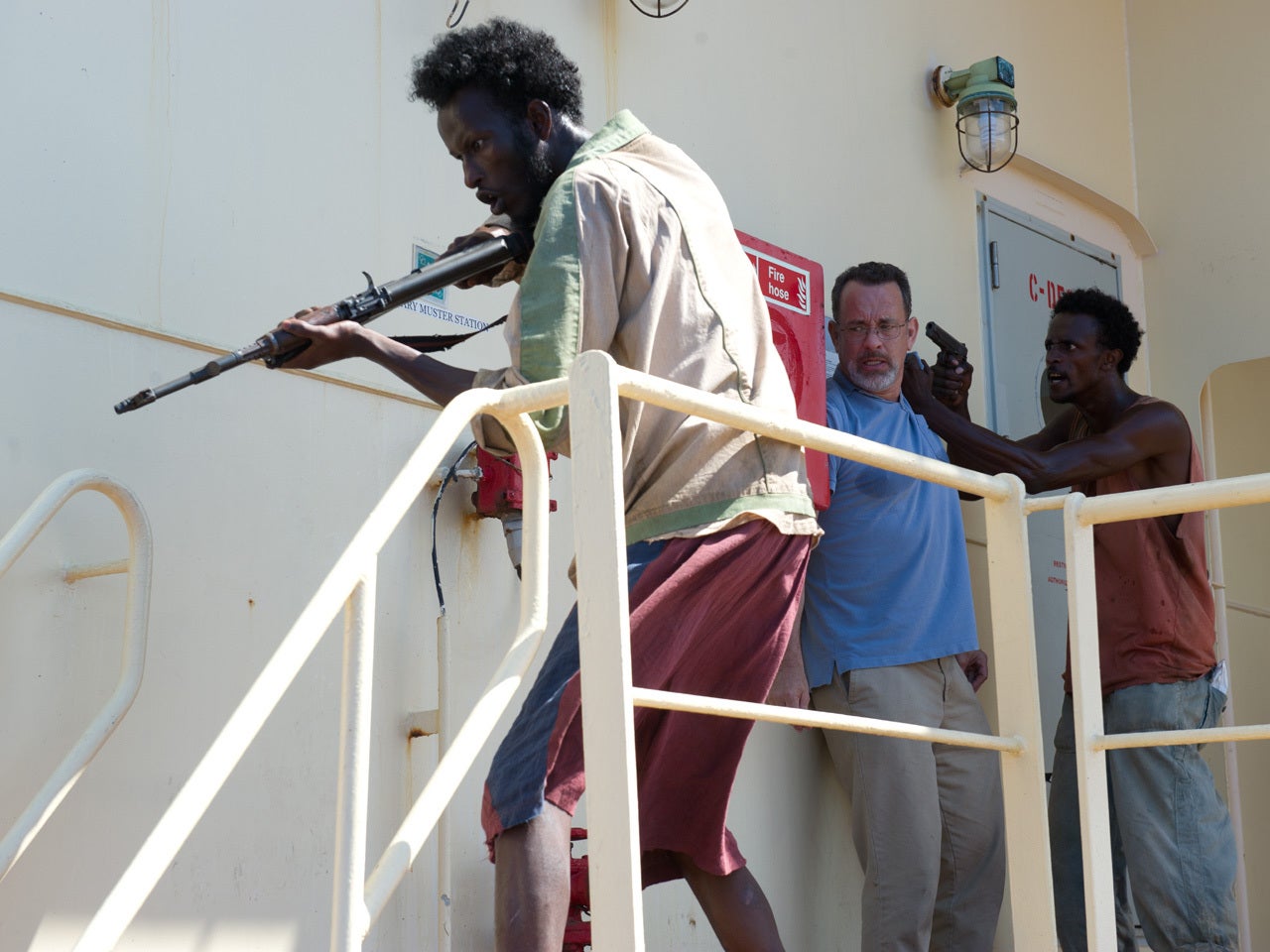 Review: "Captain Phillips" a gripping thriller
NEW YORK
The high drama that befell the freighter Maersk Alabama off the Somali coast in April 2009, in which pirates boarded the ship and took its captain hostage, has been given a highly-charged immediacy in a new thriller from the director of "The Bourne Supremacy" and "United 93."
Like those two thrillers -- one an international spy caper, the other a ripped-from-the-headlines docudrama about the 9/11 attacks -- the new Paul Greengrass film, "Captain Phillips," uses fly-on-the-wall camerawork, quicksilver editing, and extraordinary attention to detail to make the events of the ship's hijacking gripping and utterly believable.
But "Captain Phillips," which premiered Friday at the New York Film Festival (and which opens nationwide on October 11), would not work nearly as well as it does were it not for the strong characters at its center: Captain Richard Phillips (Tom Hanks), a veteran maritime sailor who is all business on board; and Muse (Barkhad Abdi), a desperate Somali fisherman who has turned to piracy.
The film is based on the book, "A Captain's Duty: Somali Pirates, Navy SEALs, and Dangerous Days at Sea," by Phillips and Stephen Talty. Though the timeline is condensed, the screenplay hews closely to true events and, more importantly, to the motives and behavior of real-life figures.
"We were always searching for that combination of procedure and behavior that was going to be not just reminiscent but very reflective of what really happened," Hanks said at a film festival press conference. "And that's tough when you're telling 'non-fiction entertainment.' "
Much of the production was shot at sea, on board a sister ship of the Maersk Alabama, and on U.S. Navy vessels (including the USS Halyburton, which had served in the naval assault against the pirates during the 2009 standoff). The camerawork of cinematographer Barry Ackroyd (an Oscar nominee for "The Hurt Locker") captures both the vast loneliness of the ocean, where the giant freighter is vulnerable to two tiny skiffs carrying armed men, and the increasingly cramped quarters in which Phillips finds himself -- leading to the lifeboat where he is held hostage by pirates trying to escape with their lives.
The film's verisimilitude sets a vivid stage for the conflict between Phillips and Muse, as the two engage first in a daunting pursuit, then in Phillips' cat-and-mouse effort to protect his hiding crew members. The greed of the pirates (and the narcotic khat leaves they chew) spurs them on to take greater chances, forcing Phillips and his crew to try to use their knowledge of the ship's layout to their advantage.
How far the pirates are willing to go is unknown; the skinny Muse does not want anyone to think him a coward (he'll attack those who suggest it), and the promise of a big ransom for an American freighter is too tempting a gold ring to reach for, even with U.S. Navy warships in the vicinity.
But the drama is centered on Phillips, who uses clever bits of subterfuge to try to outmaneuver the pirates, or to try to set them at odds with each other, while also trying not to succumb to his own fear that he won't make it out alive.
One particularly cathartic scene with Hanks should seal an Academy Award nomination for the actor, who has won two Oscars previously (for "Philadelphia" and "Forrest Gump"). The scene of wrenching emotion is all the more fascinating for it having been unscripted and improvised, incorporating Navy personnel who had no idea they'd be "acting" opposite one of today's top stars.
"It's a moment like I never had making films," Hanks said of the unplanned infirmary scene. "Just the freedom to give it a shot was so liberating."
"Acting is truth-telling, trying to find the truth in a human situation," said Greengrass, who stated that Hanks' performance -- a flood of emotion stemming from the character's shock and confusion -- captured "a shocking sense of humanity."
Indeed, the only false note in "Captain Phillips," is, ironically, its music score, which sounds heavily indebted to the films of Christopher Nolan. Hearing music during a climactic scene that sounds eerily similar to the climactic scene of "Inception" merely serves as an example of filmmakers' frequent over-reliance on music in dramatic situations. "Captain Phillips" really needs no such help in conveying its drama to its audience.
Released by Columbia Pictures, "Captain Phillips" is rated PG-13, for violence, sustained intensity, and substance use.
For more info:
To watch the trailer for "Captain Phillips" click on the video player below.
More NYFF reviews:
Thanks for reading CBS NEWS.
Create your free account or log in
for more features.