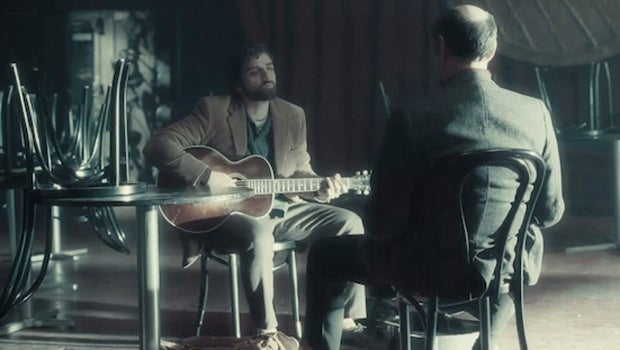 NYFF review: The Coen Brothers' "Inside Llewyn Davis"
The Coen Brothers have a track record of hits-and-misses that any filmmaker would covet. Nearly every work by the Minnesota-bred duo going back three decades is rich with atmosphere, and sports memorable characters and whimsical dialogue even when the narrative veers to the darkest edges of human behavior.
From the criminal activities of "Blood Simple," "Fargo," and their Best Picture Oscar-winner, "No Country for Old Men," to their more outrageous delights like "Raising Arizona," "O Brother, Where Art Thou?" and "The Big Lebowski," Joel and Ethan Coen have a recognizable sensibility that totally earns the "-esque" attached to their surname. Their latest, "Inside Llewyn Davis" (which made its U.S. debut at the New York Film Festival on Saturday), evokes the folk music scene in 1961 New York City, just on the cusp of a great change in music a-blowin' in the wind. But this is not an against-all-odds Hollywood fantasy about success being heaped upon the deserving; it's about everybody else who struggles with creative expression, perhaps without knowing why, and certainly without a Plan B in case Plan A doesn't quite work out.
In this era of folk music fervor, singer-songwriter Llewyn Davis (Oscar Isaac) is a talent who is, sadly, unproven. Now going solo (his partner had taken a dive off the George Washington Bridge), Llewyn finds his first solo album remaindered, his royalties nonexistent. The crowds in the smoke-clogged Greenwich Village cafe might appreciate his sad songs, but record producers are a tougher crowd.
The obstacles that come before Llewyn may arise because of his doing (a woman's pregnancy, a fight in a back alley), or from serendipity (a locked door, a missing box of trash, a wandering cat), but Llewyn's struggle to gain sympathy is often self-defeating. He is spiteful, judgmental and crass. While he accuses other musicians of being careerists, he finds himself struggling to maintain a career -- what he calls "his work."
His side-stepping of responsibility doesn't help matters. In a tense scene with a fellow folk singer, Jean (Carey Mulligan), we learn that Llewyn doesn't seem to have learned from past mistakes; and his interactions with his sister Joy (Jeanine Serralles) indicate that is not about to change soon.
But chance encounters from out of left field -- on which the stories in Coen Brothers films often turn -- force Llewyn's journey in a different direction. And as in other Coen Brothers films, the joy of watching "Inside Llewyn Davis" is that of being happily escorted though a minefield of absurdity, shock, and touching humanity, all arising from unexpected places.
After roles in "The Bourne Legacy," "W.E.," "Drive," and "Ten Years," Oscar Isaac assumes the central character without shame, carrying the film while balancing the difficult Llewyn with anger and humor that makes us want to see the outcome of his journey.
The supporting players -- Mulligan, Justin Timberlake, Coen regular John Goodman, Garrett Hedlund, and F. Murray Abraham among them -- are exemplary. Mulligan in particular demonstrates the power of a flick of an eyebrow to speak volumes, but also deftly gauges a character who, we are led to guess, is far more than what she presents.
Technical credits, from Bruno Delbonnel's cinematography (which harks back to the overcast, color-drained cover of "The Freewheelin' Bob Dylan" album), to Jess Gonchor's production design, make the film a visual treat. But the biggest praise, naturally, goes to its soundtrack overseen by T. Bone Burnett, the producer behind the music of "O Brother, Where Art Thou?"
Burnett was the first person to whom the Coens sent their script, which did not have musical pieces specified. From their conversations about what songs to use grew arrangements of traditional tunes that spoke to the tensions being played out in folk music circles in the late 1950s and early '60s, as traditional folk music and new styles collided, creating a vibrant new musical vocabulary. In addition to Isaac, others performing on the film's soundtrack include Timberlake, Mulligan, Driver, and Marcus Mumford (of Mumford & Sons).
The score contains one original piece, a fake novelty song about astronauts, called "Please Mr. Kennedy." It's ridiculous, of course, and Llewyn's attitude towards it says as much about where he believes his musicianship must take him as it does the chances of his ever arriving.
"Inside Llewyn Davis" is being distributed theatrically by CBS Films (a division of CBS Corporation), and is rated R. It features adult situations, language, violence and substance use. It will be released nationwide on December 6.
To watch a trailer for "Inside Llewyn Davis," click on the video player below.
More NYFF reviews:
Thanks for reading CBS NEWS.
Create your free account or log in
for more features.