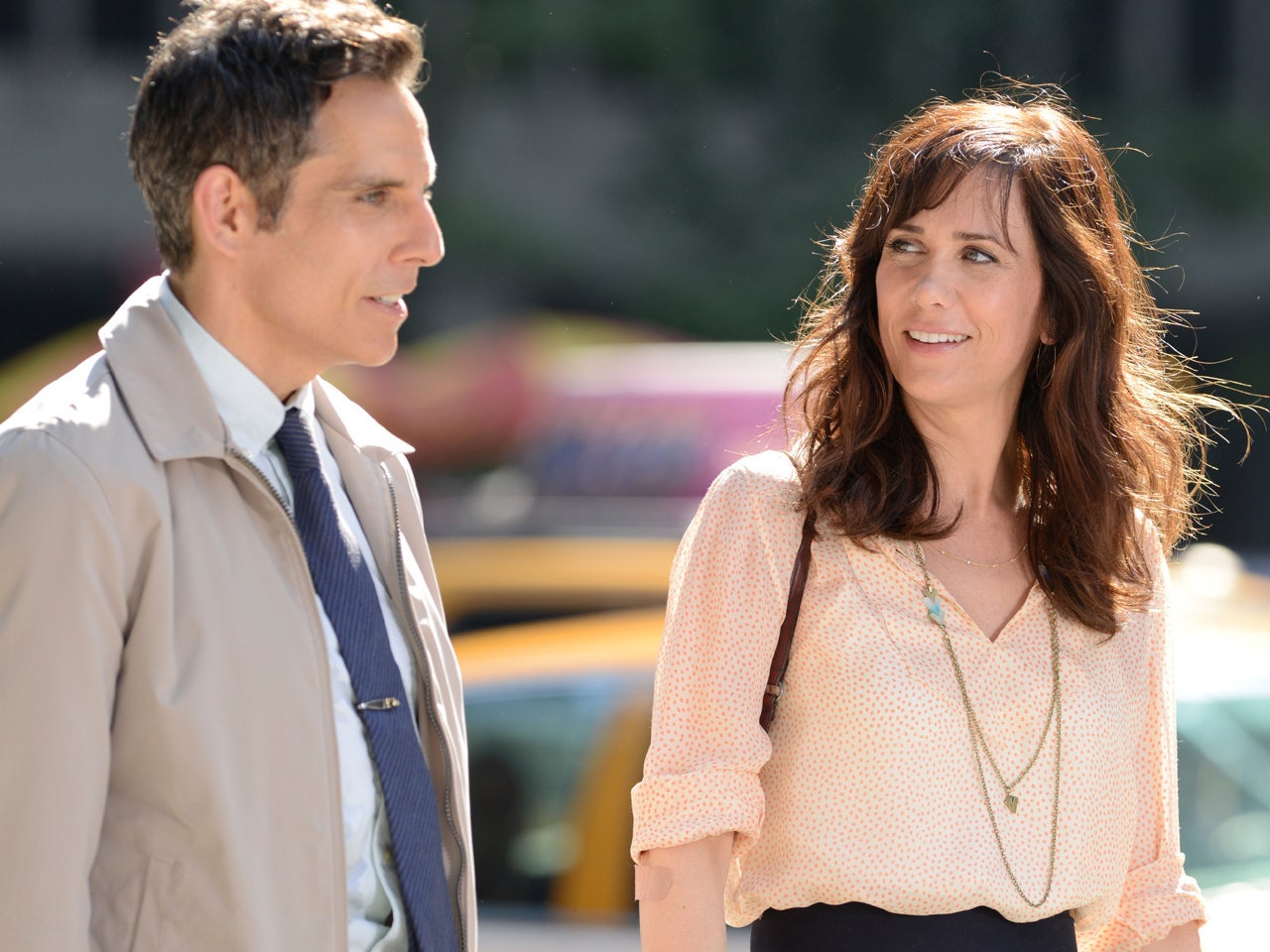 NYFF: Ben Stiller talks "Secret Life of Walter Mitty"
Ben Stiller's ambitious new film, "The Secret Life of Walter Mitty," based on James Thurber's classic short story of a daydreamer spinning fantasies of his unlived heroic life, has few models -- even the classic 1947 film version starring Danny Kaye.
Stiller (who also directed) stars as Mitty, a subdued man who has not really lived life since the death of his father when he was a teenager. He instead "zones out" and experiences alternate realities in which he takes on different personas, or lives out super-heroic fantasies.
But as he finds himself in a bind professionally (his job at Life Magazine as a "Negative Assets Manager" is on the chopping block) and romantically (he can barely bring himself to talk to his office crush, played by Kristen Wiig), Walter manages to step out from the confines of his hyper-real imagination into the real world.
To his surprise, he finds himself not only performing dangerous, foolhardy acts, but also engaging with others in ways the meek office jockey never could before. It is a leap of imagination which even the very imaginative Mitty could not have foreseen.
The film co-stars Adam Scott ("Parks & Recreation") as the swarmy executive in charge of transitioning Life Magazine to a dot-com repository; and Sean Penn as the adventurous photojournalist Sean O'Connell, whom Walter would travel to the ends of the Earth to find.
The film, which debuted Saturday at the New York Film Festival, opens nationwide on Christmas Day.
Speaking at a film festival press conference, Stiller said that he had come late to the long-in-development remake, when a script by screenwriter Steven Conrad caught his eye.
"They had tried for a long time to remake the original movie in some way which didn't really in any way story-wise connect to the original short story," Stiller said. But he found that Conrad's adaptation provided a "totally different take" on Thurber's story.
"That was what made me want to do it, because it felt so emotionally connected and relevant. It got into the idea of who this guy was and why he was a daydreamer, and didn't try to re-do what had already been done very well by Danny Kaye, and obviously
I couldn't do that, and nobody would want to see me attempt to do that."
The story is contemporary, and instead of Mitty being a henpecked husband seeking an escape from a dreary life, Stiller's Mitty proudly plugs away at his work, which is pretty much how he defines himself, until a corporate takeover means Life (Magazine) as he knows it will no longer be the same.
"Steve put it in a context of what's going on in the world today, and generationally, for guys our age," Stiller said. "We're all living in a world that's transformed from analog to digital, or is in the process of doing that, and what gets left behind with that, I thought that was a really important part of the whole story.
"The idea of the permanence of the pictures and the real things, the actual tactile things [like a 35mm photo negative]. Walter is the guy who takes care of the actual physical objects, and he cares about that, and he cares about his coworkers and the process. That was something I think that gave it a context that to me was resonant and worth thinking about today.
"The Life magazine idea was a great way of encapsulating what's going on in the world in terms of the downsizing of print journalism, magazines going away. The filmmaking process [also] has changed so much, and happening so much quicker, and so I wanted the pace of the movie to honor that, too, a little bit.
"We wanted to create a world that was sort of real but also in its own world a little bit, [with] a tone that you felt . . . you could believe it could happen even if it's a little bit hyper-real."
One facet of Conrad's approach was that the fantasies played out on screen -- such as Walter jumping into a burning building, or engaging in "X-Men"-like battles in Manhattan's streets with his new boss -- related to parts of himself: "Who he could be, or who he wanted to be, as opposed to being a different character. They were just elements of Walter under the surface.
"Obviously we wanted to have fun with it, and enjoy the idea of being able to be in different worlds and for the comedy to come out of it," Stiller continued. "But for me that idea -- understanding how each fantasy leads to him becoming who he is and ultimately being able to realize his full self - that was really important."
That led to the challenge of maintaining an audience's interest despite changes in tone (from comedy to drama to adventure to fantasy and back again), without losing the momentum of the narrative.
"An audience naturally wants to see the story unfold," he said, instead of fantasies that "stop the story. Originally we envisioned much more elaborate fantasies that went on a lot longer, [and] as we worked on the script we had to keep paring hem down.
That process continued through the editing of the movie -- finding that balance."
"The Secret Life of Walter Mitty" is Stiller's fifth feature film directing credit, after "Reality Bites," "The Cable Guy," "Zoolander," and "Tropic Thunder." He dismissed the idea that he might be attracted to a specific topic or genre.
"I love directing movies," he said. The guide is whether it's "something I would want to see as a movie" -- and keep his interest for the years it takes to develop.
But he was also acting while directing. When asked how he and co-star Wiig were able to develop a strong chemistry in such a short time, Stiller dead-panned, "We had an affair."
The film is being released by 20th Century Fox.
To watch a teaser trailer for "The Secret Life of Walter Mitty," click on the video player below.
More NYFF reviews:
Thanks for reading CBS NEWS.
Create your free account or log in
for more features.