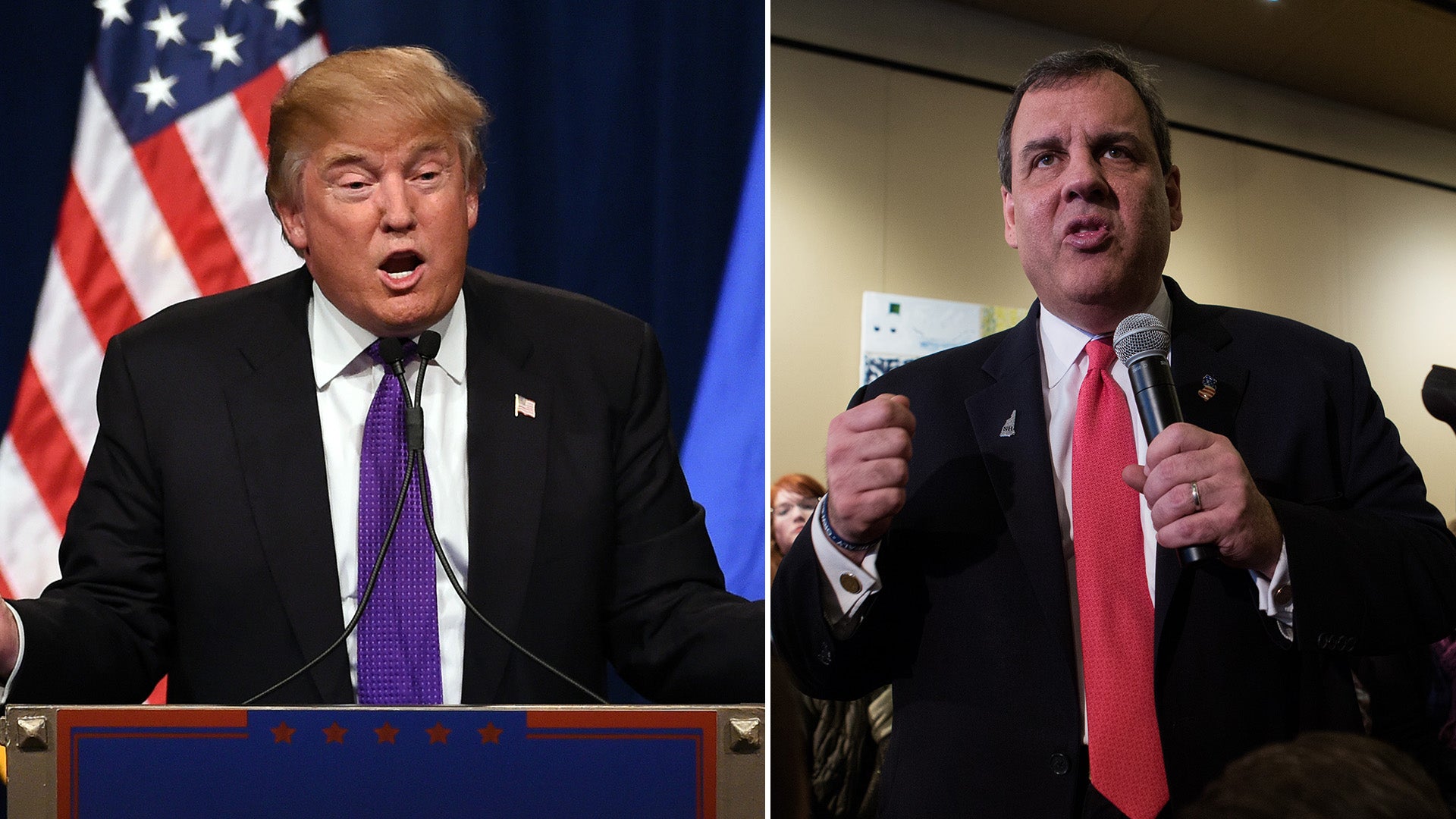 New Jersey Gov. Chris Christie endorses Donald Trump
New Jersey Gov. Chris Christie shocked the political world on Friday when he announced that he's endorsing Donald Trump in the 2016 presidential race.
"I am proud to be here to endorse Donald Trump for president of the United States," Christie said at a Trump press conference in Fort Worth, Texas just days before 13 states hold primaries or caucuses on Super Tuesday next week.
Christie said his family and Trump's family have been friends "for over a decade" and said there's "no one who is better prepared" to be commander-in-chief than Trump.
"The best person to beat Hillary Clinton in November on that stage last night is undoubtedly Donald Trump," Christie told reporters.
The New Jersey governor, who dropped out of the 2016 presidential race after New Hampshire's GOP primary earlier this month, said that Trump is a "strong and resolute leader" who can take on the D.C. establishment and will "lead the Republican Party to victory."
Christie, whose current term ends in January 2018, said he hasn't been offered any spot in a Trump administration.
"I haven't been offered any position and I don't speculate on these things," he said. "I intend to fulfill my term [as governor] and then go off into the private sector."
He said he made the decision to endorse Trump on Thursday morning and met with him then.
While Trump has downplayed the importance of endorsements, he said this one could be key.
"Generally speaking I'm not big on endorsements," Trump said at the press conference. "This was an endorsement that really meant a lot."
Shortly after Christie announced his endorsement, Maine Gov. Paul LePaul followed suit.
"I'll be very honest - originally I said I'd like to see a governor," LePage, who initially endorsed Christie in the 2016 race, said in a Friday radio interview. "But unfortunately, the American people are not going a governor this year so I'm gonna endorse Donald Trump."
The endorsements also come only a day after the five remaining Republicans faced off at an intense debate in Houston Thursday night. For the first time, Marco Rubio aggressively went after Trump. On Friday morning, Rubio told CBS This Morning that Trump is a "con artist."
In an interview on Fox News last August, Christie said he didn't think Trump was the right person to be president.
"I just don't think he's suited to be president of the United States," he said. "I don't think his temperament is suited for that."
In December, after Trump floated his plan to block all Muslims from entering the U.S., Christie defended the billionaire businessman.
"I don't believe he's hateful and I don't believe he's a bigot...I've disagreed with him on a number of different things and I've always been willing to express my disagreement with Donald about that. But I've know him for 13 years, and I don't believe he is those things. So I won't give you an answer to that question because I don't believe that it's a valid question."
The campaign said Christie will join Trump on the campaign trail Friday at a rally in Oklahoma City. Trump's campaign also highlighted all of his other endorsements, including recent ones from two members of Congress and former Gov. Sarah Palin, among others.
Trump plans to visit Arkansas, Tennessee, Alabama, Virginia and Georgia before voters head to the polls and caucus sites on Tuesday.
CBS News' Reena Flores and Donald Judd contributed to this story.
Thanks for reading CBS NEWS.
Create your free account or log in
for more features.