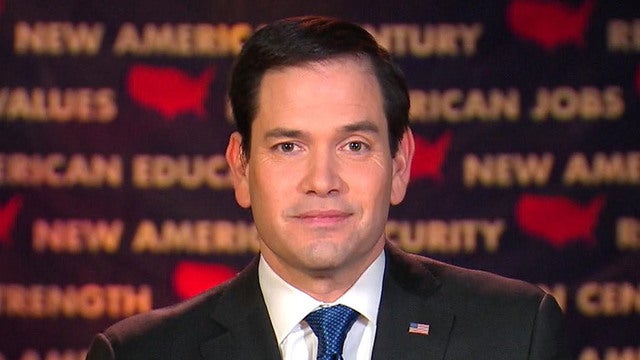 Marco Rubio hits "con artist" Donald Trump
Fresh off Thursday night's pugnacious debate performance in Houston, Republican presidential candidate Marco Rubio continued his pointed jabs at GOP front-runner Donald Trump during an interview with "CBS This Morning."
"A con artist is about to take over the Republican party and the conservative movement and we have to put a stop to it," Rubio said early Friday.
He predicted that a Trump presidency would be "chaos," blasting the New York businessman as "erratic" and "wholly unprepared to be president of the United States."
"He refuses to answer questions in any specific public policy," Rubio said. "He has no plans for health care, for example. They asked him about the debt, he claimed that he's gonna cut the debt by cutting fraud and abuse. He didn't get any follow-up or any press on that...We're about to turn over the conservative movement to a person that has no ideas of any substance on the important issues."
The Florida senator, who is lagging behind Trump even in polls of his native state, placed much of the blame for the real estate mogul's rise on the mainstream press.
"The media is pumping him up as some sort of unstoppable force," Rubio said of Trump, who this week clinched his third straight win in a primary nominating contest. "He's being pumped up because many in the media with a bias know that he'll be easy to beat in a general election."
Rubio, who told "CBS This Morning" earlier this week that he would win Florida's winner-take-all primary, assured that the state "is not gonna vote for someone like Donald Trump."
"We will win Florida," he said. "I know our state very well."
Of his own performance on the University of Houston stage Thursday, Rubio acknowledged that his combative style of debating was due to changes in the Republican race.
"It's because it's a narrower race, number one," he said. "Number two: I acknowledge we're an underdog."
When asked about a recent report that his campaign manager had met with top donors to discuss a contested convention in order to earn the GOP nomination, Rubio denied that he was thinking of deploying such a strategy.
"No," he said, "but the truth is that it is possible that no one gains the 1,236 delegates that are necessary to win. If you look at the way it's going now, no one may have that number of delegates -- and that in and of itself would trigger a convention into which after the first round, delegates are free to vote for whomever they want. I would prefer that not be the case."
Trump, for his part, has continued his own attacks at Rubio, who he called a "choke artist" late Thursday night.
In a tweet sent out earlier this morning, Trump let fly a new moniker for Rubio -- among other insults -- calling him "Mr. Meltdown."
Thanks for reading CBS NEWS.
Create your free account or log in
for more features.