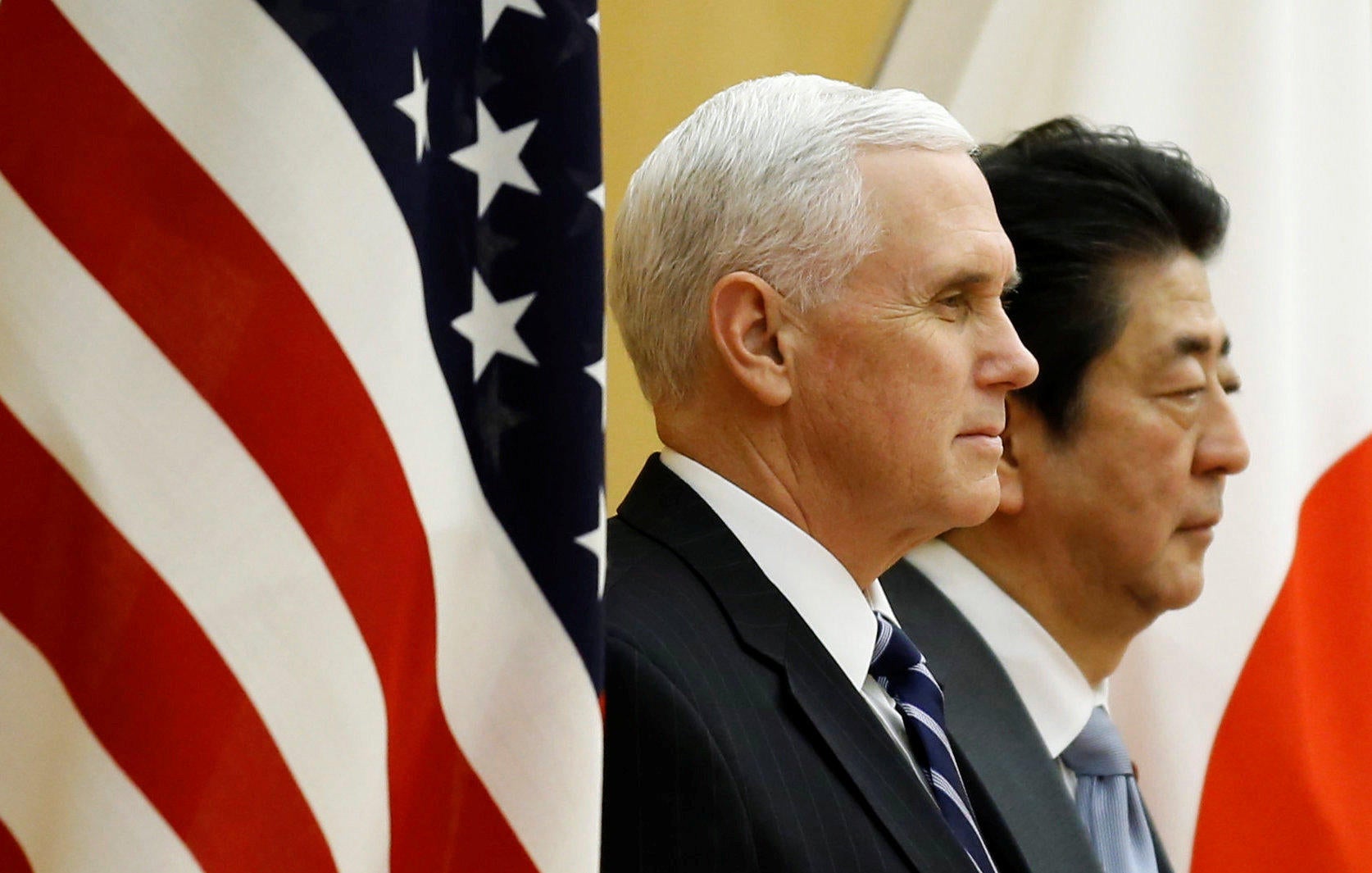 Pence: "Aggressive" new N. Korea sanctions coming "soon"
TOKYO -- Vice President Mike Pence said Wednesday that the U.S. government would "soon unveil the toughest and most aggressive" economic sanctions to date against North Korea. Pence revealed the Trump administration's plans to further punish dictator Kim Jong Un's regime, at a joint news conference in Tokyo with Japanese Prime Minister Shinzo Abe.
"The United States of America will soon unveil the toughest and most aggressive round of economic sanctions on North Korea ever -- and we will continue to isolate North Korea until it abandons its nuclear and ballistic missile programs once and for all," Pence said, providing no further detail on what the latest round of sanctions will entail.
His announcement came just two days after Pence left the door open to meeting with the North Korean representatives during his time in South Korea for the 2018 Winter Olympic Games in Pyeongchang. The new sanctions are expected to be implemented by the Treasury Department before the conclusion of the Olympic Games.
"Last November, our administration re-designated North Korea as a state sponsor of terror," Pence said. "Together with Japan, and all our allies, we will continue to intensify our maximum pressure campaign until North Korea takes concrete steps toward complete, verifiable, and irreversible denuclearization."
Abe and Pence extolled the strength of the U.S.-Japanese alliance, with the prime minister vowing to keep up the Trump administration's "maximum pressure" policy, in conjunction with South Korea, with the aim of convincing Kim to denuclearize his regime.
Abe, who will also attend the Olympic opening ceremony on Friday, added that he hoped to find time on the margins of the games to meet with South Korean President Moon Jae-in, to reaffirm their unwavering commitment.
"We cannot expect any meaningful dialogue with North Korea as long as they do not show genuine willingness and concrete action for denuclearization," Abe said.
On Monday, during a stopover at Joint Base Elmendorf-Richardson in Anchorage, Alaska, Pence did not rule out the possibility of a meeting with members of the North Korean delegation.
"Let me say, President Trump has said he always believes in talking, but I haven't requested any meeting," Pence said. "But we'll see what happens."
Kim Yong Nam, North Korea's ceremonial leader, will be leading the country's 22-person delegation, which will include Kim Yo Jong, Kim Jong Un's younger sister. A South Korean news agency reported on Monday that Moon is considering a one-on-one meeting with Kim Yong Nam. Pence is to meet Moon on Thursday in Seoul.
The Trump administration continues to escalate pressure on North Korea despite a level of diplomatic détente between the Koreas not seen in at least two years. The overtures include the two rival nations entering joint sporting teams at a couple events in the Pyeongchang games.
Pence did not make any new references to the prospect of direct dialogue with North Korea on Wednesday, pointing instead to the North's history of secretly accelerating its nuclear program during talks to dismantle it.
"We must not forget that North Korea and South Korea have marched under the same banner before," Pence said. "The world witnessed it at the Olympics in 2000, 2004 and the Winter Olympics in 2006, only to see North Korea to continue its pursuit of threats and provocations. In fact, North Korea tested its first nuclear weapon eight months after the conclusion of the 2006 Winter Olympics.
United Nations Secretary-General Antonio Guterres, who will also be in South Korea for the Olympics, has said it is "absolutely essential" for nations involved in the nuclear standoff with North Korea to hold "serious" talks in order to build on the thaw in inter-Korean relations, CBS News' Pamela Falk reports.
Guterres will be accompanied by senior U.N. disarmament officials, and sources have told CBS News that the U.N. could try to serve as a conduit for talks if the U.S. chooses not to engage in direct dialogue with the Kim regime at the games.
Pence is leading the U.S. delegation to the Olympics along with Second Lady Karen Pence to; they will attend the opening ceremony on Friday and various sporting events on Saturday.
Fred Warmbier, the father of Otto Warmbier, an American university student who died after returning home from North Korean prison in a coma, will join Pence's delegation in Seoul on Thursday. The symbolic gesture is designed to, "remind the world of the atrocities in North Korea," a White House official told reporters in advance of Pence's trip.
Pence will also meet North Korean defectors on Friday morning at a memorial to South Korean sailors killed in 2010 when their warship was struck by a torpedo, allegedly fired by a North Korean vessel.
Thanks for reading CBS NEWS.
Create your free account or log in
for more features.