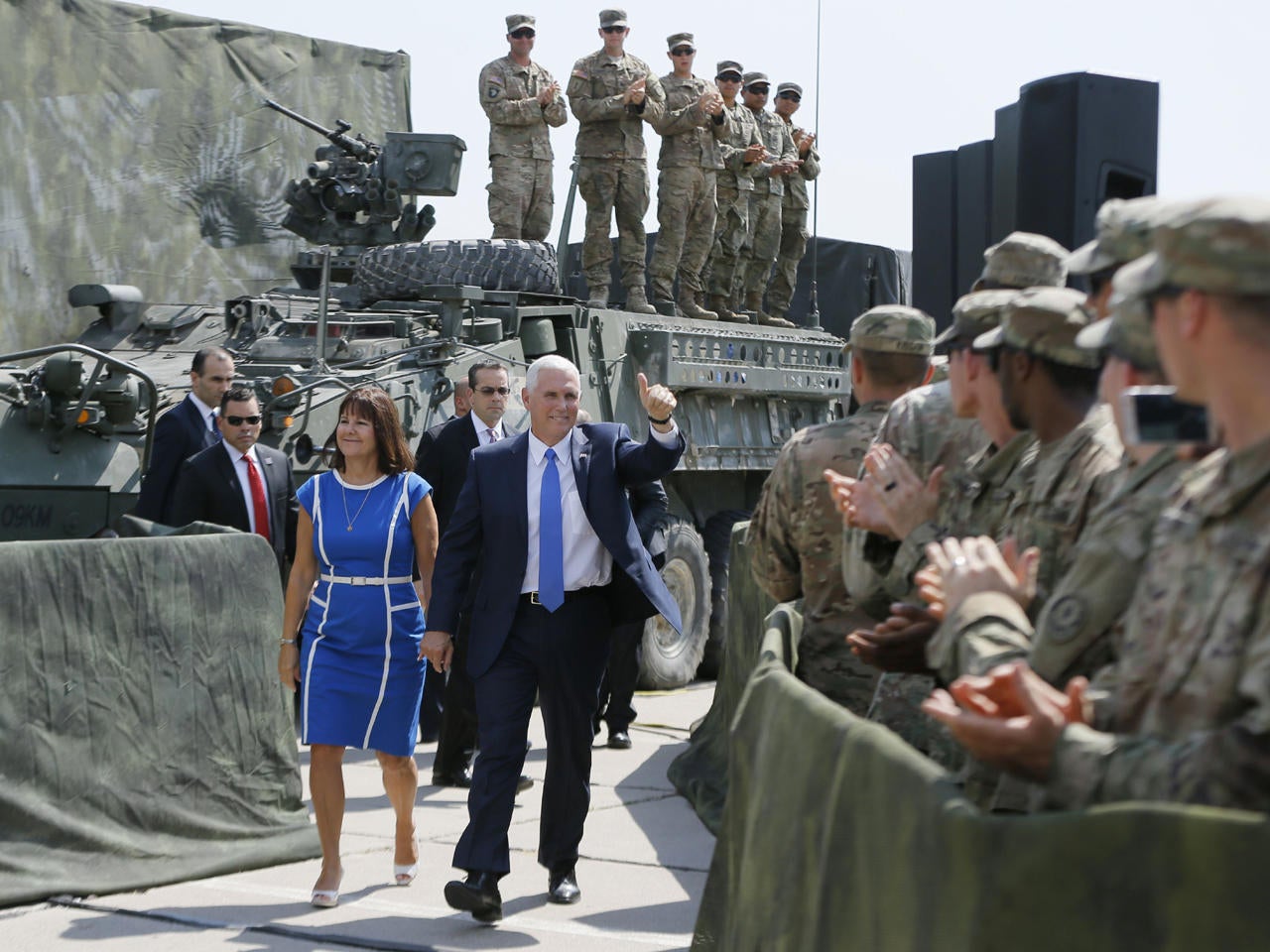 Pence: Trump to sign new Russia sanctions "soon"
MOSCOW -- U.S. Vice President Mike Pence said Tuesday that President Donald Trump would soon sign into law a new package of sanctions against Russia, as he reaffirmed the Trump administration's backing of eastern European allies in the face of Vladimir Putin's "destabilizing activity."
The Senate voted last week to approve the new financial sanctions against Moscow. The legislation bars Mr. Trump from easing or waiving the penalties on Russia unless Congress agrees.
Pence, who is visiting the former Soviet republic of Georgia, where he met U.S. and Georgian troops taking part in a joint military exercise named "Noble Partner," said the Trump administration "had concerns" about the bill when it was drafted in the Senate, but that Mr. Trump would sign it soon.
Russia on Friday ordered the U.S. Embassy and three U.S. consulates in Russia to drastically cut its personnel there. President Vladimir Putin said on Sunday it would mean 755 staffers will have to be dismissed.
During his visit to the far eastern flank of Europe, Pence has strongly pledged America's commitment to protecting NATO allies against attacks, including the Baltic states, which have anxiously watched a growing Russian military presence in the region.
"Under President Donald Trump, the United States stands firmly behind our Article 5 pledge of mutual defense -- an attack on one of us is an attack on us all," Pence told reporters Monday, after meeting with the presidents of Estonia, Latvia and Lithuania in the Estonian capital of Tallinn.
On Tuesday, Pence vowed the Trump administration would continue pushing for Georgia to be admitted as a new member of NATO. Georgia and Russia fought a war nine years ago over the border region of South Ossetia. Russia continues to keep troops in that region, along with the nearby breakaway region of Abkhazia.
The U.S. and its European allies have never recognized Russian control over those parcels of land in the Caucus Mountains, along Russia's southern border.
"American first does not mean America only," Pence told U.S. and Georgian troops gathered at the airport Tuesday in Tblisi. "We are here to tell our friends in Georgia, we are with you. We stand with you and will stand with you as you pursue membership in NATO."
Pence directly addressed the Russian troops in South Ossetia and Abkhazia, saying the "U.S. strongly condemns Russian occupation of Georgian soil."
He said Mr. Trump called on Russia to cease all "destabilizing activity" in the region, and added that the president would sign the bill to codify new U.S. sanctions against Russia "very soon."
The vice president said the U.S. was still hoping for "better days and better relations with Russia," but that a "better relationship with Russia will require Russia to end the actions that caused the sanctions in the first place, and not before."
Thanks for reading CBS NEWS.
Create your free account or log in
for more features.