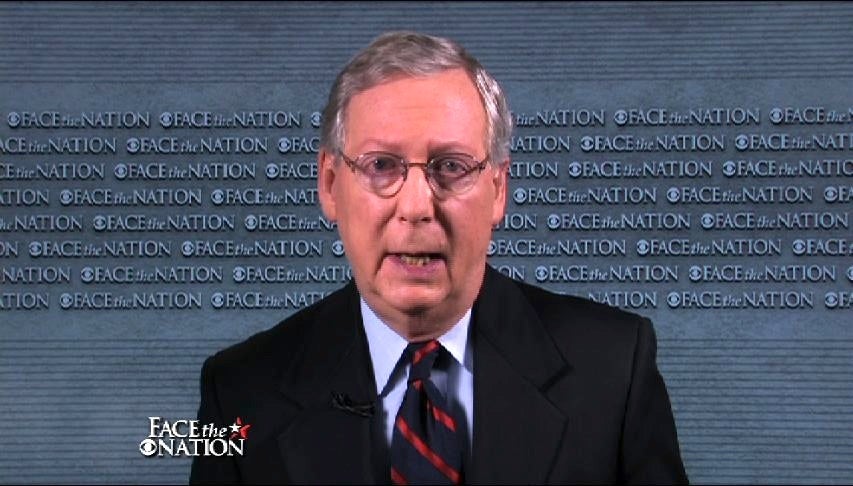 McConnell: "There will not be another government shutdown"
Senate Minority Leader Mitch McConnell said on "Face the Nation" Sunday he doesn't believe a government shutdown is conservative policy and as a result, "there will not be another government shutdown. You can count on that."
"I don't think a two-week paid vacation for federal employees is conservative policy. A number of us were saying back in July that this strategy could not and would not work, and of course it didn't," McConnell said. He and Senate Majority Leader Harry Reid, D-Nev., came together tocraft the last-minute deal that reopened the government and averted a default on U.S. debt last week.
The 16-day shutdown was sparked in part in McConnell's Senate Republican conference after Sen. Ted Cruz, R-Texas, delivered a 21-hour floor speech railing against the health care law. That pushed House Republicans to seek a repeal or delay of the healthcare law in exchange for a short-term spending bill. McConnell said Sunday that he and Cruz share the goal of repealing Obamacare, even if they had "tactical differences" over how best to achieve that. But McConnell also said there's no easy way to repeal the law.
"We have a math problem in the Senate in getting rid of Obamacare," McConnell said. "It's the following math problem: 55 Democrats and 45 Republicans. We only control a portion of the government, and so that limits our ability to get rid of this horrible law."
McConnell went on to say that the government "simply isn't going to be able to get this job done correctly," in reference to the troubled roll out of the healthcare exchanges, and that the people who do sign up will see higher premiums and insufficient choices. But he didn't offer a strategy for rolling back the law.
Instead, McConnell is looking ahead to the budget talks that were mandated as part of the deal he cut with Reid. A group of bipartisan lawmakers, led by House Budget Committee Chairman Paul Ryan, R-Wis., and Senate Budget Committee Chairwoman Patty Murray, D-Wash., will negotiate a long-term budget deal by the middle of December.
McConnell said his "bottom line" is to ensure that Democrats don't break the caps on spending mandated by the sequester cuts in the Budget Control Act, and to reduce government spending. He said he expects Democrats to try to change those spending caps and raise taxes.
The minority leader must walk a careful line since he is up for reelection in 2014 and will face both a Republican primary challenge from conservative businessman Matt Bevin and a Democratic opponent in Kentucky Secretary of State Alison Lundergan Grimes. On Friday, the Senate Conservatives Fund announced they were backing Bevin.
McConnell - who received the support of fellow Sen. Marco Rubio, R-Fla., Sunday morning on "Fox News Sunday" - seems unfazed.
"I enjoy the support of the most famous tea party senator in America, Rand Paul. I'm supported by Marco Rubio. Pat Toomey -- two other tea party favorites who were elected in 2010. I have the support of Mike Huckabee and Bill Bennett. I think they're going to have a hard time convincing Kentucky primary voters that Mitch McConnell is some kind of liberal," he said.
Thanks for reading CBS NEWS.
Create your free account or log in
for more features.