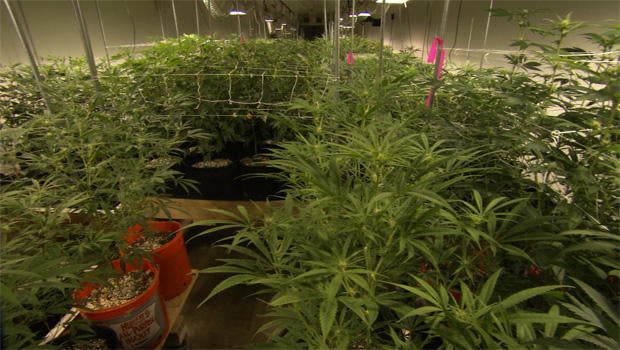 It's ALL THE BUZZ in five states: ballot measures that would legalize recreational marijuana use. There's strong support, but Barry Petersen has found resistance as well:
Serra is an upscale boutique in Portland, Oregon. It's not selling high-end perfume, but products that will get you high.
And there are high-end accessories to match. "They're pieces of art," said Serra's marketing director Cambria Benson, of their bongs which go for up to $175. "We have a lot of people collecting them."
Business is brisk. Still, she says it was hard to tell her Grandma that she was selling drugs.
"And I paused -- I was waiting for it -- and she goes, 'Do you think there's something that can help me sleep?'" Benson recalled.
It turns out Grandma is a good indicator of America's changing attitudes about marijuana.
In 1969, a Gallup poll showed 12 percent favored legalization. Today it's 60 percent.
Medical marijuana is available in 25 states, and four states and the District of Columbia now allow sales of recreational pot.
The first state in the nation to approve medical marijuana was California in 1996. On Tuesday California will be one of five states voting to legalize pot for recreation.
So why are attitudes changing about marijuana?
"Well, I think people have come into dispensaries for the last 20 years in California and have had good experiences," said Andrew DeAngelo, director of operations at Harborside Health Center in Oakland, one of the largest cannabis dispensaries in the nation. "Cannabis culture has shown that we can cultivate, transport and distribute cannabis in a responsible way.
"And that's really changed the attitudes of soccer moms and mainstream people who, perhaps, are not connected to cannabis."
A poll released in California on Friday shows 57 percent in favor of legalization -- a contrast to six years ago, when a similar measure was voted down.
Still, across town there is impassioned opposition from religious leaders of Oakland's African-American community.
Bishop Ron Allen, who serves churches across the state, told Petersen, "We are outspent by millions. Legalized drug dealers are going to make a bunch of money off of this."
And there is a LOT of money in marijuana. Growing marijuana -- legally and illegally -- is a multi-billion dollar business. By some estimates, pot is one of California's top cash crops.
But a majority of small growers actually opposes legalization -- afraid that big business coming into the state will put them out of business.
They even had their own lobbyist, Hezekiah Allen. "We're hard-working small business owners," Allen said. "We want the same things for our families and communities that every other resident of this state does."
He was raised working on his family's illegal pot farm. Today, he works the halls of the State Capitol.
Petersen asked, "How does it feel to be out in the open?"
"Oh, it feels great! It feels so good to be honest about who you are."
Some marijuana advocates compare their battle to the gay rights movement as proof of how quickly laws can change, especially after same-sex marriage was legalized by one Supreme Court ruling.
Now, they believe, it's their time.
And California, says DeAngelo, is a bellwether state. "When such a large, diverse community that has such economic power decides that cannabis should be legal for adults over the age of 21, that sends a powerful message, not just to Washington, but to the entire world."

For more info:
Thanks for reading CBS NEWS.
Create your free account or log in
for more features.