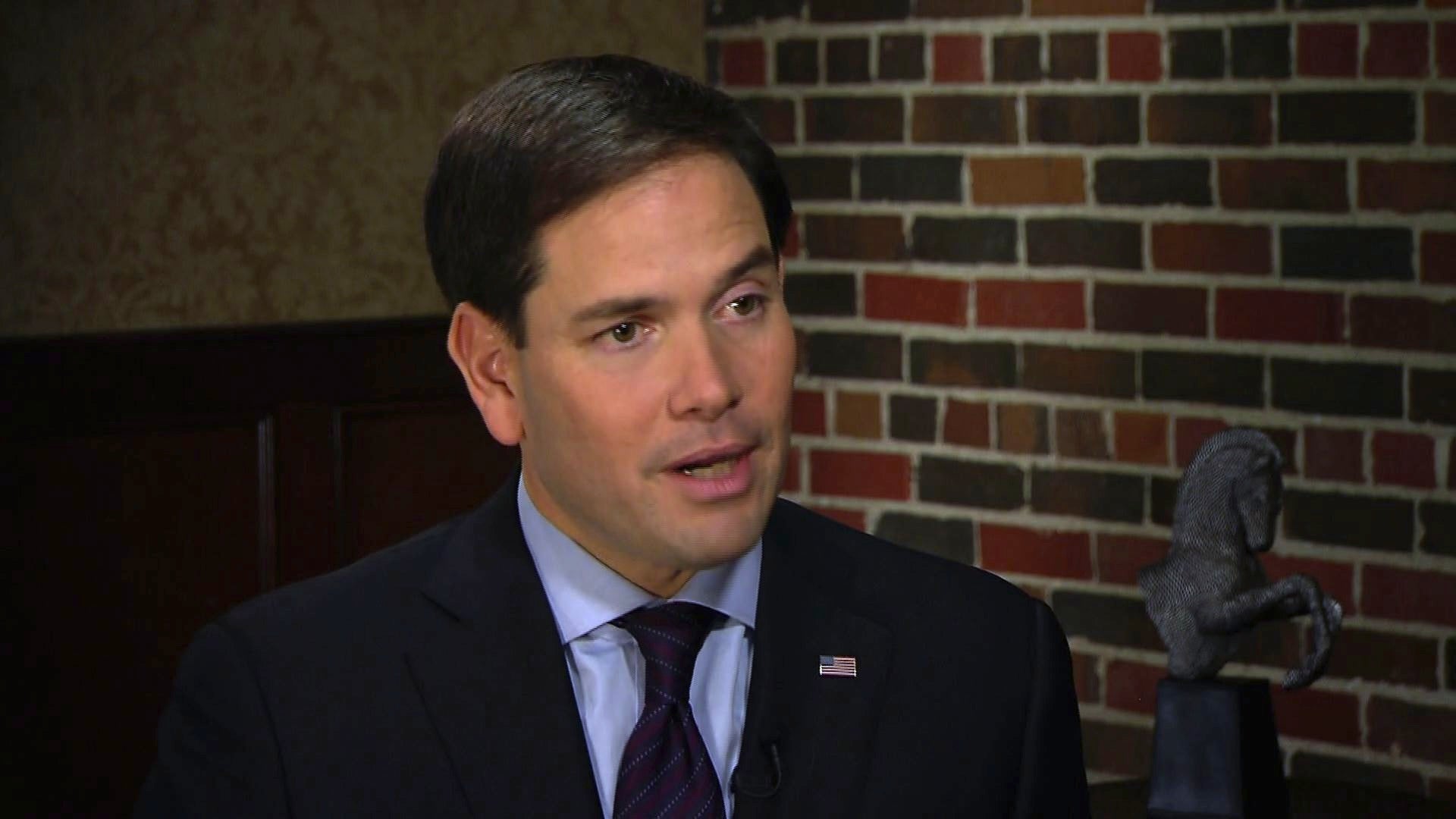 Marco Rubio: "I'm not going to badmouth other Republicans"
Republican presidential candidate Marco Rubio is promising that his campaign will not turn on his fellow GOP contenders, especially Jeb Bush, in the 2016 nomination race.
"My campaign's not going to be about attacking him or any other Republicans," Rubio pledged in an interview with CBS' "Face the Nation." "If there are policy differences, we should debate those. That's a legitimate issue. But I'm not going to badmouth other Republicans."
The White House hopeful told host John Dickerson that such assaults could make it "easier for Hillary Clinton or whoever the Democrat nominee is to defeat the Republicans." And even if rivals like Jeb Bush choose to attack him -- like when Bush slammed Rubio's Senate record during Wednesday's primary debate -- he promised that he would never "badmouth" Bush or his record as Florida's chief executive.
"You're never going to hear me badmouth him," Rubio said. "He was a great governor of Florida. He's someone I have tremendous personal affection for. My issue is not with Jeb Bush. I'm running for president because I honestly believe that our party and our country needs to turn the page and allow people, the new generation of leadership, that understands the issues before America now."
"I do believe that Jeb has been convinced by people around him that he needs to attack me in order to be more successful," Rubio added. "I don't personally agree with it, but I'm not running his campaign. What I control is my campaign."
The relationship between Rubio and the former Florida governor, who Rubio says "was most certainly a big part" of his career, has become tense since the launch of their respective 2016 bids. And on Friday, a Bush campaign presentation circulated an assessment that Rubio was the "Republican Obama."
"I don't think they mean it as a compliment, and I certainly wouldn't take it as that," Rubio said of the campaign's comment, laughing. "Look, campaigns are going to say whatever they think gives them an advantage. And obviously someone has convinced Jeb that attacking me is going to help his campaign, it won't change the way we run our campaign."
The Florida Republican also defended his priorities in the Senate, admitting that when it comes to votes in the upper chamber, "there will be some I will miss" due to his 2016 campaign schedule.
But, he added, "I will miss them because I'm campaigning so that in the future those votes actually mean something. Far too many votes today in the Senate are predetermined."
Rubio also addressed foreign policy issues, a policy area he has often cited as a strength of his 2016 campaign.
On Syria, Rubio slammed Donald Trump's proposals that America should not assist in the war-torn country and instead allow Vladimir Putin and Russia to fight ISIS alone.
Putin's interests, Rubio criticized, "at the end of the day are largely to prop up Assad, who has provided for them a foothold into the region."
"They're stepping into a vacuum we've left behind," he said. "In an ideal world, you would be able to work with Russia to defeat radical Jihadists. But that's not their goal immediately. Their immediate goal is propping up Assad because it's a client state for them."
The Florida senator laid out his own plans for U.S. involvement in Syria, asserting that ISIS will not be defeated in the Middle East "without American assistant at some significant level."
Though he praised the latest U.S. move to send 50 special operations forces into the country as "an important tactical step forward," he criticized the Obama administration for a lack of overall strategy.
"I don't have a problem with the tactics of it. And the numbers might even have to be larger at some point," Rubio said. "But I think the bigger issue is can they arrive at a strategy? And that's what I think the administration is still struggling to outline."
Thanks for reading CBS NEWS.
Create your free account or log in
for more features.