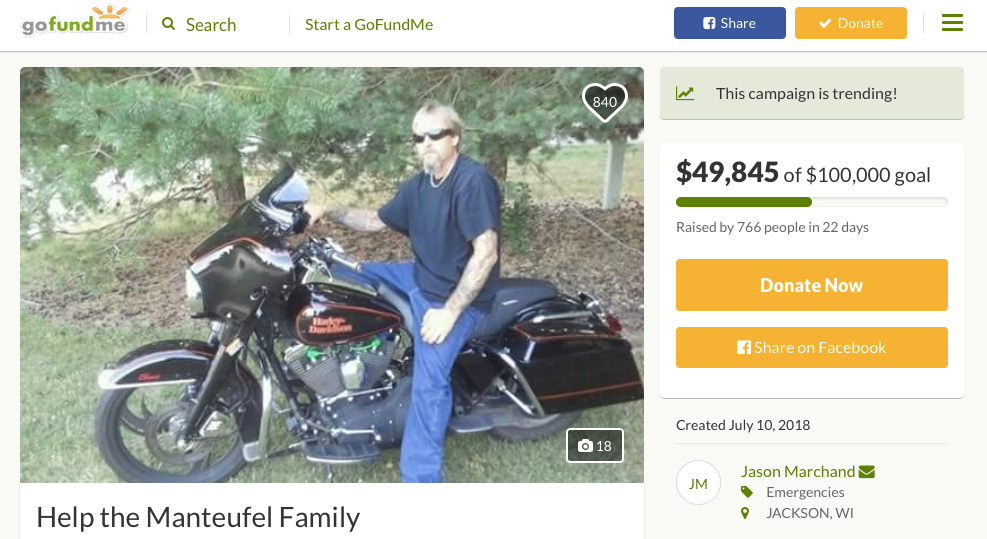 Man's legs amputated after dog's licks lead to infection, family says
A Wisconsin man has lost both of his legs to a virulent infection after being licked by a dog, according to local reports. Earlier this summer, Greg Manteufel contracted Capnocytophaga canimorsus, a bacteria found in dog saliva that can cause sepsis, his family says.
In just a few days, the bacteria spread and Manteufel was fighting for his life.
"This bacteria caused the sepsis in Greg's body that has completely changed not only Greg's life but his entire family's as well," states a GoFundMe page set up by Manteufel's loved ones. "Within days of being admitted to the hospital while still fighting for his life, Greg first lost both feet, after a second surgery to remove more damage on legs, they amputated thru both Knee caps [sic]."
Doctors had to amputate Manteufel's hands as well, CBS affiliate WDJT reports. He remains in the hospital recovering from multiple surgeries.
The infection likely entered Manteufel's body from the lick of a dog.
"We counted about eight dogs he probably came across," his wife, Dawn Manteufel, told the station. "He doesn't want anybody to think he doesn't love dogs anymore. He loves his dog. He wants to see his dog. It's not the dog's fault. It was just some crazy thing that happened."
Dr. Silvia Munoz-Price, an infectious disease specialist with Froedtert Hospital and the Medical College of Wisconsin, told WITI-TV the infection got into his blood and "triggered a very severe response in his body." His blood pressure dropped and the circulation in his limbs declined.
"It hit him with a vengeance. Just bruising all over him. Looked like somebody beat him up with a baseball bat," Dawn Manteufel said.
According to the Centers for Disease Control and Prevention, many Capnocytophaga species are considered normal bacteria commonly found in the mouths of humans, dogs, and cats. In fact, up to 74 percent of dogs and up to 57 percent of cats have Capnocytophaga detected in their mouths.
Capnocytophaga can cause opportunistic infections, meaning they have to have the right conditions to cause an infection, such as when a person has a weakened immune system. However, these infections in humans are extremely rare.
In 2016, doctors in London documented the case of a 70-year-old woman who had been infected with Capnocytophaga. Writing in the medical journal BMJ Case Reports, they said she developed confusion, a headache, diarrhea, a high fever, and eventually sepsis and organ failure. While the infection had been seen before in people who'd been bitten by dogs, the doctors noted it was highly unusual that this woman apparently contracted it from her dog who had licked her. They said the woman recovered after two weeks of intensive care treatment and antibiotics.
Dr. Bruce Farber, chief of infectious diseases at North Shore University Hospital and Long Island Jewish Medical Center in New Hyde Park, New York, told CBS News at the time that physicians have known about this bacteria for decades.
"This is an organism carried in the mouths of dog and it causes a very bad sepsis infection. But it's usually in people who are immuno-compromised and usually follows a dog bite. But this is unusual because it was a lick," said Farber, who was not involved in the woman's case.
He said, either way, it's very uncommon. "I've probably seen two cases in 30 years of doing infectious disease."
The CDC says people with the following conditions are at a greater risk of Capnocytophaga infection:
Excessive alcohol use
Not having a spleen
Immuno-compromising conditions, including but not limited to:
Cancer
Diabetes
HIV infection
Taking drugs that are toxic to cells, such as chemotherapy
If you have one of these conditions and are bitten by a cat or dog, the CDC recommends calling your doctor immediately to describe your animal contact. Antibiotics are needed to treat a Capnocytophaga infection and should be started as soon as possible to prevent further complications.
Thanks for reading CBS NEWS.
Create your free account or log in
for more features.