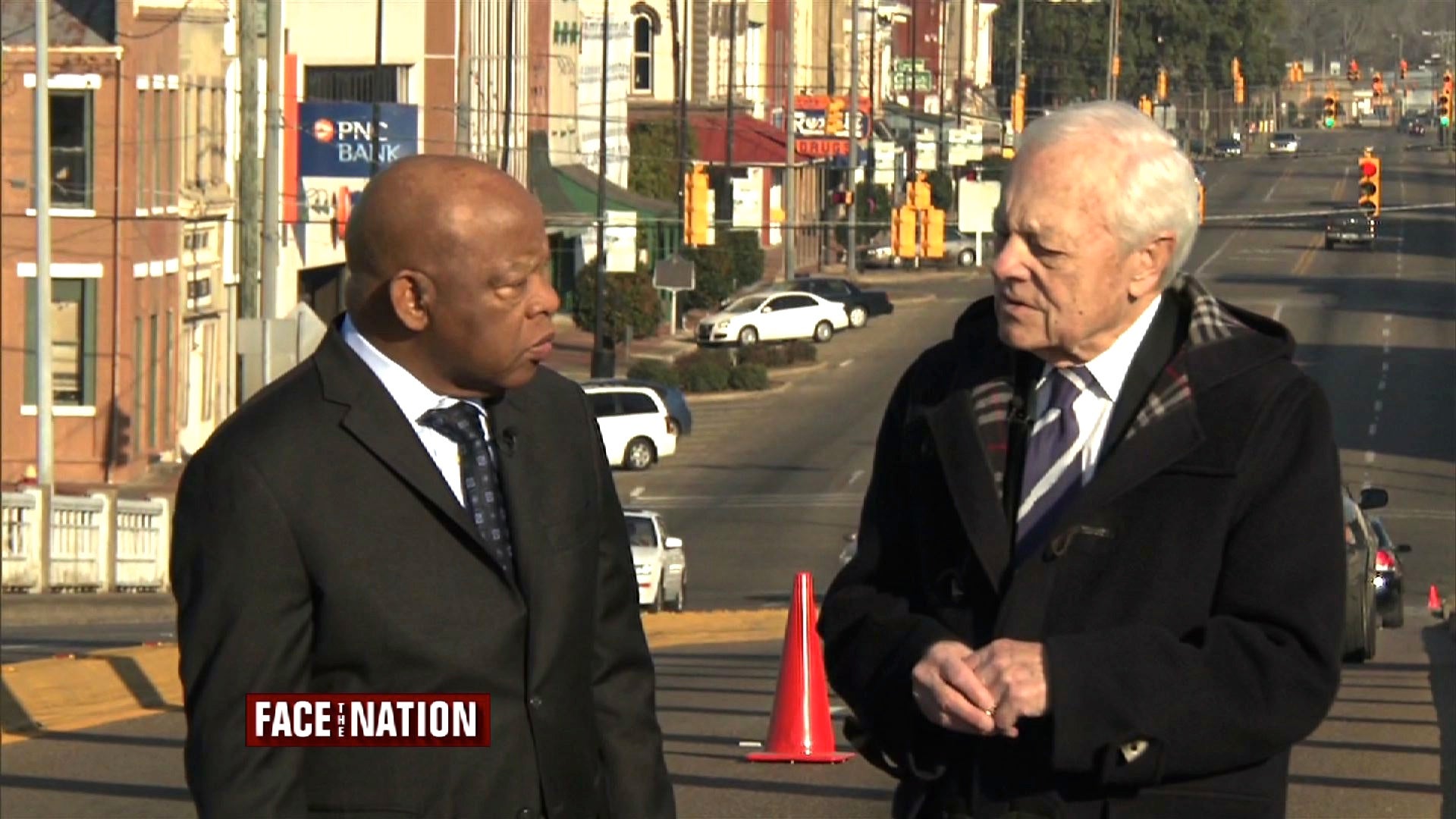 John Lewis reflects on Selma marches
Fifty years after the shooting of Jimmie Lee Jackson by a highway patrolman, the event that inspired the Selma, Alabama marches during the Civil Rights movement, "Face the Nation" host Bob Schieffer traveled to Alabama to talk about the marches with Georgia Congressman John Lewis.
Lewis was a young activist who helped planned the 54-mile march from Selma to Montgomery, which was meant to advocate for the right to vote - or, as Lewis said in 1965, "to dramatize to our nation and to the world our determination to win first-class citizenship."
"We were marching in twos in an orderly, peaceful, nonviolent fashion on our way to Montgomery to dramatize to the nation that people wanted to register to vote. I really thought we would be arrested and jailed that day," he told Schieffer.
When the marchers crossed the Edmund Pettus Bridge, they were confronted by state troopers and sheriffs who came toward them, beating them with night sticks, using tear gas and trampling them with horses.
Lewis, who was in the front, was the first person to be hit.
"I still have a scar on my forehead. And I was knocked down," he said. "My legs just went out from under me. I thought I was going to die on this bridge. I said to myself, 'This is the last protest for me.'"
He doesn't recall being carried back to a church, where he eventually regained consciousness. When he was asked to speak to the audience, he said, "I don't understand it, how President Johnson can send troops to Vietnam and cannot send troops to Selma, Alabama, to protect people whose only desire is to register to vote."
Just weeks later, Johnson sent the Alabama National Guard to protect the marchers. Lewis calls the move, "our military at its best."
"I don't think as a group, we had any idea that our marching feet across that bridge would have such an impact 50 years later. If it hadn't been for that march across the Edmund Pettus Bridge on Bloody Sunday, there would be no Barack Obama as President of the United States of America," Lewis added later in the interview.
When the marches took place, he said, just 2.1 percent of blacks of voting age were registered to vote. Those who tried to register were subjected to so-called literacy tests like counting the number of jelly beans in a jar.
Things are better now, Lewis says. "But we are not there yet. We still have problems. And we'll make it. We will get there. Selma was the turning point."
He said he still believes there will one day a colorblind society.
"I think the day will come. It will come," he said. "In the past 50 years, Bob, I must tell you, we have witnessed what I like to call a nonviolent revolution, a revolution of values, a revolution of ideas."
In his native state of Alabama, he said, he visits places where he grew up but can now see white, black and Latino children studying and playing together, as well as a young white boy playing him in a reenactment of the march.
"It is so gratifying to see these little children, they get it," he said. "Sometimes I feel like crying, tears of happiness, tears of joy, to see the distance we've come and the progress we've made. When people tell me nothing has changed, I just feel like saying, 'Come and walk in my shoes. I will show you. I will take you to those places.'"
Of course, issues persist such as the shooting of teenager Michael Brown in Ferguson, Missouri or the death of New York man Eric Garner, who was put in a chokehold by a member of the New York Police Department. Neither police officer was indicted by a grand jury. But Lewis said he still believes progress is possible.
"We can deal with the issue of justice. We can deal with the issue of police, of community. In some communities, police officers are standing in the way of peace, the way of love, the way of nonviolence. So, you bring community and law enforcement together, and not sweep the issues under the rug or in some dark corner," he said.
He had praise for FBI Director James Comey, who recently gave a speech in which he spoke about a "disconnect" between law enforcement and minority communities and said that people of all races carry biases.
"I think it took raw courage, not anything short of raw courage, for the director of the F.B.I. to be able to say something like that," Lewis said, especially given the fact that the agency used to monitor Martin Luther King, Jr.
But he also said he believes the country has let Ferguson drift away.
"We just cannot operate and think about Ferguson in some other community for a day or for a week, or maybe a few months. We have to deal with it here and now. If not, there will be other Fergusons," he said.
Thanks for reading CBS NEWS.
Create your free account or log in
for more features.