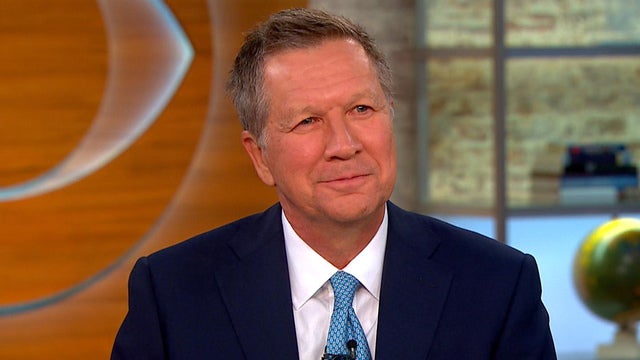 John Kasich in a struggle with opponents to define Republican party
Republican presidential contender John Kasich has split from other conservatives in his party on issues like immigration and same-sex marriage, but he's not denouncing the GOP's values just yet.
"I think I have right to define what the party is, Charlie," Kasich told "CBS This Morning" host Charlie Rose early Thursday. "Look, if I win, I have a right to define what the party is, and along the way I'm defining what it is."
He cautioned that even die-hard conservatism and early appeal may not lead to a primary win.
"You can build a campaign where you rise real fast but you have no underpinnings. We've sort of seen this with one candidate who led and dropped out," Kasich added, referring to Wisconsin Gov. Scott Walker, who led in some early polls for the presidential nomination but dropped out of the race last month. "We're building the base to be able to be sustaining victory."
The Ohio governor opposes several proposals floated by some of his more conservative GOP opponents, like the mass deportation of undocumented immigrants in the country.
Kasich said it's "not practical to think we're gonna go take 10, 11, 12 million people" and push them back over the border."
"What are we gonna do? How are gonna get them? Are we gonna ship them to the border and yell 'Get out of our country?'" he asked. "It's not practical."
He also weighed in on Russian airstrikes in Syria, reiterating his call for a no-fly zone over the area. The former House Armed Services Committee member promised that if "anybody violates that no-fly zone, I don't have red lines that I don't stand by."
"You come into that no-fly zone, you will suffer the consequences," Kasich said. When pressed about what he would do if Moscow invaded air space over a no-fly zone, he said "there will be severe consequences."
Others in his party, like Donald Trump, have praised Russian involvement in the country and expressed support to "bomb the hell out of" the Islamic State of Iraq and Syria (ISIS).
Commenting on Obama's Trans-Pacific Partnership, Kasich said that he believes "it's good for the U.S. not only in terms of economics but in terms of foreign policy. Trade can make a difference in strengthening us around the world."
He added that while he hasn't read the full details of the trade bill, he does support it.
When questioned about his differing stance on same-sex marriage, Kasich said, "Look, I believe in traditional marriage, but the court has ruled."
Thanks for reading CBS NEWS.
Create your free account or log in
for more features.