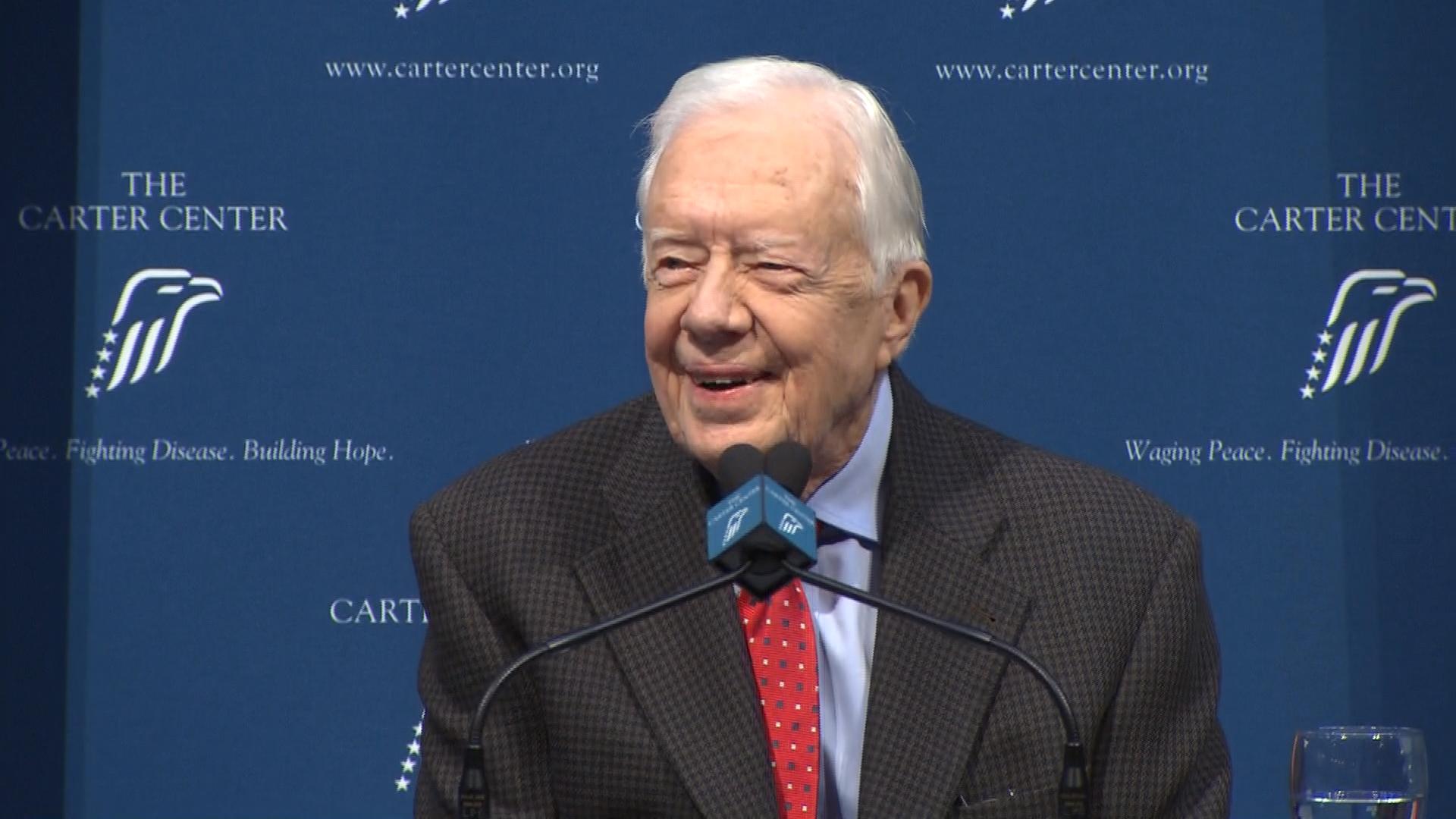 Jimmy Carter: I have melanoma, and I'll begin treatment immediately
Former President Jimmy Carter said Thursday that the cancer spreading through his body is a form of melanoma, and he'll begin undergoing radiation treatment immediately.
Most cases of melanoma begin as a skin cancer, but Mr. Carter said his doctors have not determined where his cancer originated. They have determined, however, that the disease has spread to his liver and to his brain.
Doctors "found that there were four spots of melanoma on my brain...they are very small spots, about two millimeters," Mr. Carter said. "I'll get my first radiation treatment for the melanoma in my brain this afternoon."
The former president said he has four radiation treatments scheduled at three-week intervals. In addition, he said, doctors have given him an intravenous drug to complement his treatment for melanoma that enhances the activity of the immune system.
The former president announced the diagnosis last week, and he had surgery earlier this month to remove the mass in his liver.
CBS News' chief medical correspondent Dr. Jon LaPook noted that Mr. Carter's family has a strong history of pancreatic cancer. His three siblings and father died from it. There has so far been no suggestion that cancer has spread to Mr. Carter's pancreas, however. The former president said Thursday that doctors will continue scanning other parts of his body to determine whether the disease has spread further.
In May, Carter cut short a trip to Guyana to observe an election because he wasn't feeling well. But he recently finished a book tour promoting his latest book, "A Full Life: Reflections at 90."
Carter was the 39th president of the United States, serving between 1977 and 1981, and at 90 years old, he's the nation's second-oldest living president. After leaving the White House, he established the Carter Foundation and has traveled the world working on issues like healthcare and global democracy.
He said Thursday that his diagnosis will prompt him to "fairly dramatically" curtail his activities with the Carter Center, but he said he'll at least continue fundraising for the organization.
The former president was met with worldwide support after he announced his diagnosis last week. Among Mr. Carter's well-wishers was President Obama, who called the former president late Wednesday to wish him a full and speedy recovery.
"Michelle and I send our best wishes," Mr. Obama said in a statement. "Jimmy, you're as resilient as they come, and along with the rest of America, we are rooting for you."
The former president said Thursday that he's received phone calls from all of the living former presidents, including George H.W. Bush, who's faced some health complications of his own recently. He drew a few laughs when he noted that he also received a call from the secretary of state's office, adding, "First time they've called me in a long time."
Mr. Carter also described how he initially reacted when he discovered he had cancer. "I just thought I had a few weeks left, but I was surprisingly at ease. I've had a wonderful life," he said. "Now I feel, this is in the hands of God...and I'll be prepared for anything that comes."
When CBS News Senior White House Correspondent Bill Plante asked the former president whether he considered foregoing treatment, and whether he's leaned on his Christian faith in the wake of his diagnosis.
"I never have doubted that I would carry out the recommendations of Emory doctors. So when they said that they wanted to go ahead and find out other places that might show up cancer and treat them, I'm perfectly at ease with that," he said. "I do have deep religious faith, which I'm very grateful for. And I was pleasantly surprised that I didn't go into an attitude of despair or anger or anything like that. I was just completely at ease."
And his advice for people facing a similar diagnosis? "Hope for the best and accept what comes."
Thanks for reading CBS NEWS.
Create your free account or log in
for more features.